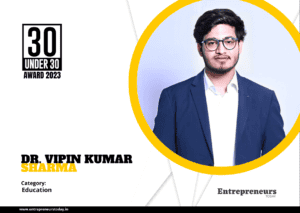 "Throughout my studies, I dedicated myself to learning and excelled in my chosen field. My hard work and commitment to my studies did not go unnoticed, as I was honored with a gold medal by the esteemed Education Minister of Haryana."
This prestigious award not only fueled his passion for biochemistry but also ignited a newfound drive to embark on his entrepreneurial journey. We, at Entrepreneurs Today, reached out to him to learn more about his aspirations and how he made his mark in the entrepreneurial landscape.
More than a teacher
With a diverse educational background and a relentless drive for knowledge, Dr. Vipin Kumar Sharma stands as an accomplished academician and entrepreneur. Currently serving as the Director of Growth at Physics Wallah, a prominent ed tech company, Dr. Sharma has made significant contributions in the field of education and continues to push the boundaries of innovation.
Dr. Sharma's entrepreneurial spirit shines through his remarkable career trajectory. Prior to his role at Physics Wallah, he embarked on a journey of founding and operating multiple startups in the education sector. These ventures provided him with invaluable insights and expertise that he skillfully leverages to drive growth and success in his current position.
With a Bachelor's degree in Biological Sciences as a foundation, Dr. Sharma's thirst for knowledge propelled him to pursue further academic qualifications. He holds a doctorate degree in Education and is currently pursuing a Ph.D. in Biochemistry, specializing in Cancer Biology. But his quest for learning doesn't stop there. Driven by an insatiable curiosity, he actively engages in learning various disciplines like Business and Psychology, with an ambitious goal of acquiring expertise in 20+ disciplines throughout his life.
True calling
For Dr. Vipin Kumar Sharma, the decision to join Physics Wallah was not merely a career move; it was a calling driven by a deep-rooted passion to make a difference in the lives of students. The alignment of Physics Wallah's value proposition and target audience with his own vision and mission was the catalyst that fueled his determination to join this groundbreaking educational initiative.
Physics Wallah's unwavering focus on students from tier two and tier three cities, who often face resource limitations and financial constraints, struck a chord with Dr. Sharma. These resilient students, driven by aspirations to succeed in competitive exams and secure a brighter future, often lack the necessary resources and support. Physics Wallah's mission to bridge this gap resonated deeply with Dr. Sharma's personal beliefs and ignited a fire within him to be a part of this transformative journey.
Having been intimately involved in startups in the education sector, Dr. Sharma understood the transformative power of accessible and affordable education. Physics Wallah's commitment to providing comprehensive resources and support to students from modest financial backgrounds aligned perfectly with his own belief in equal opportunities for all. The shared dedication to reaching out to those who face barriers in their educational pursuits struck a chord with Dr. Sharma, inspiring him to be a catalyst for change.
Vipin's dedication to uplifting slum students through education is truly remarkable. Investing his summer and winter vacations to conduct classes in government schools when they were closed, he goes beyond the role of a teacher and emerges as a true leader. His contribution has been nothing short of tremendous, making a significant impact on the lives of these students.
Driven by a genuine desire to empower students and level the playing field, Dr. Sharma recognized the immense significance of Physics Wallah's mission. The vision of supporting tier two and tier three students, who often possess untapped potential, touched his heart and reinforced his commitment to making quality education accessible to every aspiring learner.
What sets them apart?
In a crowded market of online education platforms, Physics Wallah stands out as a game-changer with its disruptive pricing strategy. This unique selling proposition (USP) sets it apart from competitors and positions it as a beacon of affordability and accessibility in the realm of online learning.
While other players in the market may charge exorbitant fees ranging from 50,000 to 1 lakh rupees for similar online courses, Physics Wallah takes a bold and revolutionary approach. The company offers its comprehensive courses at a fraction of the cost, with prices ranging from a mere 4000 to 4500 rupees. This disruptive pricing strategy opens doors to a wider audience, particularly students hailing from tier two and tier three cities, who often face financial limitations in their educational pursuits.
By making high-quality education more affordable, Physics Wallah aims to level the playing field and provide equal opportunities for students who would otherwise be unable to access expensive education platforms. 
Challenges faced
Physics Wallah encountered initial challenges in scaling up and diversifying their offerings beyond their initial target audience. While initially focused on serving students preparing for Class 11, Class 12, NEET, and JEE examinations, the growing demand for their courses and the success of their disruptive pricing model necessitated expansion into additional examination categories.
To overcome these challenges, Physics Wallah had to invest in recruiting more educators and subject matter experts, ensuring the development of high-quality content for the new categories. Maintaining the same level of excellence and comprehensive resources across different examination categories was crucial to meeting students' expectations.
Major milestones
As a renowned biologist and educator, his contributions have garnered global recognition and numerous prestigious accolades.
Vipin's YouTube channel, a hub of educational content in Biology, has achieved remarkable milestones. Ranking among the top 25 YouTube channels for Biology globally speaks volumes about the impact of his teachings and the vast audience he has reached. In recognition of his accomplishments, he received the Silver Creators Award as the youngest biologist with over 100k subscribers, a testament to his ability to engage and educate through digital platforms.
His talent as an educator has also been celebrated through awards such as the Young Teacher of the Year Award and the Content Innovation Award, highlighting his innovative teaching methods and commitment to empowering students. In addition, Vipin has been honored with several Young Scientist Awards, underscoring his contributions to scientific research and knowledge.
Beyond the realm of academia, Vipin's influence has extended to various domains. He has been bestowed with Honorary Doctorates from prestigious universities, a recognition of his profound impact on education and his efforts in shaping the future of learning. His position among the 100 Influential Indians and Top-100 Emerging Authors by Fox Story India further attests to his significant role as a thought leader and change-maker.
Vipin Kumar Sharma's expertise and insights have been sought after in esteemed events and forums. As a panelist and guest of honor at the EFI Entrepreneur Conclave, he has shared his experiences and wisdom, inspiring aspiring entrepreneurs and making a lasting impact. His engaging presence as a TEDx speaker, a guest of honor at multiple events, and a representative of himself and his company in countless speaking engagements have further solidified his reputation as an influential voice in education and entrepreneurship.
With a remarkable journey already under his belt, Vipin continues to expand his horizons. His foray into the world of fiction writing is evident in his upcoming debut book, "Womb Twelve." Anticipation mounts as readers eagerly await its release, eager to witness the fusion of his creativity and storytelling prowess.
What the future holds
Vipin Kumar Sharma's future is fueled by ambition and a thirst for knowledge. He aims to expand his expertise in subjects like Psychology, Philosophy, Economics, and Geography, developing holistic problem-solving strategies.
Embracing new challenges and calculated risks is central to Vipin's plans. Collaborating with industry leaders and founders, he seeks to drive effective solutions. With a focus on student welfare, he aims to take on greater responsibilities and manage significant profit and loss portfolios at Physics Wallah, all while prioritizing continuous learning and personal growth.