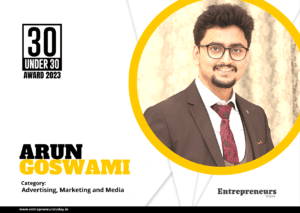 Risks have always been a driving force behind Arun Goswami's ambition to start businesses. He also holds that pushing boundaries defines your personality because it shows that you are now turning something you had only ever thought about into reality.
"This has been the reason for [Arun] to think of something which can be imagined by lesser people and I am living it."
Arun Goswami, a 24-year-old investor, is the creator of one of India's top digital marketing firms, Pixxcel. With his one-of-a-kind digital marketing company, he is here to ensure exponential growth and success for each of his clients.
Being from a family of entrepreneurs, Arun had witnessed his father and brother indulge in discussions regarding businesses, which he found to be quite fascinating. It eventually played a crucial part in the inception and founding of this company.
Engineer turned marketeer
Arun's venture, Pixxcel, embodies the unfettered ambitions and passion that he has for the whole realm of marketing and the digital world. The degree of success his brand has attained serves as sufficient evidence of how far this young man has progressed in his career. He has also demonstrated at a very young age of 24 that success has nothing to do with one's age and that it is only a number. Not only that, he gave up his engineering career and family business in order to forge his own path to establish India's top digital marketing agency.
"I had zero ideas on how to run a company but deep inside I had a feeling that I can make it happen no matter what it takes and the rest is history."
Pixxcel offers 360-degree marketing solutions that are focused on helping clients acquire new customers within 24-48 hours with a minimal investment in paid advertising.
Bridging the market gap
While working as a freelancer, Arun realized that the market is flooded with people who declare themselves to be "Marketing Genius" and end up taking money from their clients while offering next to nothing in return.
Using the whole gamut of digital marketing tools, such as paid advertising, sales funnels, email marketing, automation, organic growth, etc., he aimed to shatter that presupposition by offering one of the best customer acquisition solutions at a competitive price.
Achievements till now
One of his accomplishments is that his business, Pixxcel, was listed among the top PPC firms in India this year by Top Design Firms. He was also featured in several well-known publications such as Disrupt, Almost Entrepreneur, Yahoo Finance, etc. Additionally, he was also nominated among the top 15 digital marketers in India.
Rocky road
As he walks us through his journey, he acknowledges that the journey of establishing his own agency has been taxing. The hardest part was when he had all the knowledge and information he needed but was unable to put it to use since he lacked implementation expertise. Even though he had previously worked as a freelancer, he admits that the transition from being a freelancer to running a firm was entirely another ballgame.
He did, however, come across Rahul and Saurabh Bhatnagar, who served as his mentors and helped him excel in both business and life.
Future looks bright
No matter where he is in life, even in future, his vision will remain the same, which is to add meaning and worth to the lives of the people and the realm of business.
With a head full of dreams and plans for the future, he is confident of achieving everything he has ever dreamed of by adhering to his mindset of "Make it happen". To him, this is more than simply a statement; it implies that no matter how difficult the circumstances or how many setbacks lie ahead, he and his team of experts will succeed.
Lessons learned along the journey
A key lesson he has learned in his 20s is to pay the price today so you can pay any price tomorrow.
"When things were daunting, I used to read this quote a lot. I said No to parties, relationships, and bad influence because deep inside I had faith that things will change in my favour."
Getting rid of addictions was another major lesson. He admits that he turned to such addictions for temporary relief from his anxiety, sadness, acute self-doubt, repeated failures, betrayals, breakups, and loneliness. However, he later understood that this wasn't a long-term solution.
He also adds that more skills translate into more power and money.
"Gone are the days when you can get a decent job by scoring in your schools and colleges. This era is for specialists and not for generalists."
Final thoughts by the Founder
Arun implores the youth to adopt the "High-Risk, High Reward" mentality. He also encourages them to increase their skills as much as they can and strive to be the best. He adds, "Learning Comes First, and Earning Will Follow." Additionally, he believes that hard labour cannot be substituted, so the youth must keep hustling and working towards their goals to keep coming up with novel ways to provide solutions to persisting issues.
For further details, head to https://www.pixxcel.net/ or https://www.pixxcel.net/p1.