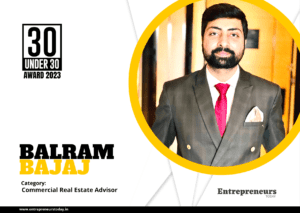 The 28-year-old Balram Bajaj is the founder and CEO of Bajaj Real Estate. Almost ten years ago, he set forth on a journey to create a presence for his company all across India and has come a long way since then. Prior to founding Bajaj Real Estate, he was interested in establishing a polypropylene bag manufacturing business. 
How did Balram come up with the idea of founding his business?
When asked about the inception of the company, he reveals, "I somehow realized that there is a lack of knowledge and understanding of people in the real estate market, there was a certain kind of gap which I felt like bridging with my knowledge and capabilities."
He says, when he started his business, Raipur had relatively few well-known brands. Despite having excellent connections to all major states, the city had very few companies, industries, and entertainment zones.
So, Balram took it upon himself to increase Raipur's visibility to these corporations and brands. He further adds,
"I believe that we should have everything in Raipur for which we go to other cities. Aiming for great hospitals, Multinational brands, Best Education Centers, Entertainment, etc. We are working our way out to get all of it here with our expertise in Network, Research & Development."
More about Bajaj Real Estate
Bajaj Real Estate is committed to providing its clients with the best investment, value, and worth prospects. In addition to meeting the specific needs of each client, their goal is to develop solid relationships and lasting ties with them.
"Buying a property is not merely a financial investment, but also a mental and emotional one. We understand how much it means to someone to have the willingness to devote such tremendous resources, with a natural expectation of receiving something in return. At Bajaj Real Estate, we aim to fulfil this expectation with excellence, sincerity, dedication, knowledge, and wisdom."
As a result, they work hard to connect clients with properties that coincide with their requirements and objectives, assisting them in leveraging an investment opportunity. A rigorous, research-based procedure is used to narrow down prospective properties for clients. These recommendations are founded on deft judgements, expertise, and the list of requirements provided by the clients. Their properties are carefully sourced, supported by a strong affiliation with leading developers, investors and supported by a wide network of offices.
Although their headquarters are in Raipur, Chhattisgarh, they provide services all across India.
Balram asserts, "Backed by considerable and solid experience, coupled with unparalleled market knowledge and wisdom, we are able to provide nothing but the best to our vast clientele. Our team strives to find the right commercial spaces, land, standalone buildings and luxury residential properties suited perfectly to the client's exclusive requirement, as well as finding the most profitable buyer for the client, all the while maintaining a high level of excellence."
What are the services offered?
The services provided by Bajaj Real Estate are in the domains of: 
Retail/Commercial/Industrial Leasing:

They deal in commercial properties like retail stores, corporate offices, warehouse facilities, healthcare facilities, educational institutions, the F&B sector, entertainment & many more,
Pre-rented Properties:

This service is for clients seeking consistent financial returns on their real estate investments. They scour properties that have already been rented out but are also up for sale. They arrange the best deal for the client to invest in the property after finding the best option in line with the client's needs and budgetary constraints.

Residential Property:

The services they offer related to Residential Property are primary sale, resale, second homes, and management services.
What are some of the company's achievements till today?
With numerous accolades already under their belt, they were also honoured by the Chief Minister Of Chhattisgarh and Avinash Group which is one of the largest real estate companies in central India, Future Group and many other brands. Moreover, they were additionally recognized by Global Business Icon as a Real Estate Start-up of the year.
They are also members of BNI (Business Network International), JCI (Junior Chamber International). CGAR (Chhattisgarh Association Of Realtors), NAR India (National association of realtors), and have received numerous honours from them. 
Bajaj Real Estate has also worked on more than 1000+ transactions with 100+ brands-Corporates across 10+ States within a span of 10 years. They have also worked for esteemed brands-corporates like Amazon, TATA Starbucks, Westside, TATA Croma, Tasva by Aditya Birla, Zudio, Reliance Digital, TBZ (Tribhovan Bhimji Zaveri), Anytime Fitness, IDFC Bank, ICICI Bank, Bank of Baroda, BYJUS, Lakme, Apollo Pharmacy, Vishal Megamart, Carl Zeiss, Mahindra Logistics, Yusen Logistics, JUST DIAL, First Cry, Jawed Habib, Eagle Burgmann, Samsung & many more including some international brands as well. 
Final thoughts by the Founder
The journey to success has not been easy for Balram, However, what kept him going during such times is a quote by Henry Ford that says, "When everything seems to be going against you, remember that the airplane takes off against the wind, not with it." 
With everything he has achieved till now, seven years down the line, he looks forward to expanding his footprints globally. And lastly, a message he has for budding entrepreneurs is to work hard and be patient.