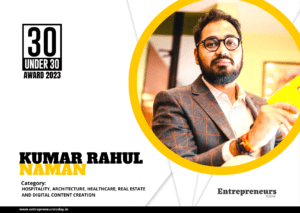 Who decides your role in life? For Kumar Rahul Naman, a thriving entrepreneur in his late 20s, it is his own self. From being of service to his family's only business to wading through years to build five stable businesses, Naman talks about the journey of making a way to what he believed.
"How challenging were the early days in business when you were still young?"
For Naman, business has been an inextricable part of his life from what he could recollect. Based in Patna, Naman's family runs a real estate business, the instigation of which trails back to the late 1980s. Thirty-five years later, it still stands stable and distinct.
"I'd go on a limb and say that my passion for business was there when I was 16."
While running after his ardor for architecture, Naman had plans for how he wanted to build on his ideas after graduation.
As luck would have it, Naman's family and their tie with business gave him a chance to explore his interest in starting a hotel. His distinctive qualities and quirky ideas made it worth the while.
"How would you describe your journey as an architect? "
"Passion for designing and architecture was indeed the start of all this."
Naman did his schooling in DPS, Patna. Soon after, realizing that he had the hots for architecture and designing made him pursue a degree in architecture from Sushant school of arts and architecture, Delhi.
For Naman, Getting graduated meant setting up his architecture firm.
Now, years after getting a master's degree in Interior Architecture, Naman finds himself leading a successful architectural firm, KRN Architect, in three cities.
"What prompted you to build a hotel after pursuing architecture?"
"I find the idea of hotels fascinating. The idea of rendering hospitality with quality was exhilarating and intimidating."
He put his skills and expertise to practice by designing a four-star hotel, Hotel Amalfi Grand, which he then joined as the CEO. The 4-star hotel in Patna has sustained itself through the years and has been a receiver of several awards.
"What are the businesses and kinds of service you provide?"
Naman takes pride as he lists his businesses and their service models.
KRN Architect, his architectural firm, offers design services for residential, commercial, and hospital spaces across India. The firm has a PAN Indian clientele and they are looking to expand their business globally in the coming days.
Hotel Amalfi Grand stands among the best hospitable hotels in Patna. Naman talks about how his team comes up with ideas to improve the aspects associated with Hotel Amalfi Grand. Their USP and his belief in 'Apnapan' or proffering warmth have made them one of a kind.
KRN Infra, his Delhi-based firm, works on designing infrastructure for minor residential projects. While the Infrastructural firm still stands at bay in taking major residential projects, Naman wants to expand it with time upon understanding people's expectations.
TR LS, a hospital consultancy where Naman joined as an Associate partner in 2020, works for clients from different parts of the country. The firm provides 360-degree hospital consultancy services and is currently handling the projects of 12 plus hospitals across India.
His podcast, The KRN Show, brings people from different walks of life to share their way of making it in life to inspire his viewers. Many popular influencers and public figures have been on his podcast.
"What were the challenges you faced while handling your businesses?"
"Handling a business itself has no challenges while the aspects of it tend to do."
When asked about the challenges he faced handling multiple roles, Naman talks about the 2020 pandemic and how it had affected their way of contemplating their consumers.
Handling people and their needs while catering to their quality demands altogether was taxing for Naman and his team. Further, he talks about how building a professional team had been a task while attempting to offer services in a city where people are not used to it. Getting his staff to clone services and build credibility was a challenge for him.
Standing out distinctively while offering similar services has indeed been a tough nut to crack, especially after the demands from the consumer end have hiked.
"While doing something that many others are doing, the smaller things are liable for having bigger impacts," Naman says.
"What do you consider your professional and personal achievements?"
"On a personal level, our ability to make our hotel distinctive and at par with the best hospitable hotels is an achievement," Naman states.
Apart from this, his hotel, Hotel Amalfi Grand, managed to bag several reputable awards.
They received awards for being the Best 4-Star Hotel of Patna by Indian Business Awards in 2019. They were also felicitated as the Best Business Hotel in India 2021. Additionally, they received the Swachh award from the government of India for maintaining exceptional cleanliness and Yatra award for standing third in the top 3 best 4-star hotels.
Insights business magazine featured Kumar Naman in "India's 40 under 40 brightest business leaders."
In 2018 and 2019, Naman and his team were nominated for the predicate for being the Fastest-growing Small Business. They have been recognised by Goibibo and Tripadvisor, and Make My Trip for maintaining a consistent client rating.
"What are your future plans for the ventures?"
"The demand for being adaptable is making us look for ways to modify ourselves."
Naman talks about how the world has changed after covid and how essential it is for companies to keep going with the tide. He also states his wish for the best of ideas and replicating things in a different way.
"If you were to give advice to people in their early 20s, what would it be?"
"Fastening the hold between the thirst of learning and gaining expertise can bring you closer to your vision."
Naman talks about his belief in balanced goals and says that one can achieve any big dream if they have the power to visualize it.