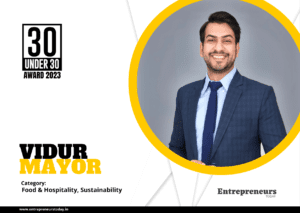 One of the driving factors behind the founding of For Earth's Sake was the dearth of sustainable experiences and goods. Vidur Shares that since there is an assumption for anything sustainable is that it will be pricey, they wanted to build a shared space with For Earth's Sake where like-minded people could meet, have access to sustainable products, share knowledge and have a sustainable dining experience.
An entrepreneur with a vision
With more than six years of experience in sales, marketing, and operations in the hospitality and telecom industries, Vidur Mayor is a dynamic entrepreneur, who previously worked in different organisations like Idea Cellular Limited, Vodafone India, and Oyo Rooms. He has also built For Earth's Sake, Zero Waste Store & Cafe on the tenets of sustainability. The services they provide range from Food & Hospitality, Sustainable Goods to Eco-friendly Gifting.
While speaking about his journey till now, he shares that every internship, job, or experience of his has been crucial in terms of his growth both personally and professionally. The experiences have helped him learn a lot and prepared him to be more prepared to face challenges in the future.
Very early on in his career, after spending several years working for various MNCs, Vidur realized that he would need to wait a while to advance up the corporate ladder to create an impact.
"To create a change and have an influence from a young age, I had to take matters into my own hands, step out on a limb and start something, no matter how small."
Achievements and challenges faced
Some of his achievements till now are that his venture has been recognised by Delhi Government; the Minister of Environment Development, Shri Gopal Rai during 'Plastic Vikalp Mela 2022'. For Earth's Sake was also the 'Top 10 Biodegradable Startups 2022' by Industry Outlook. They also won the 'Sustainable Cafe of the Year' award by Restaurant India Awards 2022, recognitions by Conde-Nast Traveller, Travel and Leisure, So Delhi, Little Black Book (LBB) and many more.
While the accolades speak volumes of how far they have come, the journey has been challenging. Things were particularly dismaying when COVID19 lockdown occurred just two months after the company's founding as everything came to a complete halt.
It was an extremely challenging period. However, a number of their clients approached them around this time regarding some of their sustainable products, and they were able to secure the authorizations necessary to deliver during the COVID-19 lockdown.
"Those customers inspired and motivated us to keep going, growing and building on our vision."
Future plans
With For Earth's Sake Cafes, they hope to transform how people eat out without impacting the environment or their own health, as well as provide a space for the dissemination of knowledge.
When asked about what follows next, Vidur says that with the right guidance, he sees himself bringing change on a much greater scale seven years down the line with the support of people from the commercial and public sectors.
The objective is to approach sustainability from many angles, rather than just from a few chosen ones.
"For instance, it's crucial to address the daily activities we engage in as well as the roots of larger concerns like pollution. Aspects like how we shop, what we eat, and other tiny details of daily life."
A message for the readers
Vidur holds that change is a process that takes time and does not materialize overnight. He adds that the only way we can build a brighter future for our children and future generations is if everyone takes baby steps towards daily adjustments.
"As our tagline says, we need to Fine Tune Our Legacy and think about what are we leaving behind for future generations!"