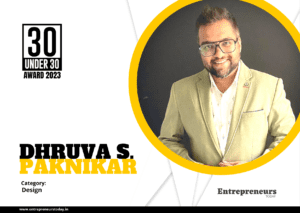 Set out to bring about a change, the impact designer and entrepreneur Dhruva Paknikar aspires to leverage design to create an impact worldwide.
"I have seen my family members doing businesses growing up. I wanted to work in an area where I can make an impact, also which I'm passionate about. Business is one of the better options which help you to reach the goals faster, as the independence of doing things counts."
Even though Dhruva began his journey with a mind full of dreams to bring about a change, he ventured forth with just one laptop and no money. Things, however, worked out and it led him to establish Dominix Global Design Pvt. Ltd., which now is the only business in India that offers a comprehensive strategy for all four verticals of brand and business, digital, product, and space experience design.
The Rise
Dhruva is the founder and managing director of Dominix Global Design Private Limited, the world's best young design company, which specializes in industrial, communication, strategy, digital, and space design.
Regarding his educational and professional background, he has attended institutions such as Jnana Prabodhini, MIT, and Strate Ecole de Design (Paris), and has previously worked with designers like Emmanuel Cairo, Philippe LoPresti, and Claus Peter Speidel as well as businesses like Ikea, Mitsubishi, and CK.
Today, having a corporate presence in the United States, Middle East, South East Asia, and India, his clientele includes well-known names including Lamborghini, Johnson & Johnson, Reliance, L&T, Calvin Klein, Mitsubishi, Siemens, Rolex, and more.
"Ace Space Real Estate, Dominix Digital LLC USA, Alpha Beta, Salescale and his distinctive luxury design brand 'Dhruva Paknikar' are the brands in the Dominix Group portfolio."
Addressing the market gap
Before founding the company, in an in-depth study of the Indian market and trends in the realm of design, Dhruva realized that no company in the space offered design strategies with a comprehensive approach.
As a result, before the launch of Dominix in 2016, he strived to map out the gap between these design markets and provide a solution for it. It was Dhruva's goal and the demand at the time coincided that Dominix Global Design Pvt Ltd was founded.
Services provided
What's special about Dominix Global Design Pvt. Ltd is that it is the only business to have developed and assembled more than 140 design elaborations based on psychological concepts.
In an exclusive interview with Entrepreneurs Today, Dhruva walks us through some of the other services offered at their company.
"We have many business products such as 'Dominix Design Context Mapping' and 'Dominix Information Architecture' etc. Dominix is the only Indian design company that offers eight such business products to its clients."
However, the services are not limited to that, the world's first design subscription model was developed by Dominix and has been operationally effective since 2019. Moreover, they are the sole Indian company with ABLED Labs, a design-driven non-profit organisation, as a subsidiary that aims to better the lives of people with disabilities and those who are struggling to make ends meet.
Achievements
If we further dabble into his major accomplishments till now, he has won numerous international honours for his work, including the France Furniture Awards, Q Award (London), IAF Award, Best of Best AKDF Award (South Korea), APAC Business Awards and "Design Icon Award" as India's best young lifestyle designer.
With several achievements under his belt, Dhruva is also the only Indian designer to work with one of the most influential designers of all time- Karim Rashid at his studio in New York, where he worked with more than 30 clients including Alessi (Italy), Pepsi (USA), Arlight (Turkey), Umbra (Canada), Shiffa (Dubai), Ecojun (Japan).
Wading through the industry as a leading transformer, Dhruva has been featured in both national and international publications on numerous occasions. To name a few, Creme Magazine, Face Magazine, the Young Designers section at Brunel University (UK), Hindustan Times, E-Sakaal, Beginup, and Success Magazine have all interviewed him.
Furthermore, he has spoken as a guest speaker at numerous international institutions and universities in India, France, and the UK. He is also a TEDx speaker and has given a talk at Flame University on "The Impact of Design."
Dhruva works as a design mentor at Encubay-Greenhouse Capital Africa, Midas Institutes, the MIT Sloan School of Management, ATAL Tinkering Labs, VIT, Spacers, Venture Center, and JKKN (Govt. of Jammu & Kashmir). In the fields of design, design thinking, and design-driven strategies, he has mentored more than 200 startups. Dhruva has served as a jury member for multiple contests, including the Association of Designers of India – PDF, Midas Bazaar, PitchTech Flame University, and GradJury MIT Institute of Design.
However, the list of his achievements is not even close to an end. Apart from being a part of the MIT World Peace University Advisory Board, Dhruva became the youngest board adviser in the history of the university when he was selected to the Industrial Advisory Board of Vishwakarma University in 2020.
Future plans
When asked about the holds in the future for the company, Dhruva shared that while everyone aspires to work for clients and companies that are internationally renowned and represent a variety of demographics, regions, and cultures, his goal is to convince people that India is a centre of innovation with the power to create amazing designs and designers.
"I want to make design in India a success. We, at Dominix believe India should be the next design innovation recognized for its design & design thinking."
Additionally, he intends to democratise design and make national government policies more design-driven. They are presently working with politicians and bureaucrats to implement and support design-driven initiatives.
While they already have offices in 3 countries, they are looking forward to expanding to seven more countries. Currently, they have a gross evaluation of $5 million & own more than 100 IPs, but five years down the line, they aim to become a company with a valuation of $100 million with 1000 IPs.
"My goal is to reach 5 million people, one-on-one, to make them understand design thinking in their daily lives. This way I could empower lives and livelihoods.  I also aim to empower specially abled people by solving at least 1000 cases through design, free of cost in the next 10 years."
As a way of giving back to society, Dhruva founded the world's first Specially Abled focused NGO, "Abled Labs," where he also holds the position of principal designer. This organisation develops custom solutions for those with special needs.