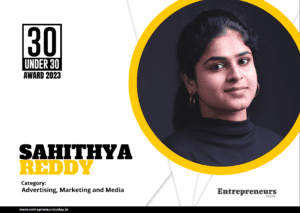 Following the completion of her MBBS, Sahithya Reddy began her profession as a physician. What sets her apart is that even though it was her profession, and something she toiled for years, she finally learned that her true calling and passion was acting.
Sahithya now has three years of filmmaking expertise and manages the entire production process, from pre-production to post-production. She has produced and directed a Telugu movie, which is currently in the post-production stage while acting as the primary producer at Magic Lantern Studios.
About the venture
Magic Lantern Studios is a creative marketing and strategic advertising agency with pan-India operations. They develop, curate, and put into action marketing plans to connect with the target market while connecting the client's brand with the digital world.
Their mission is to take ideas and turn the goals and objectives of their clients into tangible results that advance brand development. They strive to be always well prepared – with a bunch of crazy people, endless cups of chai, and beautiful hideouts in Hyderabad. Sahithya and her team at Magic Lantern work very passionately for the brands to stand out.
Inception
Reddy says, "While working as a doctor, I attended a few theatre acting workshops and auditioned for a few roles." She continued to advance her acting career, but God had other plans. A worldwide pause was brought on at that time by COVID-19.
It was then that she remembered the words of her father, that "every hill appears clean and smooth from a distance". At a time like that, his words pierced something in her, and she realized she had to do something to transform her aspirations into something tangible. But her determination also entailed a series of challenging events. She says, "Because of covid, all film production had ceased, and I only had a little time to prove myself to my family, and society that my decision was correct."
Sahithya knew that time was running, and she needed to do something right then and there. Her mind was racing, and she experienced flurries of ideas and thoughts of all the possible things she could do.
Reddy believes that when people say that if you work hard and are motivated to achieve something, things finally fall into place, and this is what happened with her as well. Following the
event of initial panic and frenzy of not knowing which course to undertake, she entered a short film contest and was chosen in the "TOP 13 OUT OF 9000" entries, which gave her the confidence she needed to assure herself that she was on the right track.
However, Sahithya did not want to sit around hoping for things to fall into place on their own. She toiled and strived to create opportunities for herself. So she produced, wrote, directed, and acted in a film with the support of her close friend Amarnadh Bommisetty, who has been with Sahithya at every step of the journey for the last three years.
Things learned
Ever since Sahithya Reddy began filming, she has learned a lot about herself and knows what she is capable of accomplishing. During the time she filmed the shoot, Reddy oversaw the entire pre and production process with a crew of 5 people because they had very little budget for the film. Her journey was rewarding, but not without its share of hurdles. With a small team, running the shoot was challenging because they had to get up early to prepare meals and do everything else on their own.
Sahithya says, "The film's post-production is still ongoing, but via it, I learned how the industry operates, how to interact with people, and how to expand my network. I've met hundreds of people, and the outpouring of love from everyone has been overwhelming."
Achievements
With the expertise she garnered in her career, she finally decided to open her own agency and partnered with Amarnadh, who has 10 years of experience in film and media.
She is confident of her accomplishments and even though they have just been in business for a year. Sahithya is already glad to claim that they have done commercials for large brands like Audi, Himalaya, Amway, Power gummies, IRA Realty, Skinkraft, Bolt cold brew (coffee), Super K, Riverscape Ventures, and many others. The agency's effective marketing strategy is effective when one looks at how they have helped Super K supermarket to expand from 30 stores to 100 in a span of just six months. Moreover, within one year, they have had 25 recurring clients.
With all the accomplishments under her belt and the lessons she learned over the years, today, Sahithya can proudly claim that she is a doctor, producer, director, actor, and entrepreneur.
Future plans
Sahithya and her team at Magic Lantern Studios are currently working on a few tech-driven solutions that are still in their embryonic stage. Since no one has used this strategy before, these solutions are original and novel in the advertising industry. In a chat with Entrepreneurs Today, Reddy shares that three years down the line, she wants Magic Lantern Studios Advertising Agency to be one of the best ad agencies in India.