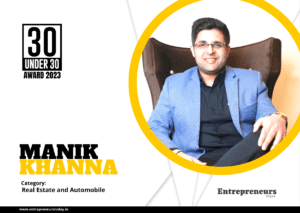 Manik, 28 years old, comes from a reputable Chandigarh business-class family and has received his education at the prestigious Vivek High School in Chandigarh and his BCom from Panjab University.
"I was very passionate about business since my schooling days and started business at the young age of 20. I started the automobile dealership business in the year 2014. After my success in the automobile business, I have now diversified into real estate sector and aim to consolidate all the businesses under the brand name 'Skyspan'. "
Skyspan's trademark and registration under Manik Khanna's name are already in place.
Inception
Manik wanted to explore his business opportunities while also considering the needs of society. He had the idea to create something that would address his business concerns as well as help the people in the lower socioeconomic bracket become self-sufficient and self-employed.
Manik set up his automobile dealerships in the year 2014 and made sure that in-house facilities of finance, insurance, etc. were readily available to make it easier for this segment of society to purchase commercial vehicles that would meet their need for employment and help them earn a living.
In order to expand, Manik diversified into the real estate sector and given Zirakpur's close proximity to Chandigarh, he felt compelled to contribute to the city's planned development and the national government's initiative to provide 'Housing for all'. As a result, they developed a residential project called Maxxus Elanza which caters to the affordable segment.
Additionally, they developed The Ananta Aspire, a high-rise group housing project that offers opulent elegance. Since Chandigarh and the surrounding areas have a growing need for office and retail space, Skyspan Group will launch two commercial projects in the final quarter of 2022–2023 for which the necessary approvals have already been obtained.
What does Manik Khanna have to say about his ventures?
"In our businesses, we focus mainly on customer satisfaction and transparency. Catering to the interest of the customers is our utmost priority. Our mantra is to be Customer-Centric and to provide all the facilities required by the customers"
More about the Founder
From his formative years, Manik had always known he wanted to start his own business and always sought to succeed in life. So, while he was still in college, he began seeking opportunities and launched his automobile dealership business. After finding success in the automobile industry, he decided to diversify and expand. Real estate is one of the industries with the most potential, so he entered it and has a few projects in the works.
The lesson Manik Khanna learned in his twenties and will continue to live by is to seize every opportunity that comes your way and to always believe in yourself. He is of the view that one can achieve anything and everything if one puts their heart and soul into it. He also learned never to be afraid of making mistakes, but to constantly overcome them and learn from them.
Achievements till now
 "Ever since we started the automobile business, we have achieved maximum market share in the region throughout these years and continue to remain the leaders in terms of market share and sales volume."
Due to their projects' prime locations and state-of-the-art amenities, they have also had significant success in the real estate sector in such a short period of time and are receiving a lot of positive feedback and admiration from the clients.
They are also coming up with two new commercial projects and another luxury residential group housing project.
When asked about the most challenging period in his entrepreneurial journey, Manik Khanna reckons that he is of the "firm belief that nothing is difficult once you are confident and committed to your choices, however, if I have to think of a time that took a little toll in terms of business, that was during Covid. However, that also had a silver lining as it inspired me to think of ways and strategies to further grow and diversify the business."
Future looks bright
Manik is of the opinion that success is not a one-day thing and one needs to be focused and work hard in order to be successful. He confesses that his father has always been an inspiration to him and that he has watched his father work incredibly hard to be where he is now. Manik wants to move forward with responsibility, just like his father.
Manik also confesses that his entire team has collectively played an essential role in his growth and success. A few years from now, he aims to become the leading real estate developer in the area, while also expanding his automobile business.
Manik says that you are your biggest competitor and you should be proud of your accomplishments, but one should never be contented and should always strive to achieve more in life.
Finally, he implores all young people to never give up and to always have unwavering faith in their abilities and their ideas. He also implores young people to never be afraid of taking calculated risks and to explore every opportunity that comes their way.