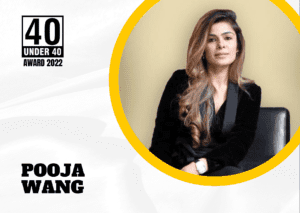 How to design luxury couture clothing for kids?
Pooja Wang hails from a family of couture designers based out of Delhi and is the most famous celebrity kids' designer working in the country today. She began this journey on her niece's first birthday. The family was looking for a custom made dress fit for the occassion, but there was a severe lack of designers working in kids couture. Exasperated, Pooja herself took up the responsibility, and designed a dress for her little niece. This decision would end up changing the entire design industry and make Pooja Wang the go to person for immaculate kids fashion, made to order.
She started her designer journey in 2008, designing clothes for women. She had a passion for clothes, and drew inspiration from her strong family heritage in the business. The decision to work with and for kids, as mentioned before, happened suddenly, overnight. In the process she realised there was unbridled excitement in it. She got the opportunity to work with vibrant colours, and experiment with different cuts, according to the mood and personality of her young subjects. As a niche, it has been an incredibly fulfilling one for the veteran designer.
Pooja Wang's Journey
When asked about the USP of her designs and clothing, Pooja considered the question for a while. But when she answered, her response was confident. Her designs prioritise comfort above all, followed by style and quality. While people come to her for the unique stylistic flourishes she is able to provide their clothes with, she knows that if the clothes aren't comfortable, children would refuse to wear them.
This focus on her clients' wellbeing allows her dresses to fit her muses gorgeously, as they move freely and happily, enhancing the vibrancy of their colours and cuts.
Pooja designs clothes for children of all ages, from new born infants to kids in their early teens. While babies get rompers and matching accessories to accentuate their clothes, the older they get, the more experiments she is able to do. She designs everything from trousers, waist coats, and three piece suits, to dresses, lehengas, and gowns. The softening of the gender binary over the years has meant that she is able to choose from a wider palette of colours for children of both the sexes. Additionally, she uses pearls and gems to accessorise her clothes and add an oomph it.
In the everyday of her work, as children come in to get measured and fitted for clothes, Pooja becomes a designer and counsellor in one. A mother herself, she is patient and kind with her little clients, and tries to be considerate of their tantrums and demands. It is this calm approach that has made Pooja such a favourite for many parents. They trust her with designing the best clothes for their children, by taking their personality in and reflecting it in their attire.
Impact
Pooja Wang's impact as a designer doesn't need reiteration. She is the go to person when it comes to dressing celebrity children, and has made history as the first Indian designer to be featured on the Cannes red carpet in 2019. Aradhya Bachchan complemented her mother's golden gown with a beautiful frock of her own. The bright yellow dress had a sumptuous and layered bell, and a matching flower near the shoulder that acted as the centerpiece. She stole attention away from her superstar mother, and her simple yet elegant dress put another feather in Pooja's already overcrowded cap.
But she is equally proud of her less publicised work. She reminisced about a client whose daughter simply refused to be fitted for a dress. Used to shirts and tees, she didn't want a dress for her birthday, and the process of getting her measurements proved very frustrating for her team. However, ever the creative mind, Pooja used this experience to gauge the girl's preferences and temperament and designed a dress accordingly. On the night of her birthday, she received a call from the girl's mother who thanked her profusely  for the miracle she had managed. Her daughter had loved the dress so much that she refused to change even at bedtime, opting to go to sleep in it.
Speaking about the experience she audibly gushed, revealing how deeply she had been affected by the event. After all, what could be a greater compliment for a designer than the satisfaction of an initially sceptical subject?
Pooja extends this artistic sensitivity to her business practices as well. Despite the financial upheavals of the COVID period, she refused to let go of any of her 55 employees, even as her studio remained non functional for a month. Designing is a team effort, she concedes, and it would be a poor artist indeed who didn't acknowledge their assistants.
The lapse of work during the COVID period allowed Pooja to diversify into women's clothing once again with Melange. Again, her priorities were comfort, quality and style, as she tried to bring the same childlike energy to adult clothing with funky casual wear. There is also a retail outlet in the pipeline which would make her work accessible to a much wider audience.
But largely, she is satisfied with her work and career, making hundreds of dresses a year for children of all shapes and sizes. Where else would she get such creative freedom? She asks with a smile.