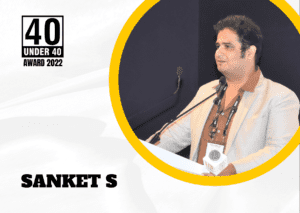 To address the issues of continuous food supply and reliance on specialized labor in the food sector, Sanket founded SCANDALous Foods with his current cofounder Pravesh. SCANDAlous Foods is a one-stop shop for sweets for the hospitality industry.
Sanket feels compelled to address the unstructured food industry's uniformity, waste, and theft problems. Which also includes standardization of food and capacities, waste of resources including land, labor, and food, as well as pilferage of food and other items. Additionally, he is also an advocate of mutual collaboration, networking, relationship building, lean operations, and mutual piggybacking.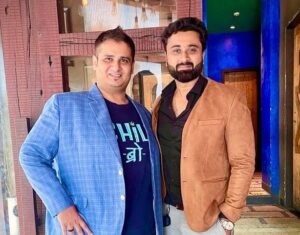 Core values
Over the years, he has realized how crucial it is to keep abreast by staying humble and to keep learning from friends, colleagues, customers, vendors, employees, and mentors.
Sanket genuinely believes that an entrepreneur must have a close relationship with a good mentor who can guide them when needed. He acknowledges that he has been fortunate to receive guidance from several industry experts and also expresses his gratitude to Ajay Mariwala, Jaspal Sabharwal, Suraj Saraogi, Manish Behl, and Ish Anand for helping to mold him into the person he is today.
Life's calling as an entrepreneur
To officially begin his entrepreneurial career, Sanket launched Urban Spice in 2011. However, he first showed signs of his entrepreneurial prowess in junior college, when he and a friend of his started selling personalized music CDs to other students. Planet M, DVD players, and cable internet connections weren't commonplace in every family back then. He claims he was fortunate to have it, and they started selling similar CDs to other college students after spotting a gap in the market.
Sanket recalls another instance of his entrepreneurial zeal. While pursuing his engineering degree, he observed that his North Indian friends in Nasik were not weren't getting good North Indian food. So, he began a Dabba business after identifying the need, expanded it to 400 dabbas per day, and, after 1.5 years of operation, sold it to another caterer.
Sanket also recollects a circumstance that taught him early lessons about the value of paperwork and making impenetrable contracts.
He shares that through a referral, he was approached by someone who informed him that there was a gap in Nasik's catering roll market. During the wedding season in Nasik, there was a significant arbitrage in purchasing rolls in bulk from Masjid Bandar and selling them to caterers. So, while still in college, Sanket made an initial investment in that business as a working partner and originally produced a respectable profit with decent volume. During the 2005–2006 period, they would buy rolls from Masjid Bandar for 57 per kilogram and sell them for 130 per kilogram in Nasik, earning a tidy sum of money. He later left the execution role to focus on his senior year, and that individual ultimately defrauded him of his share in the business.
Eventually, Sanket joined his father's financial services company and sold mutual funds for him for pocket money during his senior year. In 2009, he sold MFs worth more than two crores solely through relationship marketing while lounging in his clubhouse.
He then traveled to Mumbai to finish his CFP in 2009–2010, after which he launched Urban Spice, a meals-in-a-box service. Because he disliked the thought of eating out of a steel tiffin, he had the idea to combine the two elements to create Urban Spice- a classier tiffin service and homely food, a more upscale take on the traditional tiffin service.
Impact
Starting out in a 200-square-foot kitchen in Powai, Sanket developed relationships with administrators of smaller businesses and focused on lunch boxes in and around Powai. After four months, they steadily increased to about 400 boxes per day. They then moved on to cafeteria management solutions and were fortunate to serve companies like Wipro, NPCI, RBI, Vodafone, Aaranca, and eBay, to name a few. He recognized a significant need for high-end corporate catering services and began providing services for groups of 5 to 50 people for occasions like board meetings and training sessions.
Sanket is now an honorary lead at TiE Food Network (TiE Mumbai) and grew TFN as a SIG to assist emerging entrepreneurs with mentoring, peer-to-peer help, and peer-to-peer selling. Through the TFN programs, they have reached over 20,000 foodpreneurs.
He held various e-sessions at TFN in collaboration with industry veterans like Chef Sanjeev Kapoor, Jaydeep Barman (Rebel), Sagar Daryani (Wow Momo), Raghav (Chaayos), Jaspal Sabharwal (Tagtaste), Chef Harpal Singh Sokhi, Jayesh Parekh (Sonytv), Perizaad Zorabian, Shailaz Nag (Dotpe), Arjun Vaidya (Dr. Vaidyas), Peter Rodwell (Mcdonalds) to name a few.
His future interest lies in developing an optimized supply chain through various forward and backward integration within the food industry. He is also keen on behavioral investing.
Sanket has gained a ton of knowledge over the years thanks to his vast expertise and track record of success. He urges young entrepreneurs to avoid starting a venture or a business just because their friends are doing it or because it appears trendy at the time and encourages them to stick to their strengths and focus on what they are most comfortable doing.
Lastly, he also adds that as an entrepreneur you will experience difficult times and be tempted to give up your business, but you must resist the urge because you never know when you might be presented with a chance that could change your life.
Favorite line: Encumbered by ambition, there's a hunger still unsatisfied
Favorite book: Swim with the sharks without being eaten alive by Harvey Mackay