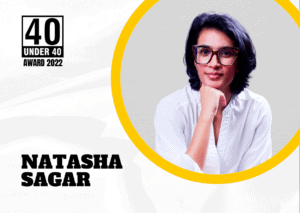 How to make mental healthcare easy, accessible, and judgement free?
India's Mental Health Crisis has exploded in the past two years owing to the isolation and anxiety brought about by the pandemic. As an educationalist, Natasha Sagar was disturbed by the increase in suicide rates in the student population across the country. The lack of awareness and the social stigma surrounding therapy and mental health issues have prevented students from seeking professional help, leading to the loss of precious lives.
This inspired Natasha to launch The Happiness Project (www.thap.app). Through this initiative, she wanted to make mental healthcare easily accessible in a judgement-free setting and spread awareness about the importance of taking mental health seriously.
It was in July of this year that THAP launched as an app that could serve as an instrument for making psychological counselling a more easily accessible service. Since then, it has reached a wide audience of primarily students who have been able to seek out affordable and necessary mental health advice through THAP.
The Happiness Project, both as an initiative and an app, is set to grow exponentially larger in its impact on the student community and society at large.
The Road So Far
Natasha Sagar is an immensely accomplished individual who has travelled the world for both pleasure and profession. Holder of a dual Bachelor's degree from Arizona State University, USA, in Supply Chain Management, and Management, and an MBA from IESE Business School, Spain, she was an analyst for Goldman Sachs and Bank of America for a while, before shifting to a strategy and consulting position for projects in Nairobi, Kenya, and Barcelona Spain. She is also a decorated athlete who has represented India in the Asian Grand Prix and has 18 national medals and 2 national records to her name.
So, when she decided to tackle India's mental health crisis, there was no doubt that she would ace this endeavour as well. Mental health, despite being an increasingly concerning segment of public discussion, has remained shrouded in stigma and taboo, which has made it difficult for people who are suffering, to seek the necessary help.
Additionally, there is a steep cost associated with seeking professional help, and a barrage of esoteric terminology which acts as a barrier for people, who are afraid of being diagnosed and labelled as mentally ill.
So, for Natasha, the initial aspect of her work with The Happiness Project was to spread awareness about the intricacies of the mental health discourse. The Happiness Project reached out to people through social media and awareness workshop drives which discussed how mental health ailments like depression and anxiety are commonplace problems faced by a multitude of people. The aim was to open up the conversation about these struggles and normalise seeking help to deal with mental health ailments.
It soon became apparent to Natasha that more needed to be done in this space. She realised that to have a large-scale impact, her solution would have to be scalable and that the only way to tackle this would be with the help of technology. Thus, THAP was launched as an app in July 2022, as an extension of the overarching initiative she had begun. It became a platform that provided free mental health management resources and connected its users to qualified psychologists and counsellors online from the privacy of their homes, in a judgement free setting.
Impact
Natasha and Tintisha Sagar have been at the forefront of THAP as the CEO and COO respectively, and they have been upfront about their focus on students as the target audience for it. The student community has felt the brunt of the mental health pandemic that is sweeping the world.
Along with a discreet way of connecting users to professionals according to their needs and ability, THAP also has a built-in facility that allows the therapists to assign necessary homework, like self-therapy workouts and journal entries, that can be shared ahead of sessions with the therapists, to make a more enriching impact on the users' lives.
So far THAP has helped about 15000 students through offline information sessions, and online counselling. There is, of course, a long way to go for them. Natasha has already joined forces with 4 colleges to include their service as a part of their curriculum, potentially doubling their reach to 30000 individuals. Over the next decade, Natasha wants to expand the services of THAP into the USA, EU, and Middle Eastern markets, and impact at least 100 million lives across the world, leading an essential change in our approach to mental health issues.