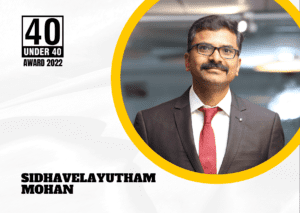 Is there a right time to invest?
A question asked by many and a conundrum for all. Sidhavelayutham Mohan believes that before you begin your investment journey, you should consider your investment goals and motivations.
A lesson Sidhavelayutham Mohan learned in his 20s and still adheres to is that when you're young, time is your best asset. He is also of the opinion taking the time to find the answer will make it simple for you to decide where to invest, and that making volatility your friend is the key to investing.
A trail of success
Despite being from an agrarian family, the founder had an entrepreneurial spirit and was extremely passionate about investing. True to his caliber, his company's trading platforms have developed greatly over the years with the assistance of his team, giving customers a seamless trading experience ever since.
As a discount broker, Alice Blue provides trading and investment solutions for F&O, Equities, Commodities, Currency, Mutual Funds, and Initial Public Offerings (IPO). Since its establishment in 2006, Alice Blue has grown to become one of the most well-known discount brokers in the market, with a pan-India presence across 16 branches across India. The company is also a member of the BSE, NSE, CDSL, and MCX. Not only that, they now offer trading over mobile, desktop, and web versions through ANT trading platforms.
As one of India's "Top 10 Customer-Preferred Financial Enablers," Alice Blue understands how to uphold its reputation. Their major accomplishments include being identified as the "Top 3 contributors in Equity Derivatives" by the NSE in 2021 and being named the "Best Stock Broker for New Investors" by the respected Times Group. They were also honored with the "Gem of India" in 2013, "Best Broking House South" in 2019, and "Best brokerage house" in Energy by MCX in 2018. Most recently, they also won the ET leadership excellence award for stock brokerage company excellence.
Ripples of change
Even today, investors and traders have to surmount a subset of hurdles when dealing with an individual broker in terms of transparency, support, price, and technology. When Alice Blue ventured on their journey, they genuinely believed they could help the investors, and traders by restoring the system with their life-long expertise and experience. Soon after, they launched the hedging tool to help traders with the aim of providing a low-brokerage trading platform catering to both investors and traders.
Alice Blue exclusives
Among the many distinctive services that Alice Blue offers, a few that stand out are the Trade School, Trade Store, and trading apps.
Designed by the leading stock market investors and educators in India, the Trade School is an instructional platform to help their clients with courses and webinars on difficult concepts of stock trading and investment.
Followed by another notable service, their Trade Store is India's first marketplace for trading and investment tools. These tools enable the users to trade with no prior coding knowledge, provide trading and investment advice, and allow mutual fund investments with no brokerage fees. Additionally, their trading platforms, like Ant Mobi and Ant Web, offer 1-year and beyond historical chart data, 80+ technical indicators, numerous watchlists, and many other complex features. What is more striking is that they are user-friendly and convenient.
Furthermore, they keep up with time by frequently upgrading their services and offerings based on the needs of the customers as well as CSAT surveys from partners and clients, all the while enabling retail investors and big-volume traders to handle their own affairs using our web platforms and mobile applications.
Future looks bright
Within seven years, Alice Blue hopes to join the Fortune 500, break into the insurance sector, handle investment portfolios, and expand its clientele of NRIs. In addition to having requested an NBFC license from the RBI under the name Aliceblue Capital Services Pvt Ltd and expanding their business, they have also registered as Integrity Financial Services Partnership Firm and formed Aliceblue Insurance Broking Private Ltd.
With the help of their new program on the AB YT channel called Traders Talk Show, investors can dabble in the world of trading and explore various ways of investing, such as option buying, option selling, and F&O strategy.
With Alice Blue leading the way, the trading platforms have greatly transformed over the years to provide investors with a convenient trading experience. India has grown to be one of the top investment destinations for foreign investors worldwide despite experiencing the most terrifying global financial meltdown, and because of the strong degree of confidence among our investors, the investment environment in our nation is advancing each day. Marching with the mantra "Growth Inevitable," Alice Blue is definitely setting the standard for the stock market industry and fostering the advancement of our country.