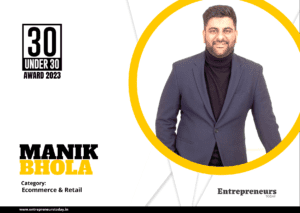 Based out of Gurugram, Manik Bhola, at just the age of 21, launched his first venture, a luxury gifting startup, while he pursued his engineering degree. Finally, in 2016, his ideas turned into something more tangible as his vision of building ORNAZ became a reality, and as he says, it has been a worthwhile journey ever since.
Ripples of change
Manik Bhola, the founder of ORNAZ and the brains behind the brand, noticed a significant gap in the market where millennials who wanted to make their proposal memorable were not catered to. He anticipated how millennials getting influenced by western society and predicted the forthcoming change as engagement rings and proposals were getting more attention in India than ever before.
"The switch in people's choices and the lack of options was that untapped area that no one was addressing. If we talk about proposals and expression of love, the western influence was taking over. That is when I thought of coming up with an answer to all those needs. ORNAZ takes pride in being the country's first and only engagement ring brand."
At ORNAZ, they believe that love needs to be cherished, and with this, they envision becoming a part of every milestone of people's relationships.
The brand strives to offer a remarkable engagement ring-buying experience, from iconic designs to in-person diamond grading and virtual try-on. ORNAZ is moving forward with a team of incredibly efficient and creative minds with the goal of providing customers with the best quality diamonds and the broadest selection of engagement rings. Their celebrity following and content-driven branding strategy have made them a platform worth drooling over for the audience searching for the ideal Engagement Rings.
With the team's growth and substantial exposure, ORNAZ was able to attract a massive celebrity following on social media, including Malaika Arora, Hina Khan, Sonam Bajwa, Mouni Roy, and Shraddha Arya. The brand has experienced exponential growth, with influencer marketing being the catalyst for fast-paced D2C brands.
As the creator of a direct-to-consumer brand, Manik Bhola skillfully leveraged his life experiences to identify the market gap and the demands of the consumers. Manik established a team with expertise in developing content-driven strategies and a rigorous research culture.
What are the services offered by ORNAZ?
"We at ORNAZ provide our customers with a personalised experience in getting their dream engagement rings. We are people's first company and the idea is to make every ring as unique as their story. We do that by offering 100% customisations which enables them to create a design from scratch."
Achievements till now
What Manik Bhola considers to be a personal achievement is that when he was just at the age of 21, still pursuing engineering, he started working towards his passion and founded his first digital gifting startup and scaled it to $500K in revenue. He has previously worked with Jabong's product team and assisted them in growing their global clientele. It was then that he forayed into the D2C space with this engagement ring brand.
70% of ORNAZ's sales come from tier 1 metropolitan areas, with the remaining sales coming from tier 2 and tier 3 cities. They ship to more than 30,000 pin codes in India and more than 70 other countries worldwide.
Challenges faced and Lessons learned
Manik admits that things initially felt quite daunting since it was difficult to establish a digital business, let alone a brand for selling diamond jewellery. He shares that people still prefer to purchase jewellery from their neighbourhood jewellers. So, it was challenging to persuade people that because they are a digital-first company, they can provide superior quality and convenience both in one spot. But with time, they were able to create that awareness, and that period served as both a learning opportunity and an inspiration for them to do even better.
One of the lessons Manik learned in his twenties is that first-hand experience is invaluable.
Additionally, he notes that he was super optimistic and had faith in what he wanted to build. He says, "for [him] that's important, to believe in what you are building, only then others will believe in your brand too." He adds, "If I'm being honest, I trusted my gut and maybe that is the reason everything fell into place."
Future plans
Manik Bhola insists that their goal is to have an ORNAZ ring placed behind each proposal made within and outside the nation. They want to establish a physical presence all over the world while also upgrading the digital space. Manik can see it happening in the upcoming year since they are in the process of going omnichannel, with the creation of pan-India experience stores at the top of the list.
They recently debuted their fine jewellery line as well, so they hope to expand that segment with more fine jewellery gifts. Additionally, they are focusing on providing services to people with best-in-class expertise.
Along with becoming omnichannel and opening numerous outlets across India for a smoother in-person experience, the company is also aiming for revenue of Rs 500 crores in the FY 25.
Lastly, he adds that as India's economy is growing, people's attitudes toward startups are changing, resulting in the development of numerous D2C brands.
Thus, he encourages young minds to experiment with their novel ideas. "Ideas work wonders if you put in those hours and never give up on your belief. Because in my opinion, visualising your goal means you're halfway there already."