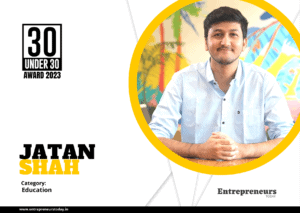 Jatan Shah, Co-Founder of Skill Nation, is a Microsoft Certified Excel Expert & Trainer as well as a Business Coach.
He has trained more than 2 lakh students in data analysis skills such as advanced MS Excel, Power BI, and Data Studio, which have aided them in obtaining raises in pay, promotions, and high-paying job offers. To launch their own successful businesses, he has also assisted working professionals in leaving their jobs.
The ed-tech company Skill Nation helps the Indian workforce launch and advance their careers in a variety of fields, such as data science, data analysis, digital marketing, finance, etc. by offering easy and affordable online classes and mentorship programs.
Jatan is a firm believer that "learning is growing" and strives to learn something new every day in his line of work. In the following two years, they hope to teach 1 crore people practical and industry-relevant skills through Skill Nation.
Lessons learned
"There is no such thing as risk. It's all about calculated risks."
Jatan believes that everything that we do has a risk, risk of failing, not being able to do so in the first place or even not being able to do it the best. The tendency to avoid risk is ingrained in us as humans.
He further adds that "My experience tells me that you can mitigate all your risk by replacing it with something called 'calculated risks'. Calculate how much risk you have by taking a certain decision. Then determine a Risk to Reward Ratio for your action. If the RR Ratio is 1:3, it simply means you are allowed to fail twice and not have it impact you. I always take decisions that have a RR above 3. This gives you enough safety margin to fail and at the same time, enough room to succeed."
"It is an era of solving problems uniquely, not solving unique problems."
He claims that innovation is essential to creating a sustainable business. It does, however, have two sides. One aspect of building something is finding innovative solutions to challenges, but you don't have to be the next Elon Musk to do so. Try tackling an existing (or perhaps even "boring") problem in a novel way if you believe there are no more unique problems after so many startups and businesses.
Jatan reveals, "Changing my approach towards problem-solving helped me build my company. There were hundreds of EdTechs imparting skills when we started. However, changing the way we solved our student's problem of not learning skills by making our programs convenient & affordable helped us a lot."
"Jack of all trades is BETTER than master of one."
He encourages people not to focus all of their efforts on perfecting just one skill. Develop a variety of skills and strive to be the best, if not above average, at each one. A person with a skill set that is above average in five areas is always preferable to someone who is an expert in just one.
Achievements
On a personal level, they have educated thousands of people—more than 200,000—and assisted them in realizing their goals. They were able to rekindle the spark they had lost by helping them get pay hikes, better jobs from their current jobs, jobs in the first place for those who were unemployed, and career switches. Many of them had reached a professional plateau in their 30s and 40s.
Another achievement is that Jatan and his team created an edtech that was profitable from day one and crossed ARR of 50 Crores without raising outside funding, all with a capital of less than Rs 30,000.
Was his entrepreneurial journey a smooth ride?
Jatan shares, "Skill Nation's journey has been a smooth ride so far however I have had my fair share of hardships. I belong to a middle-class family. My parents are separated and I have seen my mother work very hard to raise me. There were days when we used to have Rs 50 for our dinner and have gone to bed either hungry or by eating roadside chaat. Fortunately, we have come a long way from it. I am inspired by my mother & her hard work and at the same time work hard to provide her with the quality of life she deserves."
When asked about his plans moving forward, jatan shares that he envisions himself doing what he loves the most.
What holds in the future?
"At this level, money no longer brings drive. I have earned enough to never HAVE to work for a day going forward. For me, it's the ambition & happiness by work brings that drives me. Every day, I aspire to work hard and do what makes me happy & drives me. It would remain the same 7 years later as well."
Finally, Jattan notes that skills are more important than degrees. He reckons that Rancho was right when he said "Never study to be successful, study for self-efficiency. Don't run behind success. Follow behind excellence, and success will come all behind you".
He maintains that your skill set alone, not expensive degrees, is the only thing that will enable you to become self-reliant. Even if you pursue a degree, do it for the lessons it will teach you, not for the certificate it will appear on. In our nation, more and more people are getting their educations every day, yet fewer and fewer of them are becoming employable. Not everyone with a degree can find employment. Lack of industry-relevant skills is the reason for the difference between them.
Finally, he advises students to stop fussing and to use the internet to learn what they believe will be useful to them if they feel their degree is not practical. Everything in the modern era is accessible online.