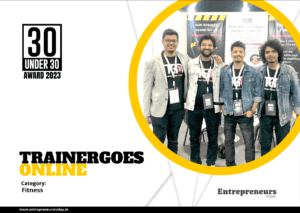 Founded in April 2020  by Akshay Paliwal, Nirmit Maniar, Abhinav Tripathi and Atul Verma established TrainerGoesOnline. At the time, many businesses were working at lower capacity or had even shut down entirely.
In an interview with Entrepreneurs Today, Akshay talks us through what went on behind the inception of their venture.
"When we saw that gyms were starting to shut down in the US and Canada, we knew that globally it would be a big problem for the fitness trainers."
The co-founders of TrainerGoesOnline foresaw the impending problems in the fitness sector early on, so the company's journey began during the first week of the pandemic. They anticipated that gyms may close for a longer haul, which would result in the global unemployment of hundreds of thousands of fitness professionals.
They established this business to serve as a one-stop shop for trainers looking to build, market, establish an online presence, and increase sales. Since then, they have worked with more than 200 fitness professionals and have served clientele from the USA, Canada, the UK, Australia and the United Arab Emirates. Akshay continues by stating that several of them are celebrity trainers and some trainers are now generating online revenue even to the tune of $100,000 per month.
Regarding their background, they finished their engineering in 2017. Additionally, they have two years of job experience from their time at Quantiphi Inc, a company that just rose to unicorn status in the AI industry in 2022. While they were employed there, they had the opportunity to travel extensively, work with numerous unicorns in the tech, media, retail, sports organizations, and gain exposure to the exporting business. This is how they acquired the skills necessary to market and create digital solutions that address clients' challenges.
With all the skills they gathered around this time, they thought of solving a real issue and bridging a pressing market gap.
Services offered
Nirmit Maniar discloses that their team currently comprises about 80 people. They provide business consultation, website development, branding, marketing and advertising services which are only focused in the online fitness training space.
Achievements
The fact that they were able to grow their company to the point where they could work with some of the most renowned trainers in the world is only one of their successes to date. As a result, they have been able to build credibility and success.
They were able to generate roughly $4 million for the clients digitally in a short period, which was previously absolutely untapped.
Because of the major shift that they could bring in, they have also been featured in numerous indian and international publications on how they were able to find the right solutions at the right time.
Nirmit continues by stating that the company has been profitable from its beginning and that it was entirely bootstrapped. Right now, their objective is to first establish the firm by financing it through the clients; however, when they want to expand their operations at scale, they may seek external funding from investors the following year.
Challenges
When asked about their journey till now, they say that it has been experiential. They also say that they have had a few other businesses fail in the past, so they were aware that establishing anything new from scratch would take a lot of commitment, hard work and right timing.
According to them, the timing of their early ventures wasn't ideal, which was one of the contributing factors to failures in the past. This time, they recognised the issue relatively early and understood that they had a limited window of opportunity to capitalize.
"The biggest challenge for us was we had no prior experience in digital marketing. We were not developers either, we had to learn everything on the go. We had a problem in front of us, and being passionate problem solvers we had to build those skills to a level that we are able to bring such results was the biggest challenge."
However, TrainerGoesOnline team was able to overcome the problem quite successfully.
Future plans
Abhinav states, "Up until now we have offered our customers end-to-end digital services which are super customized to our client's individual goals, hence it is fairly expensive. Our strategy first was to understand our customers and deliver them services individually at high ticket prices. This is why our focus has mostly been to work with international trainers who are well established."
To scale their business to a point where every trainer in the world, regardless of financial situation or location, can go online and have the proper roadmap to build their business at a fraction of the cost right from their homes, they are therefore looking forward to productizing their entire business with a primary focus on SAAS solutions.
Atul Verma confirmed, "Our SAAS strategy will significantly reduce costs and scale the company such that it is accessible to everyone".
Lessons learned
Focus on finding a problem in the market.
Build the right skills on the go. They believe constant learning is essential to make sure you have the perfect solution to solve a problem.
Try to make your business as profitable as you can from the very beginning, and try to be customer-funded instead of relying on receiving external funding from investors.
Lastly, they acknowledge that India is growing at a rapid pace and the generation needs a lot of entrepreneurs who can solve strategic problems. They suggest there is no better time than now to start a business of your own.