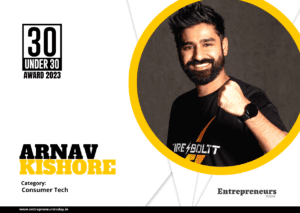 Founder and CEO of Fire-Boltt, Arnav Kishore says, "I have always been a sports enthusiast. Being an international tennis player at a very young age, I have always had a passion to create something futuristic and unique for sportsmen and fitness enthusiasts. Combining my passion for sports, technology, and entrepreneurship, I am now exploring the world of wearable technology and heading Fire-Boltt, an innovative wearable tech company, with the ambition to transform health, fitness, and sports."
They offer a remarkable selection of top-tier wearables and wearables that are not only reasonably priced but also come with innovative, market-first features like Spo2, Bluetooth Calling, built-in games, and the biggest screen size, to name a few.
Inception
Arnav recalls that when they first began their entrepreneurial pursuits in 2015, they realized that no homegrown brands offered premium smartwatches in an affordable price bracket. Their study revealed that although the country's youth aspire to acquire premium smartwatches from international companies, the cost is a barrier. They launched Fire-Boltt and delivered globally aspirational products at the appropriate pricing point to fill this requirement gap.
Arnav understood there would be a risk as he set out on his journey, but he was confident since he had a thorough business and marketing plan in place. Before making the big leap, he and his sister Aayushi worked on their research and development for months. He was adamant that the market's unmet needs would be filled, and that our high-tech yet reasonably priced products would improve the lives of consumers.
Achievements till now
Arnav shares, "while we launched our first smartwatch two years back, we forayed into the TWS category in July this year. So far, we have been able to successfully launch more than 60+ smartwatches and 3 TWS earphones in the market."
They are also delighted to share that despite commencing with a mere 0.3% market share in 2020, they have grown to become the global leader for smartwatches with an almost 30% market share. Their phenomenal success has led them to anticipate a company expansion of about five times to Rs 2,400 crore this fiscal year.
Some of their other achievements are:
Made Fire-Boltt no. 1 in the smartwatch category within 15 months and became one of the fastest-growing smartwatch brands in the market with 400% Y-O-Y in Q3 2022.
Fire-Boltt has been ranked #4 Globally behind established brands such as Apple, Samsung & Huawei with global smartwatch market growth.
They were able to bring the company from a mere 0.3% market share in 2020 to close to 30% market share in Q3 2022.
On-boarded iconic personalities like MS Dhoni, Virat Kohli, Vicky Kaushal, Vijay Deverakonda, Shubhman Gill, and Kiara Advani in the last two years.
Started with 10 employees and now we are 180+ employees.
Diversified the offerings by the brand; recently forayed into the TWS category to fulfill consumer demand.
Fire-Boltt intends to sell 12 million units (MU) in FY23, a 380% increase from the total of 2.5 MU it sold in FY22. To attain this, we have already entered the UAE market with plans to enter US, Europe & African markets in the near future.
Enlisted as one of the personalities in the most prestigious lists – Forbes 30 under 30 Asia, under Consumer Technology in 2022. He was the only Indian founder amongst other honorees in the Asia Pacific region.
Been a recipient of many other awards namely, the BW Young Entrepreneur Awards & Entrepreneur India's Entrepreneur of the year award among others.
A thorny path
Starting everything from scratch as Arnav co-founded Boltt with his sister Aayushi back in 2015 was a little challenging. They designed a thorough business plan and partnered with the leading producers to offer smart bands at the most competitive prices. Around the same time, the country was experiencing a smartphone revolution, and many Chinese tech behemoths had already made their way into the market. The large brands were where consumers went to get their smart bands, and they seemed to have little chance against them.
However, despite the difficulties, they persisted. Arnav says, "I knew that our time will come, so we went back to the drawing board, kept a close watch on the smart wearables market, and patiently waited for the right time to launch our next line of products." When the pandemic hit in 2020, they altered their strategy and released their first line of smartwatches, the Ninja, at an alluring price point of Rs 1699. To further connect with the target population, they eventually onboarded three brand ambassadors: Virat Kohli, Vicky Kaushal, and Shubhman Gill.
"This experience for us has been challenging as well inspiring at the same time as we realized that inspiration comes from within and a little resilience goes a long way."
What the future holds
Fire-Boltt aims to become a major player on the international level after making a name for itself in the Indian market. They are expanding their product line by moving into new markets for Internet of Things (IoT) devices and truly wireless earphones in addition to continuing to dominate the smartwatch market. Currently ranked #4 globally, they have already made inroads into the UAE market and are trying to grow their business into other international regions, such as the US, Europe, and Africa.
Lessons learned
The most important lesson Arnav learned from his father, who is a seasoned entrepreneur and played a key role in bringing companies like Nike and Lotto to India, was that learning never stops and that you can always learn something new, whether the scenario is positive or negative. Additionally, it was his 'never give up attitude' that landed him where he is today with so many accolades under his belt. He continues by saying that although our experiences indeed create who we are, the truth is in what we learn, and how we interpret or respond to them.