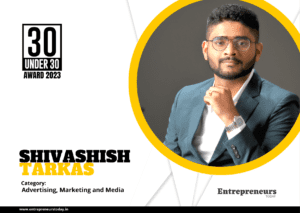 The InterMentalist is a one-stop destination for brands across India and rest of the world to promote their products and services in South India's digital realm owing to their influencer network of celebrities, influencers, creators, and other public personalities.
Shivashish set out on his entrepreneurial journey at just 21, one month after graduating college. Touching upon his background, he mentions about from a normal family background with a head full of dreams, high aspirations and a sharp mind.
"I believed in being a leader and leading the way. Entrepreneurship was my way to liberate and succeed."
All he had back then was a vision, the ability to trust in god, himself, and a bunch of people who did not believe in his dream. Today, he is very well-known among South Indian movie stars and digital influencers. The InterMentalist, his business, is currently the finest influencer marketing network cum agency in south India.
Inception
The idea of the venture started as a notion, developed into a vision, and eventually became a reality. On the day of its founding, the organisation lacked any financial resources, physical assets, or human resources.
However, The InterMentalist continued on its path by offering its services to a handful of the best actors in the South Indian film industry. It also began offering digital marketing services to a small number of SMEs in the local market. The InterMentalist gained some recognition between 2015 and 2018 for its high-calibre work, moral standards, and comprehensive industry expertise.
"They say he is here to win but it's a seldom-known fact that he is here to conquer. His life is an inspiration to many aspiring folks who want to live their dreams."
One experiences everything firsthand in their early 20s, and Shivashish was no exception. In a conversation with Entrepreneurs Today, he discusses a wealth of lessons learned from his entrepreneurial career. Some of these include:
It's the journey that brings us happiness, not the destination.
Chase a legacy, don't chase money.
Dream big. It comes at no cost.
Keep your head up always, your day will come.
It's always the will and not the skill.
Everything you can imagine is real.
Being consistent and disciplined will take you places.
Never settle for less.
There are no gains and no success without spirituality.
Your life will be a message to the world, make sure it's inspiring.
Those who are here to create an empire, cannot get into competition.
A king can never come under stress.
Never give up. Only when you give up, you lose.
Impact
The agency has established effective process management and a sustainable business model when it comes to influencer marketing and movie promotions across digital space, and it has played a significant part in the influencer domain of South India.
Future plans
The fact that they are the most sought-after and chosen vendor by brands and agencies is what Shivashish sees as a milestone.
When questioned about his future plans – He believes to keep it low key and walk the talk.
"I don't dream or manifest anything small. Rest is on divine"