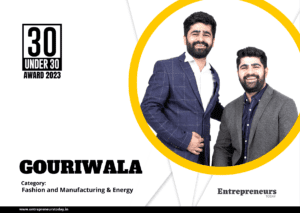 Vijay and Pankaj Khatri were born into a family which had a long running garment printing business. But growing into their own, they decided to venture out independently as a designer and manufacturer of garments, and set up their own venture under the name Gouriwala in 2015. Over the next few years, the young and ambitious duo expanded their company into a veritable dynasty, with a wholesale and retail brand under their name, and multiple stores across the country.
The Family Business
The initial printing business of the Khatri family had been set up by Vijay and Pankaj's grandfather. Following the partition of India, he moved away from the newly formed country of Pakistan, and settled in Jaipur, starting a business of printing clothes for different clients. The business grew at a steady rate, passing from him to his son, as family enterprises do. Their honesty and work ethic made them dependable professionals.
Vijay and Pankaj grew up surrounded by garments and machinery, and knew that their passion too lay in the same space as their forefathers. But they wanted to expand their business beyond printing. So, in 2015, barely into their twenties, the two brothers ventured out on their own and set up thr Gouriwala brand.
Capital was in short supply, and between the two of them they could only scrape together enough money to buy a single machine. With that and a rented room, the journey of their own company started. They designed the clothes themselves, which were then executed in practice, as Vijay cut the cloth and Pankaj sewed them. Their aim was to produce stylish ethnic wear for women, which would make them feel beautiful, while also instilling a pride for their heritage.
Designing for Success
Breaking into the garments industry wasn't easy. Vijay and Pankaj were much younger than any of their competition, and it took a lot of convincing for clients to take them seriously. Having grown up in a business environment, under the tutelage of honest professionals, they knew that the only way to find a foothold in the industry was through good work and products. Thankfully, for them cloth and creativity were never in short supply. Their products boasted unique designs and prints which set them apart from the usual garments in the market.
Having established their reputation as a reliable source of garments in Jaipur, the Khatri rothers decided that it was time for them to expand their market presence beyond Rajasthan. So Vijay sampled a selection of templates and took them to Mumbai, seeking out eminent suppliers from the internet, and visiting them individually. It was back breaking work, and Vijay found himself tired and homesick by the end of a week. But the hard work he put in for those seven days became the backbone of their business going forward. Much like the suppliers in Jaipur, the people in Mumbai were extremely impressed by the quality and variety of their designs, and eagerly furnished Gouriwala with a slew of orders.
Scaling up, Branching out
Gouriwala saw steady growth over the years, as they bought more machines, hired more staff and moved beyond their rented location into a permanent space. By 2019, their annual turnover had risen to 10 to 15 cr, with 400 machines working simultaneously. At this juncture, they faced the decision of continuing on at the same pace, or scaling their business up.
Scaling up, while apparently beneficial, came with several caveats. The two brothers were still relatively young, and they carefully considered the increase in responsibility and work load that would inevitably accompany an up scaling of the business. But the brothers were ambitious above all else, and they decided to pursue their work on a grander scale.
That year saw the launch of two separate brand identities. While Gouriwala continued to function as a manufacturer and wholesaler of garments, Baabla Designers became a separate wholesaler of garments, and Nehamta became their retail and e commerce outlet.
This functional separation helped streamline the process of expansion for the business, which is still continuing rapidly under the enthusiastic leadership of the Khatri brothers.
Present and Future Plans   
The journey that had begun in each others company, a single machine, and a rented workspace, has seen exponential growth over the last seven years. As the year 2022 draws to a close, Gouriwala manufacturers boast three manufacturing units and three printing mills. Baabla designers has three different outlets, while Nehamta boasts over seventy outlets across all the major cities of India. Their current turnover exceeds a 100 crore every year.
Such extravagant achievements in business would be enough to make many individuals relax their expansion efforts, but neither of the Khatri brothers are interested in resting on their laurels. The energy with which Vijay had pursued new prospects in Mumbai half a decade ago, is still maintained in their current work. Along with sourcing the best garment material from various places, they have also begun manufacturing their own textiles, all of which is integrated in their own production process.
The future awaits with goals of a 1000 crore annual turnover by 2030, ten outlets for Gouriwala and a thousand outlets for Nehamta across India. For any other business, such dreams would be deemed impossible. But when it comes to the Khatri brothers, it is merely a prophecy, awaiting fulfillment.