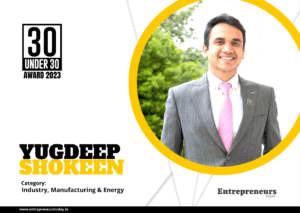 Tea, as a commodity, will always be laden with controversy and difficulty. An international trade that started with violence and bloodshed, and majorly profited off by the West, still remains a difficult business to enter. Yugdeep Shokeen was warned about this, when he decided to start his own tea company, and was advised to choose a different industry to debut in. He didn't listen, had faith in his ideas, and went ahead with his plans. This led to the foundation of the Shokeen Brewing Co.
Planting the Seed
Yugdeep was born into an affluent business family. Shokeen Properties is a well established real estate business in Delhi NCR, and the easiest career choice for him would have been to join the family company as its next leader.
But Yugdeep is an enthusiastic and ambitious individual who is drawn to new ideas and difficult endeavours. While pursuing his BBA in International Business and Organisational Sciences from The George Washington University in WashIngton DC, he spent a semester studying abroad in London, during the winter of 2019. There, cooped in the England cold, he observed the extravagant tea drinking habits of the British, and realised that most of their blends were imported from Assam and Darjeeling in India. These were the quality products grown there, which were being sold at high margins in foreign markets. He wanted to disrupt this colonial practice with a company that would provide quality tea blends at a much lower price within the Indian market and around the world.
With the seed planted, Yugdeep ventured into his research and networking phase, and realised that it was not just a good idea but a viable one as well. Thus his decision was cemented.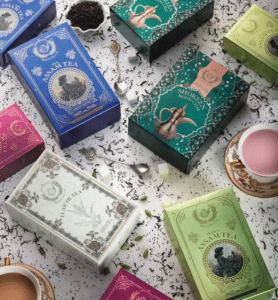 The Sapling Emerges
There were adversities in the beginning. The COVID 19 Pandemic brought about a general sense of apprehension, which extended to a new and risky business venture. Yugdeep was actively dissuaded from pursuing a business in the tea industry, owing to its notoriously competitive nature. But driven with youthful zeal, he threw caution to the wind, and embarked on the realisation of his dream.
However, this decision wasn't a complete left turn. Yugdeep had been fascinated with the FMCG industry since a young age, and had long harboured a wish to enter it as a professional business owner. In a way, this was the culmination of a lifetime's worth of diligence and decisions.
He entered the business with a blank slate, and was open to learning the ropes from his associates. Not only did he engage fruitfully with the leaders of the tea industry, who were spectacularly senior to him in age and experience, but he also chose a loyal and efficient team to help back him up.
After spending the better part of two years in setting up his dream business, simultaneously tiding through the Pandemic's effects, Yugdeep was finally able to launch The Shokeen Brewing Co. in 2022.
The Plant Blossoms
Today, as the new year takes shape, The Shokeen Brewing Co has been functional for about ten months, and within that short span of time they have been able to sell tea worth more than 2 crore rupees. Yugdeep has proven his capacity to take on a seemingly impenetrable market, and find success there. Growing in association with the Shokeen brand, this new venture has also been a great attempt to diversify the family business from real estate and hospitality to FMCG.
A keen learner, Yugdeep is interested in moving further into the tea industry by experimenting with unique blends in order to appeal to a wide range of audiences. India's tea drinking habits appear pioneering to Yugdeep, and he is also trying to take the different kinds of tea brewed in India to the rest of the world. So, along with the usual offerings of Assam and Darjeeling tea, the quintessential British blends like English Breakfast and Earl Grey, The Shokeen Brewing Co. also offers Masala Chai and Kashmiri Noon Chai, which is also called Pink Tea.
This is what sets Yugdeep's venture apart; a willingness to experiment, change, and adapt. His presence and practices have introduced a new perspective into the industry, which he aims to explore as best as possible.
Picking the Leaves
Yugdeep is the latest in a new batch of young entrepreneurs who are entering the FMCG industry with unique ideas. Yugdeep's innovation has been in the packaged production of tea blends, which, despite its diverse array of offerings, hadn't really  gone beyond the traditional favourites.This bold new direction, along with a CSR focus on ethical business practices, humane working conditions, and gender conscious employment creation, bodes well for the future of this ambitious individual.
As the world grows more connected, a more self conscious way of leadership becomes necessary, and Yugdeep seems to be a shining example as he sets on the adventure to expand his new business the Shokeen Brewing Co.