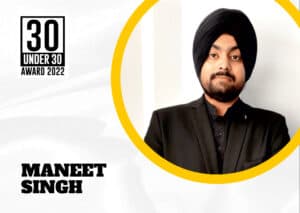 Maneet Singh 30 Under 30
How do you build a digital future?
Maneet Singh, age 26, Founder-CEO, All Friends Studio says the answer is in dreaming it.
Every Dream is a venture in itself.
As a precocious youngster, Maneet developed his interest in computers through his schooling, and used the libraries to their full potential! With such visceral informal training, he soon became proficient enough in tech parlance and skill that he decided to establish a full fledged group of companies, an Industry!
First Business
In 2010, age 15, Maneet, was in his tenth standard. Having already gained plenty of professional experience, he decided to spread out roots into the world and launch his first company. By then he had developed a few Front End frameworks, and built an open source 3D rendering engine with the Blender Foundation community. Through his newly established company, he moved into software development for Automation giants.
Over the next two years he built a client base in the Digital Multimedia domain, and his list of services encompassed the entire length of multimedia production requirements, where Maneet could handle all of it through several of his companies. This gave rise to the idea of an umbrella corporation that could handle all these disparate companies under its registration.
His list of services provided, grew farther. They handled everything, starting from blueprinting to sales, through production, of a digital media product. The holistic servicing scheme scored them billion dollar giants like Google, Boat, Adobe, Microsoft, Dettol, etc at the very beginning of their journey. Their mainstream business at that time was Web & Mobile Development, Digital Marketing, Music and 2D/3D Animation Services.
Impact
It was almost halfway through his college that the umbrella company, All Friends Studio, was born. The coterie of services provided by his range of start ups had grown further by then.
A drone called Uchai had been developed by his team that was aimed to aid with the logistics and farming domains. A game engine called Quanti had been developed which unified the entire multiplayer economy under a single exchange token called Quanti Coins. The music division of the company had worked with international acts like Avicci, as well as with the talented underground artists from India.
The gaming division of All Friends Studio has proved to be the most lucrative of Maneet's ventures. Google offered Rs 3.5 crore to acquire it in 2019, which was declined. They returned with a Rs 10 crore offer for the entirety of All Friends Studio in 2020, but Maneet and his team declined that as well.
However, over the course of the pandemic, Maneet faced serious health issues. The company faced a huge downfall and the number of team members by then dwindled to only just two! But Maneet didn't stop dreaming.
All Friends Studio slowly recovered its footing over the time, and by 2022 had set another milestone in their way, by generating upwards of $10 million revenue for their clients through Digital Marketing itself.
Unlike the contemporary industry, Maneet has adopted an informal approach to the workplace, allowing pajamas to be the order of the day. He also takes a more nuanced approach to recruiting new team members, stressing more on their creativity and skills, rather than certificated merits. This approach to work has earned him a top notch productivity ratio with the team. Dreamt, lived, tested and proven!
But their most ambitious venture is the designing and developing a quadrupedal robot, for assistance in celestial missions led by ISRO as well as in logistics, farming and mining domains as well.
As a tech nerd and space enthusiast since youth, Maneet had always dreamt of helping and creating a better INDIA. Because dreaming is a venture in itself, it is no wonder that All Friends Studio is successfully shooting for the stars.