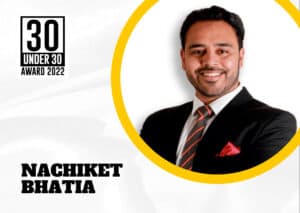 Dr. Nachiket Bhatia 30 Under 30 
How to revolutionise the edtech sector?
Dr Bhatia Medical Coaching Institute (DBMCI) has been an institute of merit since its inception in 1996. It was the first institute to train students for the Post Graduate Entrance exam (PGEE). Dr Nachiket Bhatia, the younger scion of the Bhatia family, and the current CEO of the institution has been instrumental in bringing it into the 21st century, with a renewed focus on digitalising education.
Since the 2010s edtech has become the way of the world, its influence coming full circle after the 2020 COVID 19 pandemic forced us to retreat into our houses.
Dr Nachiket Bhatia, since taking up control of the DBMCI, has invested his own money in his e-Gurukul initiative, and despite initial set backs, has found success.
As an institute aimed at preparing students for standardized entrance exams in the medical sector, DBMCI is quite peerless. Dr Nachiket has been instrumental in maintaining that streak of quality in its recent years.
A New Idea
Dr Nachiket is an accomplished doctor with an MBBS degree. To prepare for his future role as the CEO of DBMCI he also completed an E mode Post Graduate programme from the Indian Institute of Management, Kashipur, Uttarakhand. It was during this course that he was struck by the idea of launching digitally available course for their company.
The Bhatia institute's goal has always been to foster success, and nothing less. His idea of online classes, long before it would find currency through the lockdown era of the pandemic, was received with skepticism.
However, Nachiket's resilience and belief in his idea won over in the end. A simpler version of the e-Gurukul app was initially launched under his supervision. But it failed to catch on at first, seemingly validating the doubt that had risen when the idea had been proposed. The public was perhaps not ready to accept that the internet could be a viable medium of imparting knowledge. At least in maintaining a consistent quality of education.
But Nachiket stood by it.
Over time, with various alterations and updates, the e-Gurukul app did catch on. However, Dr Nachiket had to bear a 5 crore rupees loss up front in order to take support his idea until it realised its true potential.
Impact
From that loss in revenue, Dr Nachiket has led the company into its current 77 crore valuation. The e-Gurukul app has now become the institute's premier service and is regularly introducing its merits to a new generation of aspiring doctors. It has also made the study of medicine, a notoriously expensive and elite discipline, much more affordable. Students who are unable to set aside regular times for coaching classes or study sessions are able to work at their own pace, as the lectures are available for them to browse through at leisure. The app also provides a clear representation of progress made, and several doubt clearing mechanisms to help users overcome specific difficulties. To help financially handicapped students, Dr Nachiket has also launched DR Bhatia Scholarship Fund, to help further democratise access to the medical profession.
Other than the financial flourish of DBMCI, Dr Nachiket has been felicitated from various quarters for his immense contribution to the education sector in general and the edtech sector in particular.
The e-Gurukul app has been featured in Forbes India as the Leading Edtech of Medical Studies, whereas he himself has been recognised by them as one of the Top Ten Most Innovative CEOs of 2020.
Nachiket has taken hands on approach to his work, being completely immersed in all of the company's operations, right from planning to final implementation, and is dedicated to maintaining the quality of education the institute has been, and presumably, will always be known for.
In the end, Nachiket's journey as a CEO only gives currency to the saying, Bhatia hai toh bharosa hai.