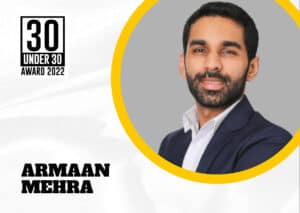 Armaan Mehra 30 Under 30
How to build a successful brand in the automotive textile space?
Automotive textile is an almost invisible part of our lives, which we come across and are affected by regularly. Yet we hardly give it a second thought once contact with it is lost.
It is to Armaan Mehra's credit that he recognized this as a niche sector of production which had much space for innovation and improvement.
NIEMLA is the current industry leader in creating textile materials for planes, trains and other automobiles. Their focus is on being eco friendly and comfortable.
Although based out of India, Armaan has recently set up international expansions, and the company is raring to find success beyond borders as well.
Cutting the Cloth
Armaan was inspired to set up the company when he noticed the ubiquity of textile material used in automobiles. He wanted his products to be comfortable and affordable, while also being environment friendly. The automobile sector has been one of the major source of pollutants across the globe, and Armaan wanted to do his part in reducing that contribution as much as possible.
As a CEO and founder, Armaan went about doing the most important thing he could think of before the company was set up. He gathered for himself a number of loyal and skilled industry experts who have been instrumental in building the brand since then. With their help, he set up a state of the art production facility where fabrics used in the interior of buses, cars, trains and aircrafts or textile components such as seat covers, curtains, head liners or flooring, are made.
Quality has been the priority from day one for Armaan and his team. The raw material used is of the highest grade, and the products are customized according to the needs of the client, making them oil, water, or bug repellent as necessary.
Innovating these traditional products to suit the needs of the day is also a priority for Armaan, and he has already launched several marquee items into the market. There is the ultra light, eco friendly seat fabric that drops the overall weight of the seat, and correspondingly, the vehicle itself, resulting in an additional 1% of fuel efficiency to it.
During the COVID 19 pandemic, NIEMLA launched a Covid Resistant Fabric for bus seats which have been provably tested to eliminate SARSCov2 virus.
And finally, Armaan is working on an augmented reality feature called LiveTex software, which allows prospective clients real time visualization of their selected fabrics on seats, and apply different customization options to see what works and what doesn't.
Impact
Within four years of its establishment, NIEMLA has captured 90% of the product market. Its assurance of quality is quite unparalleled in the industry and won the Top Hundred Ministry of Medium and Small Enterprises award in 2019.
By the end of 2021 the company had produced a staggering 1 million metres of fabric. Since then its production capacity has only grown. Armaan has already expanded his services to Bangladesh, Turkey and the European Union, and is vying for the entire global market by the end of the decade.
Driven by the desire to innovate and succeed, Armaan and his team at NIEMLA are quite literally the best example of how to identify a niche and dominate it whole.