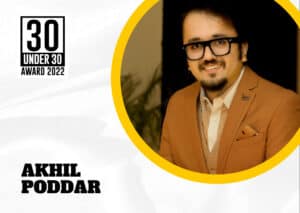 Akhil Poddar 30 Under 30
How to maintain a decent work life balance?
While the rest of us are still struggling with this question, Akhil Poddar has written the veritable book on it.
The scion of the Poddar dynasty, Akhil has inherited Poddar Group of Industries from his father Uttam Kumar Poddar. The company had been founded in 1979 by his grandfather Dwarka Prasad Poddar, and has found unprecedented success under the youngest Poddar's leadership.
But he is not just a savvy business tycoon.
Akhil Poddar is a multifaceted character with a diverse collection of interests that he allots separate and complete attention. And he knows how to capitalise on the cult of his personality.
The Inheritance
Akhil was born in the historic pink city named Jaipur. Having been born in a family of business people, he started his first venture as a teen. It found decent success and was ranked among the top three in the PAN India level.
But he suspended that work and focused his time on the family business of Poddar Group of Industries. There as well, his business acumen was immediately proved, as the company became the largest supplier of PCC electric poles across the length of Rajasthan. Overall, Poddar Group of Industries has moved over 6 lakh pieces across the state, and shows no sign of slowing down.
But this is only a part of Akhil Poddar's life.
His glamorous and extravagant lifestyle has earned him a lot more attention from the community.
Impact
Akhil's impact on his surroundings is mostly through his larger than life presence. A believer in extracting every ounce of joy from life, he is a connoisseur of the finer things in life. His elegant dressing sense makes him a vision to behold in the myriad parties he is seen at, where he appears in a mix and match of his designer garments. His collection of clothes covers most of the big name brands, ranging across Gucci, Armani, Louis Vitton, and Versace. His fashion sense is infenctious, and he pairs it with a similarly extravagant collection of sports cars. His garage boasts the latest models of Mercedes Benz, Jaguar, Range Rover and others.
A believer in good investment, Akhil has dutifully applied that to his lifestyle as well and will be soon launching his apparel brand in 2022 which is inspired by his unique brand of formal style.
The young business magnate's star is on the rise, but he knows how to unwind properly. An avid traveller, he often takes leave of his multiple professional positions to visit new places. He gains a spiritual healing from the process and has visited every single continent on the face of the earth. But his ability to switch modes is quite unsurpassed. Once he returns to work, it has his undivided attention.
It is this ability to clinically compartmentalise the different sections of his life that has earned him the continued success he has achieved. He hopes to be a beacon of hope for the coming generation of youngsters, letting them know that they indeed can have it all.