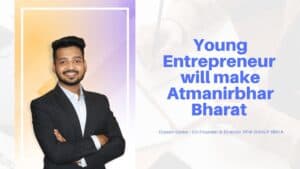 Dipesh Gome – I am  22 year old young entrepreneur Co- founder & Director RPM GROUP INDIA a corporate group hold 4 venture RPM ADVERTISE, Thevirginblogs, RPM Blogs, RPM Grba Dress.
My family belongs to the poorer section of society where people struggled every day to make ends meet. But my parents never let me feel left out, they worked hard to provide me  good education and everything I always needed But in 2007, I have witnessed the struggles of my family when my father had to sell their under-construction House because of lack of funds. No-one helped them out during such troubling times and they were left to fend for themselves. This made me realize the importance of money and having emergency funds for unforeseen incidents like these.
I could resonate this with my life. It was just 17 when I started my first online business. just to earn some extra income to fulfil my desire. While as a child, I never thought to be an entrepreneur. When I started my venture I did not know any thigh about the business what to do and how to do it but constant learning and working with brand and professional it help to grow and scale up my Bussiness.
Read More: Flight of the Beast: The Gaurav Taneja Story
After completing school, along with a friend, I opened an Instagram business. That was my first business and after 6 months, I got my first client- a traditional marketing campaign for an ice cream shop based out of Indore. I decided to learn more about marketing and advertising while pursuing my undergraduate degree. In the beginning, my partners and I were in charge of all aspects of the company, including sales, accounts, operations, dealing with vendors, and setting it up. I didn't have any knowledge, experience, or mentorship to begin with. But I think if you have that spark within you, you can do it. Being the youngest member, it was a challenge to work with vendors and clients. While at the start, I never took a single rupee as salary but kept on reinvesting profit to grow my company.
Specific service of your business.
I  have 4 business verticals under RPM Group, which are, RPM Advertise, RPM Garba Dresses, RPM Blogs, and The Virgin Blogs.
RPM Advertise was his first venture, which is for advertising for brands and products with the help of roadways, social media, radio, television, etc. They also host events, from school events to business meetings to various family functions.
RPM Garba Dresses is a seasonal venture where they rent Garba dresses during the Navratri season. They have two websites,
The Virgin Blogs and RPM Blogs, to update people about all the latest news and give them helpful tips to do better in life. So far, they have accomplished the completion of over 1000 projects with various companies and people from all sectors of life. From FMCG businesses to clinics, he have worked with them all.
Your state of mind before starting the business.
I started my journey very early so I did not have pressure or fear of failure I was exploring to new thighs.When my friends were busy partying and spending their father Money. I started to earn some extra money and turn it to full time career only thigh I knew it from starting Bussiness is that it is not got to be busy because I have to work on it side by side pursing my under graduation. I did not have any financial support and knowledge and mentorship but I knew if I work hard I can make it happen it was very hard to scarifies all the comfort of the life fun and working on some thigh you or your family member have ever experienced .
What are your achievements in your field or business?
Today we have 4 venture, 11 people core team members and 50+ associator, complete more the 1500+ campaign operates two state working for client from more 10 countries. Beside I my story  got covered on various platform such as : Economic times, Times of India, Medium, Vocal Local, Opera News, Distrupt etc. Invited as keynote speaker to North eastern federal university Russia.
The most difficult and inspiring time in your journey.
In 2017, I had the worst phase of my professional life. My teammates suddenly deserted me or went on to found their own companies. Because of this, I lost a lot of clients and left away with no money to pay for office expenses. Their betrayal made me look foolish, but soon I rebuilt everything from scratch. I started learning about digital marketing and soon leveraged Google AdSense to begin earning money. At the end of the day, I'm satisfied.
My father life journey inspire me the most, his dedication, honesty towards the work and his gratitude for every thigh he have, he strong will and attitude stay strong in most difficult time of his life above all his love towards and his personal scarifies to make my life comfortable always motivate me to work hard.
How will you see your company after 5-10 years?
I want to establish my company RPM GROUP INDIA As one the most successful corporate group modern India operating in various industry for solving various problem of people of India and making this country prospers. We working on some project to create an eco system in unorganised sector of country and my focused area in education.
Any message you like to convey to the country.
The best time to start a business is in your college days because you have ample time to experiment,  you have no obligations or liability, and you are full of energy.
When you finish high school and enrol in a college for further studies, a new chapter in your life begins. You meet so many new people from so many different backgrounds. The whole trip is an icebreaker. You must discuss how each other makes money from their unique perspective. New thighs happen around the world.
Read More: Prajakta Koli's 'Mostly Sane' Life
Dipesh says it is not as difficult as it seems to manage your study and start a business. You learn a lot about your business during this journey and can better relate it to your studies. It gives a better understanding of model frameworks and their implications.
Do not make friends and groups just for the sake of finishing Assignments, instead know each other well to start a new venture with your friends as potential co-founders and core team, and the students in your college as potential customers.
Lastly, surround yourself with Better people than you. It helps you learn a lot and understand everything better.