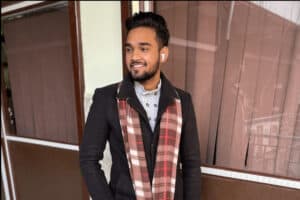 Aman Rai – I am 21 years old. I was born and brought up in Delhi. Having grown up in a joint family, my father balanced the responsibilities of a family and a job to make ends meet. However, he always made sure I had a quality education. I enrolled in a prestigious school after class 5, which marked a turning point in my life. I felt driven to reach new heights. Studying was never my strong suit, and my personality didn't fit the bill either. All my peers looked down on me. That spurred me to improve myself and achieve more.
However, I was worried because I wasn't a bright student. Many teachers told me that I might struggle in life. When I was in class 11, I failed one of the subjects, and the teacher told my father that I was a liability and many other harsh things. After completing my schooling, this incident inspired me to pursue my dreams.
Read More: Founder of Curated by Elysian – Devika Kaushal 's Success Journey
 I took an event management course and organised several events.
I started to explore this field and learned that making money isn't as difficult as it seems. While walking along the street, I saw many prosperous entrepreneurs who inspired me to think that if they can reach such heights, then so can I. I had a great experience in event management, but I wanted to spread my wings and evolve more.
My life transformed after a few months of exploring. Fortunately, I found an online earning platform. When I joined the community, I was blown away by the personalities and the tenor of communication of the members. I needed 30,000 rupees in capital to invest in this business marketing platform. My parents did not support this endeavour, making it difficult to raise funds. Friends also turned me down and advised me to quit. I was having a hard time. Still, I had a strong belief that I could find myself on this platform, and this could be a turning point. I eventually convinced my uncle to borrow the amount and promised to repay it every month. That's how my journey began. It was an incredibly challenging time. During that time, I learned many things, developed my personality, and within 1.5 years, I made my way among the top seven people in my organisation. From those marketing activities, I made approximately four lakhs in total. I achieved many short-term dreams, gained recognition in front of over 1000 people, and helped many students accomplish their goals. I expanded my horizons in terms of money-making. With my success, my friends and family began to see my potential. Later, I felt it was time to gain more experience in marketing since I could do better here in such a short period and encounter other fields of expertise. Therefore, I learned more about digital marketing and worked as an affiliate. When the world was struggling with financial issues during the lockdown, I generated approximately 3.5 lakhs through affiliate marketing in just four months. In the end, everything worked out as planned. Then life threw me a curveball. A tragic experience changed my personal life drastically, disrupted my mindset, and left me in a state of not doing anything that made me abandon all my plans.
My friends and family helped me cope with that situation. One of my friends then encouraged me to become more aware of myself spiritually and deeply. I began travelling and watching podcasts about mental health. The more I worked on myself, the more I learned about myself, and I was evolving into a better person.
Read More: Prajakta Koli 's 'Mostly Sane' Life
One day, I sat down with myself and asked, "What is my purpose in life?"?
How am I contributing to society?
I came up with a plan, and ADSWORM was born at that specific moment.
I started my own company to help people set up their online presence on a budget. I made an Instagram account (Amanrai.official) to add value to people's lives by discussing mental health, relationships, healing, self-worth, and everyday life problems. I now deliver valuable content daily and work on my startup ADSWORM. As a marketing professional, I help businesses increase sales and establish their brand.
I intend to have multiple branches and serve more than 800 brands worldwide in 10 years. I want to implement a model that allows students to learn and make money through our company, encouraging them to be innovative and achieve their dreams at a younger age. Hopefully, this will increase the economic growth in our country. I want to serve the youth and build a community where everyone feels comfortable talking about these issues.
Being a devotee of Krishna and a person who believes in destiny, I feel that there is more joy in experiencing bad days than good ones since everything happens for a reason. We learn the most on our darkest days, so I encourage everyone to laugh regardless of their circumstances.