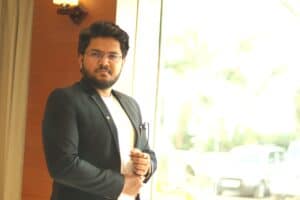 Sougat Dasgupta is a professional astrologer Vastu consultant with over 2k clients, known and trusted across the length of India. He received his formal education from NIT Agartala, with a degree in BioEngineering, before branching out and earning a few degrees in Vedic science and Astrology (Vedic and Lal Kitab).
He is experienced with Rudraksha, and deals with various kinds of the item, and is consequently recognized as the 'Rudraksha Therapist'. An owner of a Navaratna gemstone business, he founded
Astroanswer
– an online consultancy service for Astrology And Vastu with associated remedies also provided by them. With additional training as a psychologist, and expertise in behavioral psychology, face reading. and graphology (the art of interpreting psychology from one's handwriting),
Sougat Dasgupta
is a trusted name in mental and Vedic therapy. But his achievements do not stop there, having extended to his artistic endeavours as a writer, and has worked with Hello poetry, pratilipi, your quotes, and various other online platforms. In 2017 he was recognized as an 'Elite Writer' by Evergreen Journal of International poetry. He has been published in multiple local newspapers, magazines, and is the co author of multiple books, including Unspeakable Book, Insane Heart Poetry, A Quintette of Passions, etc. he is presently working on a research project on Astrology and Vastu, along with a book on the topic of Astrology.
WHAT ARE THE LESSONS LEARNT IN YOUR 20S
The lessons and experiences I gathered or I'm gathering in my 20s are not possible to explain in fewer words. Still, I am trying to draw a view about it. It was my 19 ending when my father got prostate cancer and I almost traveled, entire India for his treatment purpose and finally, after 1.5 years I lost my father. Soon after I lost him, I got to know that my mother is having liver cirrhosis and she too left us within 8months of my father's death. In their treatment purpose, the approximate cost spent was more than 1cr, yet it wasn't a fruitful investment and I lost the war against death.
So, the first lesson I got from here is, money and hard work can not change your destiny, no matter how very tough you try. Along with that, I would like to add that, money and efforts may not change destiny but efforts at least do give you satisfaction, it does save you from the regret of not trying, whereas the value of money (I.e wealth) & never giving attitude can be found from the story bellow…
Read More: Founder of Curated by Elysian – Devika Kaushal 's Success Journey
It was when, I was in Mumbai, my father was admitted to TATA CANCER HOSPITAL. One fine evening, I was having a cup of cutting tea, standing nearby my flat in the Parel area. I suddenly noticed, a person is frying samosa on the other hand of the street & his little daughter was serving the samosa to his customers. Suddenly, I thought to have a samosa with a cup of tea. I went there and ordered a samosa for myself. I was waiting for my samosa and was thing something, suddenly heard the voice of the samosa man, saying to his daughter…"Tum thora dokan samhalo, hum pani lekar attain hein(You please operate the shop, I am going to bring water)" And the next event simply changed my thought process for good. I was astonished to see that little girl, who would be hardly 5/6 years old was easily frying samosa and on other hand was selling them. I asked that little girl…. "Such a boiling oil bowl it is, ain't you afraid ?" She replied, "Mumbai ek yehsi nagari hein sahab, jana jine ke liiye oxygen se Jaida paisa chahiye,  aur wase bhi sahab jis din garib ke ghar paida hua tha, jehen se dar nikal gaya…( Mumbai is a city where you need the money more than oxygen to survive and eventually, fear got wiped out once I was born in a poor family)."
WHAT STRIKE YOUR MIND TO START THIS BUSINESS?
I am a combination of science & spirituality from the very beginning. I used to read the GITA when I was in class 3 or 4. But in the beginning, I had no faith in astrology whereas today, I am doing it professionally, which is another lesson for me that I should not make any comments without knowing the topic deeply. I being a man of the science field used to taunt astrology without knowing the deepest version of it. I had faith in GITA but not in astrology, the reason I had no proper knowledge and even pieces of information. Eventually, there will be several educated youngsters or seniors who are ignoring this ancient science just because they do not have any proper knowledge. I started my startup Astroanswer keeping in mind that, I should be eradicating the false thought about astrology from the minds of people and to serve society with the blessings of this outstanding ancient coding language of life cycles.
SPECIFIC SERVICES OF YOUR BUSINESS.
Role of the Company:  Astroanswer provides consultation on various life-related problems and tries to give solutions by practicing the methods of ancient Vedic sciences like Horoscope analysis, palmistry, and the application of Vatu shastra.
Vastu Solutions: We provide all the Vastu shastra-related services, that includes the visit to the specific place of the client. Along with that, we give suggestions to interior design and building planning according to the Vastu shastra.
Horoscope Analysis: We provide services regarding horoscopes and remedies are also shared accordingly. This concludes solutions regarding marriage,
Palmistry: people not having proper birth time, can take the advantage of our palmistry services, where we read the palm lines and give predictions.
Academic Solutions: Astroanswer provides various courses on different topics of Astrological services and Vastu shastra.
YOUR STATE OF MIND BEFORE STARTING THE BUSINESS.
As I stated above about my state of mind before I started astrology, I had so many questions and doubts about it, eventually, there will be a lot of people like me having the same queries about the existence of astrology and its benefits. So, I was seeking a solution to answer all those, who are having questions as I had. But till today, we are limited to the answers through consultations and sessions only but soon we will work on the mentioned things, on a practical model.
WHAT ARE YOUR ACHIEVEMENTS IN YOUR FIELD OR BUSINESS.
ANS: Well, the biggest achievement is the smiling face and sweet feedback of my 2000 plus clients across India. In my field, I have done degrees and courses on Vastu Shastra, and various parts of astrology such as Jaimini sutram, Laal Kitab, Nadi Jyotish, Palmistry, and numerology to an extent.
THE MOST DIFFICULT AND INSPIRING TIME IN YOUR JOURNEY.
The most difficult time, uh obviously in the initial days, when I lost both of my parents and I was bankrupted as almost one crore spent in the treatment of my parents. Those were the days, that were really difficult, as an empty stomach, blank pockets, and constant failure do teach you the best lessons of life.
Read More: If You want to be an Entrepreneur, First join ' Entrepreneur First ': Esha Tiwary
Now, Inspiring time, well throughout my journey, I met several people who were fallen down and again stood back, so yes that was the things, continuously were inspiring me. Moreover, I believe if you have nothing to lose, you have the world to get. And then my knowledge, my astrology undoubtedly was and is my strongest faith along with the blessings of my parents and gurus.
HOW WILL YOU SEE YOURSELF AFTER 7 YEARS.
Incoming 7years, I might not give my introduction to anyone who adores Astrology and Vastu. Maybe the name, Astroasnwer will be more than enough. By that I am seeing myself as one of the leading consultants of this field with the blessings of my elders and my Astroanswer family will be at least more than 2lac.
ANY MESSAGE YOU LIKE TO CONVEY TO THE COUNTRY.
Yes, one message or you can say it a request I would like to make is that to follow the modern lifestyle, we must not forget our own culture and traditions. Believe me, our culture of us is the richest in the world, we should save it, practice it and accept it with our soul, as I believe our culture, behavior is our only recognition.