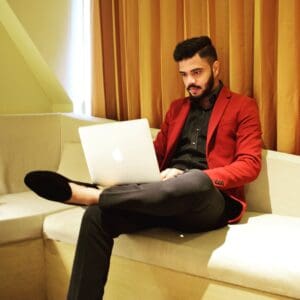 Take a look at the journey of Mr. Daman Saroha, a very hardworking and ambitious person. He hails from Gurugram Haryana. He loves to play cricket. His age is 24 but he thinks much ahead of his time. He is a professional cricket player and he enjoys it. He belongs to a decent and middle-class family. He always wanted to do business but never worked on it. But he got the opportunity when he was injured during his cricket game. And that time he got some free time to think about business.
When he was recovering from an injury one of his friends recommended some products to him. He used them and the product help him recover much faster. And he feels very much energetic. Then after his recovery, his friends told him about the business of network marketing. He used the products and they did wonder to him. But he was not sure if he can pull this business. So he took some time to understand the work and studied about it. After having proper knowledge he decided to start his business. 2 years ago he started from level zero and today he is a manager in the company. He worked very hard to achieve this. Today his monthly income is above 2 lakhs. And he is also running an affiliate marketing business which also going well. He is mentoring more than 5000 people. He helps his team members with his knowledge and skills so that they can achieve their dreams. He also plays cricket because it is his first love.
Read More: Gluten and Glory: Annika Dhariwal Crusade Against Celiac Disease
Everything he achieved was not so easy he faced many problems. When he started his business his friends told him that this business is not sustainable. You will lose your money and many more. But he stood firm on his decision and worked very hard and proved everyone wrong. Today his business is running in more than 4 countries.
He says it is very important to respect your parents. You have to work for your parent's dreams because they sacrifice a lot for us. And don't sit idle just do something and explore your passion and do wonders.
He believes in the power of mentorship and proper education it will create many independent young entrepreneurs.
Daman Saroha is a successful digital entrepreneur today and is guiding a lot of people. If you too are entangled in your life, how to find and work on a new opportunity in this great time. You can message Daman Saroha on his Instagram.