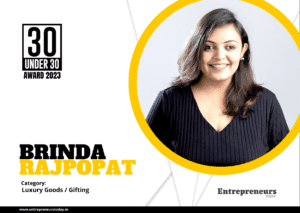 With extensive experience in a variety of art forms, Brinda Rajpopat, a 28 year old entrepreneur, learned to monetise her skills at a very young age. This article covers her journey from working for a boss, to becoming her own. She is many things, a dancer, a copywriter, an actor, but most of all she is a creative genius who has a knack for business and the ability to inspire you.
Brinda has an artistic background having attended art school and acquiring her degree in visual arts. While she was still studying, she monetised her dancing skills by choreographing events and teaching dance. Soon after she launched a brand called 'Ahurea' where she sold her art. As college ended, she entered the field of Radio and Advertising working as a copywriter for 5 years. During this time, she dreamt of getting out there and creating a brand of her own, and she sure did with Petikaa Gift Studio.
Studies say that under 2.5% people can multitask efficiently. Brinda here is a 'supertasker'. While she is not managing Petikaa Gift Studio, one can find her dabbling in other creative pursuits and leading different agendas.
Inception
One of the most crucial lessons Brinda has learned in her 20s is that you make money when you sell something that is in constant demand.
Keeping that in mind, while there were some common options from which she could choose, Brinda desired to establish something distinct that would allow for artistic expression. And so began her quest to find a domain where she could make a lot of money and still have room for her creativity.
After some elaborate market research, she realized that regardless of market downers like the pandemic or a recession,  that there will always be people who want to lavishly spend on weddings and businesses that want to make their employees happy. There was one thing that weaved together the spur of ideas she had, and that was 'gifting'. Soon after Brinda launched Petikaa, specializing in corporate gifts, social gifts, and wedding presents.
Since then they have been growing steadily up till now. Currently, they have a team of four, all of whom are managing the same amount of work as 20 employees. To highlight their achievements till now, they got featured in various publications owing to their rapid growth in a short period.
Services offered
Concerning the services provided, at Petikaa Gift Studio, they create gift hampers for all occasions. However, their products are distinct and are not simply customized mugs or sippers. They take pride in the fact that they go a step further by creating corporate presents that are exclusive to the client with gift baskets and handwritten personalised notes.
Additionally, they create and ship hampers for weddings, parties, birthdays, anniversaries, and more throughout India. They also have a segment for non-materialistic presents for people who want to gift things of sentimental value.
Brinda gives examples of personalised comic books that depict a soon-to-be-married couple's love story which is then used as their wedding invitations, or a personalised radio show that real-life RJs recorded as someone's birthday surprise.
Journey till now
As Brinda talks about the most inspiring time in her entrepreneurial journey till now, she touches upon how well the business did in its first Diwali season.
She says, "As you know, for gifting companies, this is peak business time. But here I was, just 3 months after starting this company, zooming into the peak season. The time was so busy that the team barely slept for 10-15 days. We bagged several corporate orders from big brands. We also had numerous HNI families reaching out to us for their requirements."
She admits that while it was a time of inspiration, things seemed rather daunting because of the hectic schedule around the time. Nevertheless, it made Brinda realize that they were capable and in sync with the market because they could navigate through the turmoil with ease.
"This was a truly inspiring time. It was eye-opening and motivating, both as a new businesswoman and a human being because we received so many wonderful messages appreciating our hampers. It was heartwarming, truly."
Lessons learned and future plans
One of the many things Brinda has learned is that no matter how much or what you want to accomplish, it won't just happen. You have to work for it to make it happen.
"I always knew I was meant for bigger things but my time was In the hands of a corporate system where I couldn't even plan a Friday evening, let alone a holiday, or a goal!  Once I had made up my mind, I didn't procrastinate. It took me a whole 2 days to start my business.  And that was it."
In seven years, Brinda sees herself expanding the company by at least ten times and wants to tap into the eCommerce market. She envisions working in a 4000 square foot office with over 100 other people. On an adorable note, she adds that she wants to make it in the 40 under 40 list.
Lastly, a message she wants to convey to people in their 20s is that "you are never too young to be financially independent. Even if you are in college, you can still find a way to make your own money. If you are stuck at a corporate job where the salary just isn't enough, you can find a way to increase your income. You just have to try."
She further adds that there will be doubts, but it is important to understand that they won't stand in the way for long. Brinda looks at these doubts as the keys to avoiding risk. She further adds that these seeds of doubt encourage you to pause and reflect for you to make the right decision. So, the key is to keep moving on and not let your doubts prevent you.