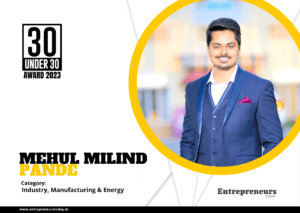 Mehul Pande founded MMP Trade sourcing in 2016, at the age of 23, immediately after completing his engineering degree. It was a trading firm that dealt in high-temperature Teflon and silicone wires & cables. Mehul says that he learned more from starting alone as a solo founder with no prior work experience than an engineering or MBA degree could ever hope to impart. Even though the business had to close in 2018, he vowed to continue being an entrepreneur.
"After the failure of my first company, I had just about identified some areas where customers expected better services. So, our company, MMP Refratech Pvt Ltd, is in the business of supplying refractory materials, which are used as insulation in industrial furnaces and boilers and our target industry is steel, power, oil & gas, petrochemical, chemical, fertilizer etc."
Mehul claims that consumer needs were identified gradually and that the firm is still evolving to meet those needs. He adds that they had identified customer challenges pertaining to their industry and built a company around those challenges, satisfying them through their services.
"I always wanted to be an entrepreneur since my college days as I was a part of the entrepreneurship development cell (EDC) in my college. That exposure in college had attracted me to the business world."
However, as someone without a business background, he was unaware of the challenges, depression, tears, fear, or the full process a first-generation entrepreneur must endure. He now acknowledges that this was one of his assets because he didn't worry about failing.
He always thought that he had no other options before embarking on his entrepreneurial journey, therefore he had to be successful in one form or another with no intention of turning back.
And he had never given a thought to what people would think of him. He has always believed that everyone has their own journey and that everyone's decision to work a job or manage a business is their own, so there is no right or wrong. So when he first began out, he did not evaluate himself against his friends or classmates.
Services Provided
MMP Refratech Pvt Ltd supplies all types of refractory materials required by their target segment. They are authorised dealers of a few of India's leading refractory manufacturers and have a ready stock of materials at their warehouse in Chakan industrial area, Pune.
Their expertise lies in providing the service of refractory application after the material is supplied. They have an in-house team of labourers, supervisors, site engineers, project managers etc. To give a complete solution of refractory engineering they also have an in-house design team and also required machinery for application.
Achievements
The industry to which they are catering or the service that they are providing, is a shutdown or urgency service. Hence timely completion of the project matters the most since the customers cannot afford to delay the start of their furnace or boiler even by 1 hour, since their production losses are 10x of what they pay as a cost for our service. Hence MMP Refratech Pvt Ltd has earned a good reputation in the industry within a short span, as they provide end-to-end refractory services from supply to application. They have also received the best supplier award from multiple customers for the same.
Despite the difficulties he has encountered, he claims that the achievements, feedback, and rewards they receive from clients, employees, and other stakeholders provide him with the motivation he needs to keep the show running.
Lessons learned
Mehul admits that despite coming from a decent family, where his parents were working in higher management posts, they supported him wholeheartedly even though he had to get his hands filthy and dirty in the beginning as he had bootstrapped his business. His first lesson was to get the confidence and support of close ones as it is necessary to overcome the early challenges.
Second, he says that no one emphasizes the challenges of beginning and maintaining a business in the era of social media. It's not a "get rich quick" scheme. The lesson he learned early on was to work as hard as possible without expecting immediate results.
He continues by saying that while technical expertise is essential for starting a business, you need a better team as you progress. Building a business is therefore a team sport, and to build a team, one must honestly consider how one may provide value to one's team members' lives while also strengthening the organization.
Finally, the 20s are free of obligations. Therefore, continue experimenting with different combinations without fear because it could get challenging once your liabilities start to increase.
Future Plans
Seven years down the line, Mehul sees MMP Refratech Pvt Ltd as a 100-crore company by 2030. India's economy is expanding rapidly, and the sectors it supports are doing well in terms of CAGR. Therefore, provided the organization's growth is well-planned and carried out, he sees no obstacle to achieving this objective.
A message he wants to convey is that he thinks every Indian entrepreneur's primary goal should be to make our country great and in someway contribute to national growth. "Do everything with a good heart and 100% genuineness. The universe definitely ensures that what goes around comes around. So don't worry about the result, keep the process going, definitely one day everything makes sense."
For further details about their services, they can be reached at http://www.mmpgroup.co.in.