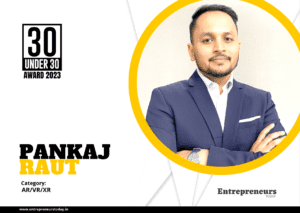 AjnaLens, a 2014 startup that pioneered XR in India, develops wearable technologies that are powered by AI to improve the ecosystem for skill development. To assist governments, educational institutions, and Fortune 500 organizations in their journey toward digital transformation, AjnaLens has developed state-of-the-art immersive learning solutions.
Pankaj Raut, Co-founder and CEO of AjnaLens (Dimension NXG), was born and brought up in a small town in Maharashtra. While talking about the inception of the venture, he reveals that all his childhood, he has seen people struggle for their basic needs. What upset him even more is that those with a rudimentary education couldn't find work to support their families. Since then, it has been his ambition to have an impact at the grassroots level. He has been constantly working to resolve and identify the problem's underlying causes and take additional action to address them.
Pankaj, along with his co-founders, formed AjnaLens with the intention of transforming the lives of humans and helping them unleash their true potential.
"Society is made from the people within it, and we are responsible for anything that happens. This led me to build the business ground up and serve society, bringing a transformation for good."
AjnaLens, a Human-First Organization, is on a mission to redefine learning and human development to build a skill-first world with equal economic opportunities. They are developing a technique (a combination of technology and pedagogy) that will enable the brain to rewire the neural network, redefining how humans learn. This would enhance the learning process, allowing people to learn any skill in a quarter of the time it generally takes. Their immersive training platform, AjnaVidya, powered by AjnaXR, enables learning in the best way and in the shortest time possible.
Achievements
When asked about his career highlights to date, Pankaj highlights how, as a true engineer at heart, he created the best 3D scanning system in Europe using 45 DSLR cameras and software. This system can turn photos into 3D models for games, 3D printing, and digitizing humans.
Additionally, he has been invited to speak about the future of XR on several stages, including TieCON Mumbai, Level 39, the High Commission of India in London, VAMRR, and Immersion VR Fest. He was also named one of the top 10 thought leaders in India in the field of immersive technology.
A few publications that have featured his story, perspectives, and accomplishments, include The Guardian (UK), Economic Times, Yahoo News (UK), The Register (UK), Harvard (USA), Ren TV (Russia), Business Outlook, and IMBC (South Korea).
He does, however, acknowledge that his company's founding has been the largest accomplishment to date.
AjnaLens is trusted by 30+ prestigious clients like the Indian Army, Indian Navy, DRDO, Ministry of Defence, Vedanta, L&T, and Tata Technologies, among others. The major corporations in its ecosystem of partners include Qualcomm, Nvidia, and Unreal Engine. AjnaLens has applied for over 20 patents related to augmented reality, virtual reality, and related technologies.
The company has received various awards for its noteworthy efforts to bring about a favourable transformation for humanity, including the prestigious Graham Bell Innovation Award, Business Transformation Award for Employment Generation, Most Innovative Enterprise 5G Use Case, and many more.
Challenges
Despite the achievements in his field, Pankaj encountered his share of challenges.
"Starting out is always the most difficult part, but being the only player in the industry made it exciting. Back in 2014, when I, along with my co-founders, decided to set up AjnaLens, it was a tough road to be on. At that point in time, augmented reality, virtual reality and mixed reality were unknown concepts."
Every single activity, from finding talent to contacting investors, presented a hurdle for him. However, he did not anticipate that 8 years down the lane, he would be preparing for their first global launch at one of the most influential tech events, Consumer Electronics Show 2023, in Las Vegas.
Lessons learned
In an interview with Entrepreneurs Today, Pankaj shares that his 20s taught him many things that have shaped him into who he is today. One of the most important lessons he learned is doing what is necessary.
"We often judge activities based on our likes and dislikes, but that's not the right way to go about it. What matters is the WHY behind the work. If that is clear and justified, doing it is the best thing. Besides, one must always have a positive outlook regardless of the situation. Life happens the way it has to, so we must always seek the good and be content with whatever destiny has in store for us."
Future Plans
"Be it today or 7 years from now, all I want to see is transforming the lives of millions of people, empowering them with quality education, thereby fostering a better life and an improved standard of living for all."
Pankaj reveals the reason why he came back from abroad and decided to build his own company in order to make a difference in people's lives, not just in India but also around the world. Since then, he has been working to make it happen.
He concludes by pointing up the numerous difficulties and issues that people today are facing, unemployment being the most vital one. He adds that our country would thrive and expand beyond our wildest dreams if businesses began to view these challenges as possibilities and took the initiative to solve and profit from them. Businesses can act as a conduit for resolving problems and making a positive impact on the welfare of individuals and society as a whole.