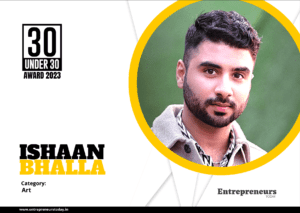 "I think art has the power to move mountains. I am set out on a journey to change the world through my creative perspective."
Over the last 11 years of his career, Ishaan Bhalla has redefined art & culture for the entire Indian generation. So, to encapsulate Ishan Bhalla's endeavours, he is a creative entrepreneur, ambassador for the arts & culture, social media influencer, and revivalist.
Ishaan was just 15 years old when he began his career as an artist while he was still attending the N. C. Jindal Public School in New Delhi. It was Ishaan's interest in Indian culture, love of painting, and love of the arts which led him to pursue the creative enterprise.
Ishaan Bhalla has earned a reputation for identifying opportunities and turning them into profitable projects for the country's artists over the years.
"In just 5 years the creative label has been identified for redefining Indian Culture, empowering regional craftsmen, managing national & international art fairs and harmonizing traditional silhouettes seamlessly with contemporary luxury."
After having worked with the various state and central governments, today Ishaan's clientele even reaches the HNIs of India.
Ishaan has expanded his brand into the fields of designing, building, and planning numerous large-scale projects in addition to remotely consulting various governmental organisations and curating their creative events. He recently signed three contracts to create custom artwork for an HNI family. Other than that, he also has upcoming events and art fairs.
How did it all begin?
Regarding the inception of his venture, Ishaan shares that he had always been fascinated by art and design.
Ishaan Bhalla was still in school when he started taking formal training in art. He shares that it was in 2012 when he was just 15 years old that he put up his exhibition with his mentor Navneet Kaur. He began working in the mainstream industry after that exhibition received a favourable response. His early experience enabled him to make sure that the client's needs were met and that they had access to the correct artisans. Till now, he has worked for the Indian Army, Jindal Group, Ministry of Culture, Reliance Industries etc.
What was the key to Ishaan's success?
To learn the secret to success firsthand from the entrepreneur himself, he says, "Success is a relative term. For me, it's more about focus, hard work, honesty and dedication. I work from the heart."
However, the best part of Ishaan's journey is that his hobby is his job and this made all the difference. It was also a contributing factor to his commitment and drive.
"My greatest morality is that I mind my own business. I have only focused on my journey, which has helped me cut through the confusion and stay apt over the years."
Ishaan also adds that ecological activism combined with entrepreneurial endeavours are today's "smart" survival tactics considering the opulent environment we live in. So, every entrepreneur's success mantra should be to interpolate innovation with a disruptive trend to solve an existing problem.
The sense of pride he gets in the people's confidence, reliance, and goodwill that he has gained over the years transcends the numerous accolades and recognitions from the National and United Nations. He is also quite proud of having come from a very humble background and being able to inspire and connect creativity and the average person in a seamless way.
"Art would be the last thing a person would buy. Obviously, art isn't a necessity, it's more of a luxury. But I think that I have been able to break this stereotype and made it into a 'want' for people. This also gives me a sense of pride along with satisfaction when somebody says – 'we need an Ishaan Bhalla signature piece'."
Challenges faced
Up until now, the decision to hold the Asia Art Festival in Raipur, Chhattisgarh in 2021 was one of the team's most trying times according to Ishaan. He says, "The state and audience of Raipur were not ready for the creative wave. Also, there stays an 'outsider' factor that stopped people from engaging their trust in us."
Even though the event was a huge success, post-event they suffered huge losses. However, by the middle of 2022, they had managed to seize the public's attention and turn it into 'profitable ventures'.
What are some of the lessons Ishaan has learned in his 20s?
When asked about what he has learned from his journey he talks about one of his valuable lessons of understanding the difference between trust and believing in your actions. He encourages people to trust everyone but to only believe in their actions. He also stressed the fact that there is a huge difference between profit and lottery.
He says, "No business becomes big overnight. Also, there is nothing like good luck. It's all hard work which goes hand-in-hand with on–time smart decisions."
Future plans
Ishaan hopes to establish India as a major hub for the art and craft market in the next ten years.
He believes this would also be justified since India has a rich amount of talent and craftsmanship to cater to the world's needs. He further adds that as The Make in India movement has gained momentum, Indian brands have entered the international market. As a result, India is ready for the boom. While all of this happens, Ishaan envisions himself being on the top.