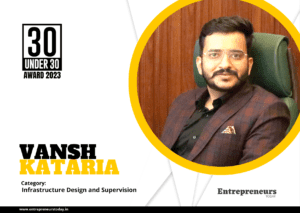 A Chartered Accountant by profession, Vansh Kataria is the Founder and CEO of an Infra Consultancy Company- Kaius Consulting Private Limited, Which is based out in Gurugram (Haryana) and provides consultancy to the National Highway Authority of India and the Ministry of Road and Transport. Kaius has been awarded the Outstanding Professional Achievement and Contribution in nation building award from the Indian Achievers Forum.
In less than 3 years, Kaius has become the fastest-growing consultancy, with projects valued at over 115 crores. Kaius currently have a staff of over 70 people, but by the conclusion of the current fiscal year, that number is anticipated to quadruple (by 31st March 2023).
Vansh serves as vice president of Naya Sawera, a prominent youth-based NGO. which is managing numerous projects for the benefit of the country. One of the top youth-focused NGOs in North India is Naya Sawera. Naya Sawera has received numerous awards from the federal and state governments for their outstanding work on behalf of the country.
He has also been investing in the startup ecosystem for the past few years in the spheres of Waste Management, Manpower Staffing, Overseas Education Consultancy and the Apparel Industry.
Additionally, he is a part of the Global Shapers (Chandigarh Hub). The Global Shapers Community is a network of Hubs created and run by young people who stand out for their potential, accomplishments, and desire to give back to their communities. The World Economic Forum launched the Global Shapers Community. In the past, he has worked with Deloitte Haskins & Sells, and Ernst & Young.
Inception
"India is witnessing this massive change in infrastructure after 75 Years of Independence and the next 25 Years will be the greatest change of all time. So we have chosen this sector to be part of this biggest change."
Vansh says that before beginning the current venture, Vansh tried a variety of things; some of them were successful and some weren't. However, he always had one thing on his mind: he would start his own business and make it successful whatsoever obstacles may arise. It was all because he believed the business was the only thing that would allow him to achieve his goals for himself, my family, and society.
Services provided
When asked about the services provided, Vansh shares that the "business model is divided into two parts – B2C and B2G." They provide their design and project management consultancy services to various contracting companies and the government directly by bidding on those projects.
He further adds that the "Indian Infra Sector is growing at a pace of more than 15% annually and we are still catching up. There is a huge logistical cost issue in India because of poor infrastructure across the country. The current Government is working very hard to resolve this issue and to effectively get down the logistical cost at par with other developed countries. To achieve that the Government is looking to invest continuously in Roads, Railways, Water and other sectors. We assume that more and more infra facilities would be needed as we grow bigger, hence the market size will keep on increasing every year. We are betting big on infra for the next 20 years or more and are looking to tap a big pie out of this already very huge market."
Achievements
To date, Kaius is the fastest-growing consultancy in the Highways sector and it will be one of the leading firms in the world.
Vansh Kataria shares that they used to live in a Village till 2008 and then shifted to Mohali(Punjab). His Parents worked extremely hard to realise their son's childhood dreams. Having seen the hustle and transition today, They are incredibly proud of Vansh. This is the biggest achievement for Vansh till now.
Since they began operations two years ago, more than 95% of their staff has remained on board. He believes that people working with them are growing and are happy. Vansh expresses gratitude to his wife Nandita Agarwal, CA by profession and is the biggest pillar of support in all of Vansh's ups and downs.
Challenges and lessons learned
The worst period for him was when he quit his job and began trying to figure out what to do. In 6 to 8 months, the credit card limits on each card were reached. When all of his friends and well-wishers advised him to return to work and saved money to start over. Given that nobody had any faith in him, it was incredibly difficult.
One of the many lessons he learned in his 20s is to dream big. He says that for a Dreamer 20s is not an age to save, it is the time to experiment. So, try whatever you want to do and what makes you happy. Instead of investing in stocks and other stuff, invest in new learning and experiences. He also encourages people to have faith in God, as there will be a reward for all the hustle and it will be beyond one's imagination.
Some other lessons are
No Guts No Glory. He believes that there is nothing to lose and a lot to gain, So, it's important to have the guts to pursue your dreams "What good are the wings if one does not dare to fly.'
Future Plans
Vansh hopes his business to rank among the largest consultancies in the next seven years. There is nothing more captivating than seeing a success story come to fruition, so Vansh wants to contribute to the success of every person who sets foot in his life.
"I always wanted to do something for the upliftment of society, and with the grace of god we can do it more now."
Lastly, he notes that "As an Induvial it is our responsibility to do our best in whatever we are doing. This will be a tribute to the country, family and future generations. For the country to succeed we all as an individual have to succeed."