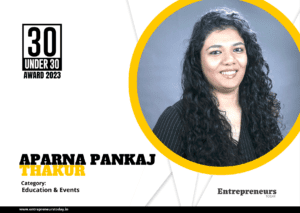 Aparna Thakur is the Secretary-Trustee of the Vishnu Waman Thakur Charitable Trust, which has schools and colleges and has taught more than 150,000 students. An educationist at heart and a passionate entrepreneur, she is also the founder and director of A-Field Production Pvt Ltd, a business that has, since its founding in 2016, and has organized over 30 spectacular musical events and captivated over 25,000 spectators.
A-Field has worked with prominent members of the classical and Bollywood music scenes, such as Padma Shri Hariharan, Padma Bhushan Ustad Zakir Hussain, and Grammy Award winner Anoushka Shankar. Having come from an entrepreneurial and philanthropic family and worked closely with the world's great musical maestro, she has learned the value of humility in both her personal and professional life.
Journey till now
The school's initial expansion from 14 students to 32,000 when it first opened in 1988 has been incredibly impressive. She says, "I'm delighted to be a part of the team that not only pioneered and made professional programs like law and applied arts available, but also cutting-edge programs like artificial intelligence and machine learning for careers."
Additionally, they provide students with the opportunity to enrol in courses from prominent universities like Harvard and George Washington in order to learn and stay current. To encourage kids to enlist for their country, they started a Basic Military Program in the classroom with the help of the Prabha Defence Motivation Center.
Instead of dwelling on the artists and concerts that were successfully conducted, Aparna discusses the creative success of their concepts:
Swaranubhuti: For this concert, a trio known internationally for their mastery of classical music—Anand Bhate, Rahul Deshpande, and Mahesh Kale—were assembled. It was a success just to have such a sizable crowd watch these professionals on one stage. In the first Swaranubhuti edition, the three crown jewels of Indian classical music were featured.
Athang: Indian classical music is not restricted by the performance's genre, style, or language. It is an infinite cosmos that will probably never be fully explored. By pairing the revered young icon and classical singer Rahul Deshpande with the master drummer Ustaad Taufiq Qureshi, they attempted to forge new ground with this collaboration. They take pride in the fact that this project propelled them into the top ranks of experimental production.
Swastik : 1 Sitar, 4 Tablas, 4 Ragas, 4 Taalas.
For the first time, four distinct tablas, four distinct ragas, and four distinct tabla musicians came together in a unified environment. On his 80th birthday, they paid homage to Sitar Maestro Pandit Kartick Kumar, a living legend.
With this programme, they collaborated with the incredibly talented Niladri Kumar to create a unique experience. With the help of this program, they were able to show the audience the talent that exists and the potential for innovation in the field of Indian classical music. Satyajit Talwalkar, Aditya Kalyanpur, Ojas Adhiya, and Shubh Maharaj were among the four tabla musicians who accompanied Niladri Kumar.
Lessons learned
"Since I graduated from college and joined the family business, ran several educational institutions, and lead an event company. "Mistake" ended up becoming my best friend during the entire process. But with time, I began to make sense of it and use it to my advantage."
Aparna has learned that making the same mistake twice is carelessness; the first time is a lesson. She realized that it was impossible to always meet everyone's expectations. Her final lesson was to never provide advice to anyone until they specifically ask for it.
Inception
"I enjoy listening to all genres of music, regardless of their form, origin, or language."
Aparna's love and passion for music were the main factors behind A-Field's inception. A-Field is a full-service event production company made up of a dynamic team of ardent art enthusiasts with a wealth of marketing and event management expertise. To create distinctive and exciting events, they work directly with artists, companies, and brands from the very beginning of the planning process.
Their willingness to provide something unique is evidenced by their "Ideate Create Execute" guiding principle. Sports, leisure, corporate events, and entertainment are their areas of expertise. Since 2016, they have planned over 30 musical events, ranging from outdoor concerts to private gatherings, captivating over 25,000 spectators.
in terms of educational initiatives, she has always aspired to give back to the community. Education is a means of getting to the heart of society and has the power to change it from the inside since it interacts with students, who represent the nation's future. She feels that a change is required.
Future plans
Aparna currently has goals on all the fronts where she has been engaged. She wants her students to have an increasingly global reach in the future on the education front. They've had a few with Harvard and George Washington University, but her goal is far more.
She has also started developing a private university for her education trust, where they can offer the students more advanced courses and curriculum.
In terms of the other aspect, the events horizon needs to be expanded to include more diverse events. Currently, they are focusing on holding events in the Metaverse, where they may connect with a global audience and introduce Indian Classical music to them without regard to boundaries of geography. A-Field is also putting the finishing touches on a musical event that is still just a concept. Her short-term goals also include expanding in the hospitality front and targeting the luxury market.