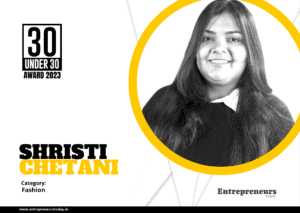 Fashion entrepreneur Shristi Chetani launched her label three years back, at the age of 22 and was immediately off to a great start with a standalone home studio to her name and celebrities gracing her brand. Shristi Chetani did her graduation in fashion design from NIFT, Kolkata. It was after finishing her degree that she launched her label, Shristi Chetani.
The inception of her personal label
Label Shristi Chetani is an apparel brand that specialises in separates and applies artisan processes to modern silhouettes.
She admits that while there wasn't a specific breakthrough that catapulted her into the industry, she had always known since she was a little child that she wanted to be a designer and have her own clothing line.
Since her brand is like an extension of herself and her ideas, her clothing line is completely body positive. The apparel adheres to the aesthetic of minimalism as well as classiness that is always in style. Shristi reveals that she wanted her brand to be her representation. So that those who are familiar with her personally would recognise an outfit as being from Shristi's line.
She explains that each ensemble is created so that a particular element stands out and gives the whole thing a distinctive look. Shristi is also a big believer in sticking to one's roots. She believes that while it's important to explore, it's important not to forget the roots from where she comes. Since she doesn't want machines to be used in the process, all of the needlework and embroidery in the clothing line is done by hand to preserve authenticity.
Fashionable apparel often comes with embroidery and embellishment that give them a boost. In the context of India, embroidery plays a significant role on several levels by greatly enhancing the appeal of both traditional and modern apparel. Shristi's vision is to sustain the tradition while empowering the artisans. Although they don't exactly execute the embroidery traditionally, they combine modern and traditional techniques to convey their sense of style and show how traditional ways can be put to creative use.
She claims that her brand blends western and Indian clothing. The styles are designed keeping in mind the design philosophy that Shristi follows. She strives to bridge the disparity in fashion when it comes to plus-size clothing. Shristi personally wears each of her designs to ensure her clients that anything can be worn by anyone, it all depends on styling. She holds the notion that "you don't fit the clothes, the clothes fit you." Shristi continues that they don't have clothing tailored to particular age groups, so their designs can be worn by younger and older people alike.
What are some of her achievements till now?
When asked about her accomplishments, she says that upon her graduation she received an award for 'Best Construction'. She adds that she is very meticulous when it comes to the designs and because she is so concerned about the quality of the finished product, she has examined every piece before it is sent out for production up to this point.
Additionally, she has done internships at London Fashion Week and also got an opportunity to showcase their work at Asian Designers week in 2019.
Shristi further adds that when she started her brand, it was a very small brand and they sold their designs through their home studio. From there, they have come a long way and are selling their products globally as well as through all the top multi designer stores like Pernia, Aza, Ogaan etc. . Another accomplishment of hers in just three years is that their clothing is sold in approximately 28–30 multi designer stores across India, covering the majority of the cities.
They have also been featured in a lot of magazines and articles. But one of their key achievements still is that with each day they see her design label soaring to greater heights with more people and celebrities donning her outfits. All of this speaks volumes of the fact that their label is growing.
What has her journey been like?
Even though the journey had been wonderful up to this point, she admitted that there had been ups and downs. She admits that in the beginning, it was challenging to persuade others to share her vision and aspirations.
She also reckons that to make it all work, she eventually had to step out of her comfort zone. She says, being not much of a social person and venturing forth into the field of fashion was tough. However, with time, she was able to overcome that.
Given how stereotypical the mindset of people was, it was difficult for people to comprehend she could make it on her own. Shristi also highlights the different beauty standards and how hard it was for people to imagine someone plus-sized making it big in the industry.
Future plans and lessons learned
In terms of her long-term goals, she hopes to succeed and carve out a reputation for herself in the fashion industry in five years. She wants people to identify her brand with her instead of simply another brand that would get lost in a herd.
Some lessons she learned is that there is no age, norm or rule as to when to start. She claims that it makes no difference whether one starts early or late. What you want to do is what counts.
She also stresses the significance of maintaining discipline and focus. Instead of fretting excessively, Shristi advises taking risks because there is nothing to lose and you'll get more chances. Lastly, she adds that the journey will be difficult, but if you believe in yourself, things will eventually fall into place.