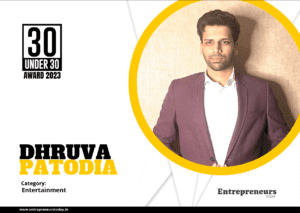 SortMyScene, a popular app among youngsters in India, was founded by Dhruva Patodia along with Harshit Shah and Srida Patodia. Regarding his educational background, he graduated from the London Business School, where he was the first Indian to be admitted to the GMiM program after many years. While pursuing his undergraduate degree in computer engineering, he also co-founded his first business, Skinslayer, which offered endless customization options for mobile wraps.
Dhruva has a proven track record of strategic planning and leadership, which he acquired in his formative days as a chess player. These skills eventually enabled him to get a foothold in a field dominated by billion-dollar-worth behemoths in the ticketing space.
More about the app
SortMyScene is primarily a Guestlist and Promotor management SaaS solution for nightclubs, bars and event companies. At the same time, they provide ticketing services for concerts and music gigs. From guest-list entry to table reservations, they provide a one-stop solution for nightlife curators in India.
Dhruva further illustrates that with SortMyScene they have digitized the entire gate system of the nightclubs. So, now people come with a QR code, scan it, the system marks their entry and they enter. As a result, the startup has empowered venues and event companies to be more tech-savvy and data-oriented.
"And lastly, the biggest pain point for these companies was that they didn't have data to retarget for future events. So we help them construct a database which they retarget again for future events. Also, we cut down the entire chaos around, which promotor has got how much online sales, therefore, profiting the organisers in the process."
Their customer app allows partygoers to explore India's countless exciting musical, cultural, and nightlife events. With a single click, users may sort their entries to Bollywood Night, Techno Gigs, and Karaoke Nights. Users can also follow popular promoters and venues to receive notifications whenever they host an event.
The inception of Sort My Scene
When asked about the inception of the app, Dhruva had the idea to start the platform based on his personal experience of getting into clubs in Bombay. He explains the difficulty and the uncertainty surrounding getting a stag entry into a club and contacting multiple promotors in the process. He further adds that compared to Bombay, he found it easier to navigate the nightlife in London owing to a similar platform like his app there.
"Compared to the scene in Bombay where I was born and brought up, I was spellbound to see how easy it was for me to hit the clubs and contact promoters in London even though I was not from the city."
What are some of their achievements till now?
As per their accomplishments, in just 1.5 years, they have a presence in over 13 states all across India, with a major foothold in Bombay.  They are also currently working with over 300+ nightclubs and event companies in India and he proudly shares that 95% of the nightclubs and event companies in Bombay have exclusively used SortMyScene for ticketing music gigs and guestlist/promotor management. And considering that Bombay is the entertainment hub of the country, Dhruva considers itself to be a big achievement.
Some of their other achievements are that they have provided ticketing solutions for prominent Indian singers such as B Praak, Farhan Akhtar, King, Yo Yo Honey Singh and even Sidhu Moosewala's last concert in Mumbai. While on the international front, they were the primary ticketing partners for Russ' India Tour, Jay Sean, and Stephan Bodzin amongst others.
Regarding an achievement on a much more personal note, Dhruva shares that the relationships he has built with each venue, customer and event company in the entertainment space will remain his biggest triumph.
What are some of the challenges faced in the journey?
Since Dhruva does not come from the hospitality and entertainment space, they had to build the startup from scratch without any connects.
Dhruva came back to India around the time when the pandemic struck, and since he was just 23, he certainly felt a little lost in terms of which path to move forward. He tells us that even though he had a stable family business to fall back on, he wanted to create something of his own. Although the entire nightlife industry was at a standstill, he decided to build SortMyScene and tried to acquire clients, venues and clubs through cold calls and emails. Six months into the venture, things seemed a little daunting to him as none of them responded to his emails. Fortunately, after a strong pitch to Mr Gaurav Shetty and Mr Sanmit Amin, he landed his first client, Peninsula Hospitality, a group of 10+ FnB outlets in Mumbai. Ever since things started looking up for them, and eventually, their startup began to pick up momentum.
While people were skeptical about his decision to venture forth into the nightlife tech space and questioned him for getting into a shattering industry, Dhruva had just one thing to say to them.
"Because the industry is breaking in  COVID, there are going to be multiple and significant opportunities."
While people saw the nightlife industry as a moribund space, Dhruva anticipated immense data-oriented growth in the field. He adds that since things went quite slow for hospitality during COVID, he was able to get in touch with nightclub owners and event companies, which would have been very difficult to achieve had it been different times.
What are some of the plans for the future?
While talking about what harbours in the future for SortMyScene, Dhruva reveals,
"We see ourselves as a guestlist, promotor and ticketing SaaS solution for venues, events and concerts. And we see ourselves never venturing into the event curation space, which is something a lot of ticketing companies have eventually done. But we see ourselves going beyond the Indian Market with the same services and targeting the South Asian markets and eventually entering the Middle East markets."
In the next couple of years, Dhruva also sees himself coming up with more ideas and building and investing in more Indian startups.
Lessons learned and some pieces of advice for emerging entrepreneurs
A lesson he has learned is that life is like a wave. And as you learn to ride the highs, you need to manage the lows.
"Every time I hit a new low, I know that nothing worse can happen beyond that. I learn and train myself to equip myself so that I'll be able to manage it the next time I hit that low."
Lastly, he notes that it's the century of India, and over the next few years, people should focus more on 'Making for India' and 'Making in India'.