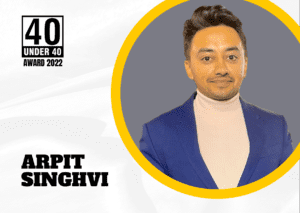 How to become the leading producer and supplier of animal nutrition in the country?
Arpit Singhvi became part of the family phosphates business as a second-generation entrepreneur. As a young professional with unique ideas, he has been instrumental in the continued success of the organization. The story of his dedication and discipline is an inspiration to all, and that is what we shall be sharing here.
R.K. Phosphates Pvt. Ltd. was founded at the turn of the millennium by R.K. Singhvi. Functioning out of Udaipur, Rajasthan, it was quick to build a reputation for its assured quality, and punctual and efficient supply chain.
Arpit had his own dreams of expanding this business across the borders of the state into a pan India phenomenon. And he set about his mission from 2016, when he joined the business in earnest.
Managing the Feed Industry
Arpit earned his BBA and MBA degree from Amity University, Noida in preparation for his inevitable inheritance of the family business. He knew he needed to prepare academically and practically in order to be able to push R.K. Phosphates to a leading position in the market.
The production infrastructure of the company is fully automated, and spread across a massive area of 2,00,000 sq foot. Its capacity exceeds that of 3000 metric tonnes per month.
When he joined the business, Arpit wanted to expand its market proportionally. He reasoned that the animal population of India, in particular, and the world in general, far outweighed the human population. So as a producer and supplier of raw materials for animal feed supplements, the scope for expansion available to them was exponential.
Unsurprisingly, over the next couple of years R.K. Phosphates spread its supply circle across 26+ states in the country, and even began exporting to more than 5 different countries beyond the border.
Impact
 Arpit Singhvi has been an inspiring and exhilarating presence in the company's management. As young and ambitious individual, his zeal has certainly helped propel the success of the company. But he has also had to deal with several hindrances that have cropped up during his tenure.
The COVID 19 pandemic took place in the fourth year of his work, and its impact was quite unexpected for both him and his company. With transport and communication suspended, it was a difficult time for everyone. While his struggled would perhaps not compare to the struggles of migrant labourers and daily wage workers, he did have a responsibility to see the institute through the turbulent time.
While Arpit's able hand on the steering wheel was indispensable for tiding through that time, R.K. Phosphate was significantly helped by their categorization as an essential goods producer, that found exemption from some of the restrictions imposed on businesses,
But for Arpit, this time of difficulty was a proof of his capability, he made sure consistent supply of material by spreading the word of "Ready to Dispatch" to all Feed Companies in India facing acute shortage of raw material in the Difficult Covid Times, sailing through the storms of an indefinite time meant he was truly deserving of the job he had taken up. His success was not a fluke, but rather a sign of things to come. Since then, he has increased the company's turnover 6-fold, over his five years' tenure there.
An inquisitive traveller, he has been to 20+ countries looking for business opportunities as well as an escape from work, and is a firm believer in accountability in work. He is always looking for better and new marketing and selling methodologies to keep expanding the volume of sales by establishing R.K. Phosphates as a Brand in "Business to Business" market format of animal nutrition.
He is looking forward to further expand globally by developing new markets in various countries across the globe.
Knowing his zeal and track record, we are quite confident that he will be successful in this endeavour as well.