Founding a startup is both terrifying and thrilling. Entrepreneurs make blunders that cause their well-planned ventures to fail because of their eagerness to change the world and build something worthwhile at the very outset. 
It's unfortunate that we tend to hear about these failures far less often than we do about the triumphs since there are valuable lessons to be gleaned from those who tried for years but failed.
We enlisted the advice of startup investors and seasoned business owners to assist creators in recognizing the early warnings of a failing company. Employee dissatisfaction and long-term negative operational cash flow are just two examples of warning indicators that may suggest it's time to review your fundamental plan and refocus your efforts in order to prevent the collapse of your company.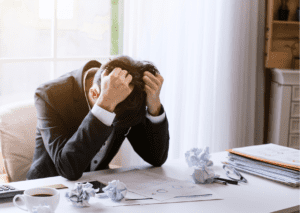 Scaling up too fast before validating the business model
Although the excitement is obvious, before scaling up, you actually need to evaluate your business model. Because as a business, you still need to achieve momentum in the primary market even if you currently have more than one or two users.
Rapid expansion does not always imply profitability, that too without adequate planning and strategic focus. You need to be equipped to scale.
Lack of vision and focus
Making judgments becomes even more challenging when your business gains momentum. Because of the pressure, you could make bad choices that hinder your chances of success. 
Everything depends on understanding your company's goals, particularly during the crucial initial phases when the startup is trying to establish itself. It may be time for you to be concerned if you observe the startup has no clear focus or it is constantly shifting. This is a lesson that many founders have had to learn the hard way.
Negative operational cash flow 
Startups that require years of financial support are less likely to succeed than other businesses. Subsidizing growth shouldn't always be a concern, even if it's prevalent among the biggest companies in industries where network effects and economies of scale are important. Additionally, it's a sign of inefficiency and possible danger from other businesses offering services with superior value.
Internal conflicts and lack of coordination
It's crucial that everyone in your company should reach an agreement when making major decisions that will determine the course of the business. If individuals involved in making that decision take a long time to decide and still can't agree, it's a hint that things for the business might eventually turn sour. To avoid missing a great opportunity to advance your company, it is crucial to arbitrate any issues that arise as efficiently as you can.
Lack of financial management
The inability to keep track of expenses is one indication that a startup is failing. In many cases, when a firm is struggling, the entrepreneur will start spending more money on pointless items or unreported costs. A cautionary signal that your startup might not succeed is if you are not keeping track of where your money is going.
Read more: 6 Ways in Which You Can Manage Finance in Startups
Unsatisfactory Results from Marketing Campaigns
It's not a good indicator if the startup's marketing activities have produced little to no ROI. This may be a sign that no matter how well-planned a marketing campaign is, it sometimes won't be enough to make up for a product or service that isn't interesting or practical enough.
Lack of long-term goals
For the sake of flexibility, long-term targets are sometimes ignored in startups, yet if you want to expand, you need to know where you're heading. You must possess the ability to act quickly and wisely. And for it, a strong sense of direction is necessary.
Your daily operations are guided by your goals, which also help you stay on course. You can pinpoint where you want to go and specify the precise actions required to get there by making sure your objectives are realistic. Most company executives are aware of and adept at doing this.
Putting too little emphasis on marketing
Startup founders sometimes assume they don't need to promote and that their consumers will discover them, which is one of the greatest, most common misconceptions they make. For the longest time, many people think they can get by without marketing, and they nearly never turn to it as a last-ditch effort to acquire momentum. But it's incredibly naive to believe you can achieve significant, lasting development by organic means. And neither do direct marketing nor word-of-mouth recommendations scale.
Read more: What is a Marketing Mix and What are the 7Ps?
Remember that you're not the only one going through hurdles if you're on the way to successful commercial success. Always keep in mind that every issue you run into has already been dealt with by a different company, so you can understand what the next right course of action is for your company and use the tools and techniques that have already been proven effective.
Read more: An Analysis of Some Startup Fails in India