Women entrepreneurs are now beginning to gain a lot more popularity and visibility than they did a few years prior. The startup ecosystem as a whole is set to undergo significant changes in the upcoming years. With more women in leadership roles, more female-led and -focused firms, inclusive work cultures, more women on boards, and technology functioning as a fundamental and vital facilitator of the service and product, this shift will only continue.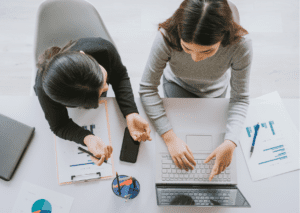 Let us now delve deeper to look at some of the influential leaders who have left a trail of success:
Falguni Nayar- Nykaa
Nykaa, an online retailer for fashion and beauty, is run by Falguni Nayar. Falguni Nayar's business adventure began in 2012 when she formed Nykaa, but she cemented her place in Indian startup history in November 2021 when Nykaa's initial public offering (IPO) stirred tremendous excitement in the stock market.
Nykaa was established in 2012 by Falguni Nayar with the goal of creating a multi-brand, omnichannel retail company with an emphasis on beauty. Nykaa has become India's top beauty retailer, playing a crucial part in the growth of the country's beauty business by empowering customer choices and enabling brands to reach the breadth and depth of the nation.
Today, Falguni, who is in charge of a staff of over 1600 Nykaa employees, has created a retail empire for beauty and lifestyle products with a portfolio of more than 1500 brands, including its own private label, which is sold online and in 68 locations around India. In FY19, Nykaa's income was over Rs. 1200 crores, and it is expected to be above Rs. 2000 crores in FY20. Nykaa has expanded into other industries, such as Nykaa Fashion, a curated fashion portal that puts fashion first and is style-driven.
Naiyya Saggi is the co-founder of the Good Glamm Group, the largest content-to-commerce conglomerate in South Asia, as well as the creator of BabyChakra, the most reputable parenting website in India. 
Naiyya launched Baby Chakra in 2015 with the goal of simplifying parenting. Global digital giants like Google, Facebook, and Microsoft, as well as worldwide tech and health journals like Healthline, Inc., have repeatedly recognized BabyChakra as one of the Top Pregnancy Parenting Technology Products. BabyChakra and MyGlamm merged in July 2021, and Naiyya joined MyGlamm as a co-founder and board member to reinforce the content-to-commerce strategy that MyGlamm had already implemented. Good Glamm Group raised $150 million in a Series D round co-led by Warburg Pincus LLC and Prosus Ventures in November 2021, making it into the Unicorn club with a valuation of $1.2 billion.
Ghazal Alagh, a former corporate trainer who is now an artist and entrepreneur, co-founded Mamaearth out of a desire for making the early years of parenting stress-free. Ghazal is in charge of product development as well as community management at Mamaearth, India's first toxin-free infant care company. She collaborates closely with many mothers to create a product line that solves issues that women encounter on a daily basis. 
It has succeeded in generating buzz and excitement in the direct-to-consumer market within five years of its launch, and Mamearth has emerged as the FMCG industry's fastest-growing brand. 
Vineeta Singh, the founder, and CEO of the well-known cosmetics company Sugar Cosmetics in India is another notable entrepreneur. She is now recognized as one of the top investors in the reality series "Shark Tank India." 
Up to this point, Sugar Cosmetics has raised millions of dollars and sells more than 650,000 items per month. There have been over a million downloads of Sugar Cosmetics' app, and it has a sizable social media following. 
The brand's face, Vasundhara Patni, earned her diploma from the University of Pennsylvania. Before trying her luck in the beauty industry, she worked in the healthcare and education sectors. Co-incidence and honest efforts were combined to create a brand like Kiro. According to Vasundhara Patni, the founder of Kiro Beauty, beauty is a concept that is always changing and is now more inclusive than it has ever been. She places a high value on honesty and openness and ensures that her services are consistent with her vision.
Shubhika Jain and Sangeeta Jain- RAS Luxury Oils
RAS luxury oils was founded by Sangeeta and her daughter Shubhika. The skincare business began operations way back in 2017. The mother-daughter team from Raipur is doing an admirable job by providing a variety of wellness products made from organic, plant-based materials. They don't just sell the items online; they also meet the needs of exclusive resorts and spas.
It's crucial to pay close attention to companies led by women as more and more of them emerge in India. These companies not only have the potential to alter the industrial landscape of India, but they also serve as excellent models to emerging entrepreneurs. 
Read more: Westinghouse India Announces Never Before Offer on Its Incredible 43 Inches Ultra HD Android Television!