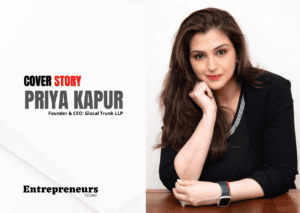 Priya Kapur is a veteran of the grooming industry.
In 2005, fresh out of City and Guilds UK, having completed her graduation and training in hairdressing skills, she returned to her hometown Mumbai. It was the perfect place to inaugurate her eponymous grooming venture, Priya Kapur– Hair and Makeup.
Over the next two decades, she has become a recognizable and sought after talent in the fashion and grooming sector, having styled cover and feature models for various media outlets like Seventeen India, Elle, India Today, Brides Now, My World etc. She has worked in collaboration with brands like Koesch, Bada Saab, Miss Malini, Make Up Forever, and sponsors like Pantaloons' Beauty Queens for Femina Miss India 2009. Many prominent fashion models and celebrities are patrons of her work.
She could have easily rested on her laurels in terms of being a successful entrepreneur and professional.
Instead Priya Kapur  co-founded The Glocal Trunk (TGT) with her mother Minal Kapur in 2016, an ecommerce initiative in handmade costume jewellery that sourced their goods diverse from local businesses across the country and the world, to curate a marvellous collection of accessories.
Who is Priya Kapur?
Behind the celebrated veneer of the entrepreneur, Priya Kapur is an ambitious woman with a love for jewellery and fashion. The city of Mumbai, where she spent her childhood and teenage, must have influenced her love for the arts of beauty and grooming, being the summer fashion capital of India. In an interview she reminisces about the love for jewellery she harboured as child. That innate passion is visible in her collections which she hand picks with her team.
Her aim is to build streetwise fashion trends through internet. Thus her collection is extensive, ranging from pieces with ethnic influence to modern designs. However, throughout, her preference for small intricately designed jewellery is apparent.
She repeatedly expresses gratitude towards her parents. Her father's diligence, and her mother's humility have been teaching experiences throughout her life, and thus having Minal Kapur as a co founder and director at The Glocal Trunk has helped the venture disrupt the traditional corporate structure.
The dedication to her craft and profession has been apparent throughout her career, as she constantly boosted her skill and credibility and stylist by participating in different courses and workshops with reputed institutes. It helped her broaden her horizons and work for different mediums, like events, photo-shoots, as well as film and TV.
She brings that same diligence to her newer venture with a constantly updated roster of collections, as well as multiple stock clearance sales.
The language of her promotion and nomenclature is emblematic of how she wants to influence the fashion industry.
The Fashion Industry
… Has seen its share of radical shifts in a particularly short period of time. Fashion by nature is a dynamic industry and the trends in it reflect consumerist patterns with startling clarity. We have seen the recent controversy that the fast fashion trend had brought about regarding issues of brand authenticity, copied product designs, and most importantly, underpayment of labourers. The large scale retailers and mass producers were revealed to be prioritizing profit over employee sustenance.
Priya Kapur is representative of a socially conscious group of entrepreneurs who have been attempting to remedy this power dis-balance in their own unique ways.
Priya herself has taken affirmative action through her TGT Growth Buys initiative, where jewellery made by skilled women artists and differently abled creators are sourced and showcased under the brand name. While it is officially a CSR initiative by the brand, it is also a logical next step for the business to focus on the individual artistic endeavours of talented but marginalized people. The idea of being glocal is precisely reflected in this ground up cosmopolitan approach, where the unique sensibilities of specific regions and individuals is broadcast across a wide scope of consumers.
This community driven approach has recently found currency in multiple other fashion brands like Indian Ethnic Co., Suta, and even Nyka. The first two are flourishing textile brands with a fresh approach to ethnic wear, who source cloth and artisans from different specialised communities across India, whereas the latter is the ubiquitous ecommerce site for all things make up, which platforms established and indie ventures with equal enthusiasm.
Incidentally, all of these brands are led by women, working in close cohort with their families.
Gender and Community
Many women led business that have been set up near the end of the last decade have taken a community based approach. They have harnessed familial relationships and traditional skills and brought them together in an economically viable platform. They source products and services from the craftspeople directly, and have created a socio-economic chain of relations through which the work is processed and shared. This personal approach allows the work to stand out in their character and colour, reflecting a certain point of view particular to its community of workers and owners.
These case studies echo Priya's story, as she teamed up with her mother Minal Kapur to set up a passion project. Her mission statement is to provide a eclectic variety of designs from across the world, from cities like Paris, London, Milan, Istanbul etc. Along with these microcosms of the global fashion receptacles, her collections also have a strong ethnic focus with patterns like the Evil Eye, Chakra, and names like Suraiya and Seerat seek to express a distinctly flavour of the Indian subcontinent. She scours the market for emerging trends and mixes and matches her influences from festivals and fairs to celebrity fashion, and collaborates with a host of artisans through institutions such as Trishul, Advitya, Mann (Center for Individuals with Special Needs) and ReSource (A brand supported by Srujna Charitable Trust).
Her business interests and passion for the craft are boosted by her community based sourcing measures, resulting in a rich tapestry of artists, designers, and products evolving organically.
This feminist approach to business and economy has become a viable alternative to the dispassionate world of corporate decision making. While still clearly profit driven, and ensconced in the neo liberal market, theirs is a way of bypassing some of its more egregious ethical errors by a more comprehensive and humane relationship with the employees and craftspeople.
There is of course, still a long way to go in detangling the historical catastrophe of gender based discrimination and stereotyping. But with front runners like Priya Kapur, an attempt at a ground up restructuring is well on its way.
An Entrepreneur and Professional 
Away from social and ethical concerns, Priya Kapur has also proven herself in the role of a businessperson and leader. She has been juggling multiple careers for almost two decades, with a consistent streak of success in each endeavour. She has earned a seat at the board of their family business Grentex and Co. Pvt. Ltd. as well as GR Woollen Mills, and is their current Executive Director.
Elsewhere, she is a recruit of the Ladies Wing of Indian Merchants Chamber, as well as the Indo-German Chamber of Commerce. These positions help her keep abreast of developments in the market, as well as influence its movements.
Priya's entrepreneurial journey hasn't been easy, with the expected pitfalls of discouragement and derision that women face in a world of sexist expectations. But like many others, she has succeeded despite these setbacks, and has emerged as an exemplary figure in the community, fostering renewed hope for this world.
Conclusion
Priya likes to repeat her favourite saying often, winners never quit, and quitters never win. And perhaps that is the most comprehensive statement that can be said about her. Traversing multiple professions and skills, she has survived and thrived by virtue of her relentless energy and ambition. Her business ventures are also creative and philanthropic endeavours where she merges her love for fashion and jewellery with an impeccable sense of socio-economic reality and justice.
And the best thing is that she is not alone in this approach, as many other women have taken the reigns of the entrepreneurial world and decided to correct its course into a better imagination of the future.
Read More: Harsh Patel Founder of Water and Shark, is the Current Leader of the Financial & Legal Ocean