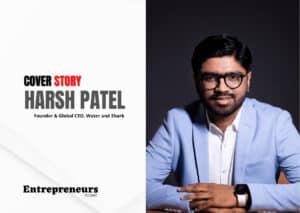 Cover Story : Harsh Patel is an idiom of the age of finance, legal service and technology. It is perhaps better to say that he anticipated the opportunities that the market would provide and took decisions in accordance with his understanding, and is currently reaping its rewards.
Who?
Like many successful entrepreneurs of this start up age, Harsh had a dream of becoming one himself since his youth. As a millennial, he grew up under the cult of influence that Steve Jobs, Mark Zuckerberg, Bill Gates etc had spread across the globe. He wanted to walk in their footsteps, but to his own tune. He was more interested in the finance side of things.
Born and brought up in Mumbai, his choice of livelihood was at odds with the expectations of his middle class upbringing. Establishing and setting up one's own institute is not the most stable career. Yet he was firm in his decision to do what he dreamt.
He began his journey into Chartered Accountancy, soon after high school. But instead of seeking a salaried job with an established accounting or auditing firm, Harsh decided to set up his own venture.
Treading Water
The year is 2012, and the world is still reeling from the financial collapse of 2008 that had put the global economy in ventilation. The optimism of the 1980s, that had been revived with the millennium, is being squashed under the fear of instability. Neither independent business ventures, nor salaried employees seem to be safe from the devastating effects of economic chaos. Recessions and inflations are piling on over each other. The neo liberal dream seems to have been all but extinguished.
And to top all that, there is a rumour that the world is going to end by the end of that year.
It was under these circumstances that Harsh Patel, then still training to be a Chartered Accountant, while pursuing a B.Com degree from Narsee Monjee College of Commerce and Economics, began his entrepreneurial journey with his accounting firm Water and Shark.
Like most other entrepreneurs, his intention was to evolve the practices of the trade he was joining. Living in the midst of the digital revolution, Harsh was well aware of the disruptive capacity of technology. But as an young, ambitious individual, he welcomed it. It came to him as a challenge to involve technological advancements within the folds of financial functions, and utilize the benefits to grow further.
Tasting Blood
At this juncture, it is important to acknowledge that the world was quite far away from the ubiquity of fintech resources. The idea of mediating finance through digital intervention alternately provoked fear or derision. But the mechanism of setting up a digitally accessible economy was well under its way.
In that aspect, as in much else, Harsh was ahead of the curve. His establishment had begun as a humble single office venture, functioning out of an apartment in Mumbai. Along with the work in his own firm, he interned with different established companies, and partnered with multiple business ventures to diversify his portfolio with varied experiences.
This helped him appreciate the atmosphere in which he had started his work, and figure out the path of momentum going forward. As a devoted countryman, Harsh wanted to keep India in his crosshairs, but was unwilling to limit his function within its borders. After all, Indians could be found all over the world. And he wanted to be of service to them all.
Over the years, Harsh Patel earned recognition from Charter Accountancy organizations of different countries. Today he is member of Australia's Institute of Public Accounts (IPA), Institute of Chartered Accountants of India (ICAI), the Institute of Financial Accountants (IFA) of United Kingdom, and Chartered Accountants (CA) of United Arab Emirates. This global recognition, along with his constantly expanding list of professional and educational experience, has helped Water and Sharks spread its offices across 4 continents. The institute currently has branches in USA, UK, SIngapore, Australia, and the UAE.
A Shark to be Reckoned With
Harsh had undertaken and Bachelor of Law (LL.B) degree, specialising tax law, at the beginning of his career to help provide legal advice through his firm. In 2022 he was able to further bolster that claim with a Master's of Law from University of Cumbria, United Kingdom.
With his extensive educational prowess, he has established his claim as a trustworthy leader in his profession. But he himself, when it comes to his own employees, prefers genuine skill and experience, over degree certification. He takes an active interest in fostering excitement and intent among his employees. He not only encourages the high performers to maintain their streak, but help the underperformers identify their weak points and develop it comprehensively.
He is a believer in general skill over micro-specialization, which allows the team to juggle a variety of responsibilities. Harsh's leadership qualities have not only been lauded by his employees, but also recognized by several media outlets, like Economic Times who gave him the Leader of Change Award, and Forbes India, who featured him in their list of Top 100 Managers in India. He is also an Honorary Doctorate in Business Administration from California Public University.
All this is to say that Water and Shark has found success across the world owing not only to the variety of services provided, ranging from accounting and auditing, to legal support and advice, but also by the healthy and robust work culture Harsh has fostered there. His employees, an ever growing bunch of enthusiastic professionals, are fiercely loyal, and aim to take the firm to the epitome of success
A Bait for the Future
Harsh has been vocal about the possibilities that start ups in India hold. While speaking at a seminar on the topic of Global Opportunities for Indian CAs, he urged the participants to dream big, break boundaries, and influence each other as a community to build strong affiliations. And his entire career is a practical example of how to accomplish that.
From beginning a firm as a novice in the industry, to being a pioneer in implementing AI algorithms to make management easier and paperless, Harsh has done it all. In the middle of the pandemic, when the economy was once again caught in its own web of obstacles, he attempted a rejuvenation by establishing business relations with Hong Kong and China. It helped overcome a severe financial stagnation.
As an accounting and legal professional, Harsh Patel is a celebrated individual, known beyond the purview of his firm's reputation. He is the (Honorary) Chief Financial Advisor of the International Human Rights Council, and the Secretary of the Foreign Trade and Investment Committee of the Asian American Chamber of Commerce and Industry. In these capacities, Harsh usually advices on issues of cross border trade and financial exchange.
So he is sincere about the opportunities that this profession opens up for the future. But why is it suddenly flourishing? Isn't the economy still supposed to be in a rocky position?
The answer lies in a diametrical shift in the system away from trade of physical goods, to a marketplace of services and currency. This has brought accounting as a profession into keen focus, allowing its flourish beyond the fallibilities of current economic conditions.
Harsh was far sighted enough to identify this truth a decade back, and has consistently developed his skill set and managerial capabilities to keep up with the demand of the times. The world has recognised his pioneering spirit with innumerable awards.
And now he is inviting us along, for this journey of a lifetime.  
Read More: Darshan Somaiya is India's Top Millionaire Mentor, Mentoring his Pupils the Science of Achievement and the Art of Fulfilment