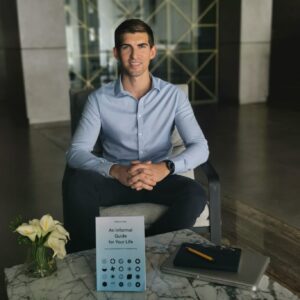 Keeping up with all the responsibilities in our lives can leave us drained. We look back at the last month or year and wonder what we achieved and where the time went. 
An Informal Guide for Your Life is your ticket back to clarity. This book connects you with the purpose that gives your life energy, and helps you wisely invest your time and effort to get the most fulfilling returns. 
From a life lived in France, Monaco, Bahrain, and many stops in between, former international rowing athlete William Ader shares what he has experienced and done about living a vital, satisfying life. Each chapter explores a life topic such as integrity, relationships, time, technology, and success, to help you align your actions with your life purpose.
William had already the chance to visit India twice for short stays and has got a large group of Indian friends where he currently lives in Bahrain. They are neighbours, work colleagues, workers met along the day. He is mentoring and helping everyone who wants help and support by sharing his experiences so that they don't feel exhausted or trapped. Life is too short for that.
Get clarity on your goals and destination, and profit from William's valuable guidance on how to get there. You can know more about William on his Instagram and get his book from this link: https://amzn.to/3kHJXYL