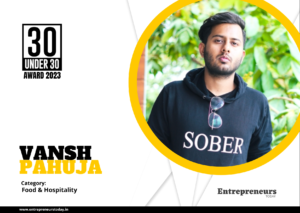 Vansh Pahuja, 28 year old, is the founder of Sober, India's first non-alcoholic spirit brand with a vision to meet the desires of the nation's non-drinkers. Since he had always had a deep-seated love for the food and beverage sector, Vansh revolutionised the beverage market by releasing Sober Gin, the country's first distilled non-alcoholic spirit.
Before founding Sober, he studied Innovation & Marketing for his business degree at Northeastern University in Boston (Class of 2016). After graduating, he spent a year working in sales and strategy at General Electric in the US before returning to India in 2018 to enter the F&B industry. 2019 saw the launch of "Baked Pizza & Co." franchise of pizzerias. The goal was to design in the "Subway" fashion. Choose your own toppings, sauces, and other ingredients to create your own pizza. Within the first year of business, they opened three locations, but due to Covid, they were forced to close them all in 2020.
Inception
A variety of personal events culminated in Sober for him, from finding just water or soda to choose from while his buddies clinked cocktails at a pub to find his father a substitute for the whisky his doctor now warned against. The final thread came when he raised a toast to his expectant buddy and she felt left out of her own celebration. He was aware that he needed to find a reasonable answer to this.
As a pandemic affected countries worldwide, the Indian government outlawed the sale of alcohol while closing down all bars and eateries. This marked a turning point for Sober since customers suddenly desired a substitute for alcohol. There were headlines with recommendations for boosting the immune system, which emphasised wellness and discouraged alcohol consumption. That is when Vansh understood the power of sobriety—a power that is both positive and exhilarating.
The cocktail culture in India is on the increase as a result of bartenders receiving the recognition they deserve and being referred to as "liquid chefs," leaving little to no room for good drinking options for individuals who want to avoid alcoholic beverages. Sober aims to provide non-drinkers with the same experience without alcohol or calories.
Achievements
Being the first non-alcoholic spirit brand in the nation is one of their current accomplishments. This industry is expanding quickly all over the world, so it was high time someone brought it to India. The reception was fantastic when they debuted their Classic Non-Alcoholic Gin in November 2021. They were able to sell all they anticipated would be sold in the first three months in just the first three weeks. For adults, there is undoubtedly a rising market for sophisticated non-alcoholic beverages. They were extremely taken aback by the response, which made them realise they needed to keep inventing and provide the customers with more choices and flavours. They now have three variants in their portfolio and are looking to take this global in 2023.
Challenges
Since creating a non-alcoholic spirit in a country that had never even heard of such a thing before was difficult. Understanding production and where to find ingredients and raw resources to make this product were quite difficult. They also struggled to persuade a market to pay a premium price for a "non-alcoholic" spirit. Fortunately, they were able to overcome both with flying colours because the product has performed better than they had anticipated and they are confident that this market will continue to expand.
Lessons learned
Some of the lessons Vansh Pahuja has learned in his 20s are that you don't know what you don't know.
He says, "When you start off right after college, you think you know everything there is to know. You are ambitious, energized and ready to hit the business world. But 'you don't know what you don't know' and as humans, we should never stop learning and always strive to identify gaps in our knowledge. At the same time, messing up is sometimes the greatest learning that can ever happen to you."
Hence, Vansh believes that failure is a fantastic teacher when compared to success. Eventually, it is not about how many times you fail, but the number of times you pick back up and keep moving forward.
Vansh contends that, in comparison to success, failure is a much better teacher. In the end, what matters is how many times you get back up and keep trying, not how many times you fail.
Future Plans
When asked about his future plans and where he sees himself a few years down the line, Vansh says, "I want to build Sober as an 'all things non-alcoholic' brand. We want to be a leader in this segment and be the first homegrown non-alcoholic beverage brand that creates an impact globally. We are very fortunate to be the first in this segment but we also hope to see new players that will grow this industry and take this category to new heights."
A message he wants to convey to all is that "Problems create solutions". He believes that while some of us are constantly complaining about the issues in this nation, we fail to recognize the potential for "problem-solving" in it. There are several opportunities in India. India is among the countries with the fastest-growing start-up ecosystems in the world, and this trend is likely to continue.