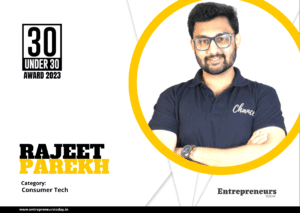 In the digital era, finding love often causes a lot of anxiety. If you've ever heard your friends complain about bad dates, you might understandably be wary of the superficiality of dating apps. Considering one can only learn so much about a person from their profile, online dating often results in some hilariously awful experiences.
The idea of matching people based on personality characteristics is compelling. To break through the noise and connect people based on more than just a few photographs, Chance app's mission is to help people find something of value.
Inception
The saturation in the dating platforms has made Rajeet Parekh, co-founder and CEO of Chance App, enter the market to address the problem that long needed a solution.
Gen Z's constant search for quality connections in an online space, fuels the Chance app to offer exactly that. Going back to the fun roots of modern dating, Chance builds an online community where the experience is genuine, quirky and even more exciting. The app showcases unique avatars and usernames used to identify members and the profiles flaunt unbridled insights into people's personalities through witty Q&As. Another interesting feature is the Anonymous and Revealed profiles, where users are permitted to chat with others by staying incognito and revealing their identity only when they decide to. This adds an initial layer of security that makes the app safer for everyone on it.
A novel concept of a 'Founder's Card' allows the app to update users as they roll out new features and the users, in turn, to reach out to the founders in case of difficulties or feedback.
In an Interview with Entrepreneurs Today, Rajeet talks about how despite having the highest revenues in dating apps, India has a low user penetration when compared globally. Despite possessing the resources, the leading players in the field cannot penetrate the market because of an inherent flaw in their services, which is something Rajeet and his team strive to address.
Entrepreneurial spirit
A seasoned entrepreneur with a track record of working in the marketing, advertising and communications sectors, Rajeet has extensive experience. Having found a spark for this entrepreneurial spirit at an early age, his first venture, Broek Lifestyle was planned, launched and scaled to be one of India's fastest growing lifestyle brands by the time he graduated. Following which, his second endeavor, The Happy Place, managed to carve a differentiated space in the niche intersection of the media and healthcare sectors by innovating the world's first AI ML powered application to make a human smile.
Rajeet's substantial background in company development and management and his exceptional skill in leadership, communication and marketing, shows distinctly in his rich body of work.
Achievements and challenges
Despite a challenge they recently faced in attempting to scale by penetrating a cluttered market with a B2C product and getting the ideal team in the initial stages of the venture, the overwhelmingly positive user response they experienced following the app's launch, in Rajeet's opinion, is evidence of success. Rajeet Parekh is on his way to upending how the younger generation views dating and relationships. In a short period since its launch, ten thousand people have joined the platform, and the user feedback they received is a huge triumph on its own. The app has a 3:4 gender split, which is a plus for both sexes as most dating applications are mostly dominated by men.
Future Plans and lessons learned
Seven years down the lane, Rajeet still sees himself as a problem solver trying to find solutions and gaps in the market. He desires to make a lasting impression and to be remembered for having improved and enriched the lives of others. He hopes that by being India's first pseudonymous dating app, Chance will be the platform that allows people to be genuinely themselves and find added confidence in their personalities.
A lesson he learned in his early twenties is that change is the only constant. Rajeet shares that when one is in their twenties, life will be full of uncertainty and volatility, no matter where you are in life and what you plan to do, but what one can choose to do during such times is to trust their gut.