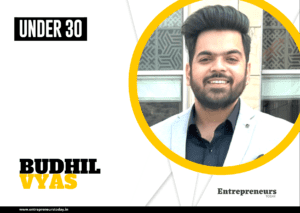 A new generation of Indian cryptocurrency influencers has emerged because of the booming cryptocurrency market and is leveraging the appetite of novice investors for knowledge and the desire to make quick money. The year 2022 paved the stage for digital currency to become a trending topic which is only expected to bloom in 2023. As a result, understanding the intricacies and technicalities from experts is essential because of the unfamiliarity and volatility.
An ardent data scientist, and ambitious entrepreneur, Budhil Vyas is one such influencer. He shares his insights with Entrepreneurs Today in an exclusive interview regarding his vision for finance technology. A data scientist by trade and a hard-core analyst by nature, he aims to help people make sound investments in the cryptocurrency market by offering suggestions and advice. Budhil is a competent dealer, information researcher, and expert in cryptographic money investigator.
Budhil began looking at market data on stocks and cryptocurrencies and found that this newly developing technology had a promising future. This eventually inspired him to launch his YouTube channel, Crypto Talks, where he demonstrates the technical analysis of the cryptocurrency market.
"I believe that earning money in the crypto market is not difficult if you have a thorough understanding of cryptocurrencies and technical charts."
Inception of Crypto Talks
"Since I saw that the youth of today do not have proper education on Investment at the early stages of their life and are very dependent on their parents for money as a result, I started this to support and help them become independent and make money from small investments."
On his Youtube channel, Crypto Talks, Budhil has a sizable crypto family. Over time, his channel has grown with 1 lakh 15 thousand subscribers. Budhil shares that the main reason behind how the channel came to be is that several people were looking for financial opportunities, and with his channel, he figured out a solution to effectively provide extensive expertise on cryptocurrency.
The general discourse of his endeavour is to dispel any limitations, erroneous assumptions, and misconceptions people may have regarding digital money.
Achievements and challenges
Budhil considers his entrepreneurial journey to have been a fruitful one because of all the love and support he received from about 2 lakh individuals on all platforms. Additionally, he successfully published a book to teach technical analysis, which is crucial to comprehending all markets. Recently he was also awarded the 'Best Crypto Influencer 2022 Award at Invincible Festival'.
The journey, however, was not a cakewalk. Budhil even once lost 80% of the money, but he never gave up since he always had confidence in himself and knew he would be able to make that money again.
The most inspiring time for Budhil was when his grandfather saw him earn lakhs in a month and cried tears of joy which made him believe his grandson has the potential to achieve anything. Additionally, he was greatly motivated by witnessing his students become self-independent financially and support their families.
Lessons learned and future plans
A lesson he has learned in his 20s and wants to pass on to the youth is to focus on their growth, and start investing early, whether it's in the stock market or the cryptocurrency market.
Seven years down the line, Budhil envisions himself surrounded by his loved ones and supporters. Because Budhil has always looked up to his grandfather, he wants to carry on his legacy and be remembered for his kindness just like his pioneer.
A message to the youth
He advises young people to steer clear of Ponzi schemes that promise quick, high returns. Also, instead of making bad investments, he gives them advice to always be mindful of their investments and stay focused on the future and financial freedom they can achieve. This will allow them to support their families and give back to them since they have always played a significant role in their lives.
Additionally, he claims that youth people need to realize that they should have at least four times as much money as they can spend on the item before they can choose an EMI or the complete payment method.