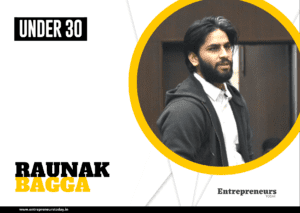 Koolgen Interactives was founded in 2019 and is always striving to revolutionize the Indian gaming market. They want to take the PC gaming industry in India to new heights to become a dominant brand in the worldwide gaming market. Their goal is to establish ourselves as a reputable Indian gaming studio with internationally recognized products.
About Raunak Bagga
Raunak Bagga is the CEO and Founder of Koolgen Interactives. Before setting out on his venture, his prior experience includes working as a game producer intern at PlaySimple Games as well as as a game developer and designer for his own former company, Bone Game Studios.
One of Raunak's games, "7 DOORS OF WISDOM," received a nomination from the IGDC 2018 for Best Upcoming Game of the Year and received positive reviews from the CHI-PLAY 2018 Chairs.
His tasks and duties have ranged from providing live technical training to developing technical skills for internal and external learners.
Raunak Bagga is a well-known inspirational and motivational speaker who, in addition to his current positions, has given numerous talks at various colleges.
Entrepreneurial spirit
In an exclusive interview with Entrepreneurs Today, Raunak shares his entrepreneurial journey that began back in 2017. He admits that when he set out on this voyage, he had little experience to draw upon and, as a result, encountered many difficulties and made mistakes along the road. Raunak, however, does not find this to be at all discouraging; instead, he views such missteps as a way to grow.
Raunak has always wanted to start his own business, ever since he was in eighth grade. After graduating from high school, he was certain that he wanted to take the path less travelled and try something new. That's how he came to decide upon pursuing a degree in game development.
However, in the initial days of his B.tech degree in game development, he opens up that he mostly spent his days planning and strategizing to build something of his own. Combining his passion for gaming, creating something in the gaming industry only made sense. All of this combined gave him the idea to incept Koolgen Interactives.
In the initial days of his college, he had to do part-time jobs in able to fund himself and hailing from a middle-class family, the biggest accomplishment till now according to Raunak is despite being completely bootstrapped, they have been doing quite well in the last three years. He says, "it's not easy to survive in this industry, especially with no investment."
About Koolgen Interatives
Koolgen Interactives wants to produce high-calibre games with the potential to upend the video game market. Koolgen Interactives, one of the top game development firms in India, helps create high-quality games within the client's budget owing to a team with years of experience in the sector. They provide a wide range of services to help their customers create, develop, and market successful video games.
The best part about the gaming industry, continues Raunak, is that you don't need a big investment to simply get started. Koolgen has been self-funded up to this point; however, Raunak will soon look for external investment.
More about their current project
At Koolgen Interactives, they are currently focusing on developing one game, Tri-Dasha that is based on the philosophies from Indian mythology. The team is excited to launch the public demo of the game in the festival of Holi the next year, aligning its mythological undertone with that auspicious occasion.
Known for its seclusion from the outside world, Tridasha is an island in the Bay of Bengal. Trinelese tribes inhabit the island, although not everyone finds them to be amicable. Numerous explorers had tried their luck at exploring the island, but many of them had perished. A connection between the island and the rest of the world may be made possible by the heroes, who are keen to explore.
Their recent accomplishments surrounding the current project include:
Getting a tremendous amount of love and appreciation at the IGDC expo 2022.
Getting nominated under Upcoming Game of the Year (Indie) in 2022 at GEM Awards by Animation Xpress.
Services offered
Koolgen Interactives offers complete game development solutions for mobile, desktop, AR, VR, and console platforms. They have the potential to transform ideas into tangible realities. They start with a single stage of game production and work their way up to full development, and are also skilled in Unreal Engine.
They offer:
Full game development.
Organic and Inorganic modelling.
Environment and level design.
Architecture visualization.
Blockchain and Web3 gaming.
Game music.
Product visualization.
Narrative designing.
Game management.
Lessons learned
A lesson Raunak learned the hard way in his early twenties is that one is going to face difficulties there, but you have to face them along the way as you move forward. Finding the team for your company is also not a cakewalk. So, what would help is connecting and networking with people from different domains.
"If something works for someone, it doesn't mean that it will work for you."
There are three things that he highlights the most, one is to start early and to avoid falling prey to overthinking and over-analyzing everything.  In addition, he emphasises that there is no set road to achievement and that learning comes from experiencing things firsthand. He also stresses the importance of never giving up and the fact that even if you fail, you can always try again.