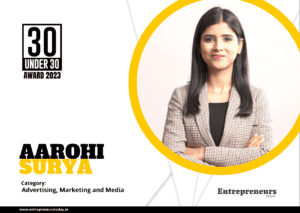 Dancing Cow is an Indian plant-based brand that stands up (or sits down) for what is right. They often represent constructive uprisings against the system that gave rise to dairy farming, slaughterhouses, and global warming. By offering a unique product that is incredibly healthy and delicious, they hope to topple the unsustainable system.
They have recently launched two flavors of vegan milk, Oatish extra creamy and Oatish chocolate milk. Their unique combination of oats, millets, and mung beans gave Oatish good nutrition value, has an unparallel taste, and a creamy texture. The products are also free from soy, nuts, and gluten Oatish and are fortified with calcium, vitamin A, D, and B. Oatish often works very well with tea & coffee, and many recipes. One can drink the vegan milk directly or chill, boil, cook, bake and foam it!
Entrepreneurial spirit
Aarohi is a change-maker who is now striving to bridge gaps in the health and well-being space by developing a comprehensive platform that addresses numerous problems of health enthusiasts. She was able to co-create Yalla Veggie in 2021 owing to her creativity and insight. To address the present issues along the value chain, Aarohi is embracing technology disruption of sectors and is currently starting the paradigm shift in well-being.
Aarohi has more recently been involved in launching the plant-based company Dancing Cow, which attempts to close the gap between sustainable and unsustainable choices by providing more widely accessible vegan and environmentally friendly food options.
After reading about the atrocities of factory farming three years prior, Aarohi changed her lifestyle to veganism. Since then, she has dedicated her life to advocating for farm animals and giving talks on issues such as global warming. Aarohi mostly spends her weekends and free time spreading awareness about factory farming and global warming.
Inception
Aarohi developed an interest in nutrition and concerns about animal agriculture and the environment during the pandemic. The Gamechangers and What the Health are two documentaries she watched that completely altered her life. Both documentaries shed light on the profound health advantages of switching from dairy and other animal products to a plant-based diet. When she gave the lifestyle a try, she immediately wanted to share with everyone how much better she felt both physically and mentally. Aarohi decided to learn more about this and discovered that the use of animal products influences both animal agriculture and the environment.
Incidentally, around that time, her mother developed high blood pressure. When Aarohi tried to convince her that switching to a plant-based diet would improve her health, she would throw her hands up and say, "I don't eat unhealthily, and I try to follow a decent diet. I have high blood pressure because of my genes. My mother had it, and that's why I do."
She then prepared her mother a plant-based tea (chai), which, in all fairness, was nothing like the tea she had been consuming for the previous 40 or so years. Aarohi experimented with several components that closely resembled cow milk to persuade her to adopt a plant-based diet. In the end, she reasoned that the mixture of oat blended with amaranth (for color), mung beans, and water may mimic the flavor of dairy after many permutations and combinations. She then used the "milk" from those same elements that inspired her to finally build a plant-based brand.
Aarohi shares, "The experience with my diet and the impact of a plant-based diet on my mother's health inspired my entrepreneurial journey. I thought, what if I could make the plant-based beverage in a style that was familiar to just about everyone, milk that my mom and so many other people would love, that would open their minds to eating more vegan meals. That experience inspired me to create Dancing Cow, along with my co-founder. My ultimate mission is to make the affordable, crave-able plant-based brand available to millions of people everywhere in the world."
Lessons learned
When asked about where Aarohi sees herself in 7 years, she envisions herself as still in the learning stage. The same is true for 10, 20, or 30 years from now. She thinks that because the world is always changing, entrepreneurship doesn't have a definitive endpoint.
Aarohi believes that if one wants to make it as an entrepreneur, energy should be a pure motivation. She shares, 'though I took a lot of detours to pursue what I love, ultimately I got personal fulfilment when I gave all my energy towards Dancing Cow."
Lastly, she implores aspiring entrepreneurs to focus all of their attention on realizing their goals and persevering through difficult times, which will require all of their energy. And one will undoubtedly receive the results one desires. Aarohi asserts, "don't wait for the title to lead. Leadership is about helping the business succeed and helping those around you make that happen. Leadership is also about trust and those around you knowing you have their back."