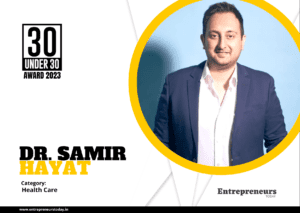 In a society where infertility is still seen as a taboo, people are not aware of fertility treatments. In recent years, medical research has made great strides. IVF treatment is one of these wonders, and it recognises the practical challenge of developing new treatments.
Mira IVF, short for Miracle Institute of Reproductive Arts, is the country's first fertility clinic of this kind and was launched in Indore city on December 19, 2021. The facility is situated in Indore, Madhya Pradesh, at Apollo Trade Center, 1st Floor, Geeta Bhawan Square (MP).
Dr Samir is the Executive Director of Mira IVF, Indore and an entrepreneur by passion. At the moment, he holds the distinction of being the youngest doctor in all of India to get the IIM Indore Excellence in Leadership and Development Award. He is a well-known alumnus of NLSIU in Bangalore and Symbiosis in Pune. He has received many accolades and certifications from Harvard Medical School, and Kings College, London.
In an interview with Entrepreneurs Today, Dr Samir highlights that there are still a lot of stereotypes and unawareness that exist surrounding IVF. As a result, people still don't fully understand IVF because it is an advanced form of assisted reproduction and the treatments that go along with it. So, the taboos and misconceptions around the treatment prevent people from seeing a doctor even if they consider having the treatment.
About MIRA IVF
The centre is equipped with state-of-the-art equipment and technology. Patients are treated by the country's top and seasoned IVF specialists.
The fully equipped centre and laboratory, along with the team of specialists and skilled nursing staff speak volumes about the advanced treatment one can receive here. They also make sure that the whole process is hassle-free in order to make it a smooth transition for the couples.
One can find advanced incubators as well at the centre that allow embryos to reach their full potential. When compared to conventional incubators, these advanced incubators achieve higher pregnancy rates, less fragmentation, and special fertilisation rates at the MIRA IVF laboratory.
The trailblazer
Dr Samir is a pioneer in his area who is well-known and honoured by his colleagues for his literary accomplishments, which include articles on Patient Safety and Healthcare Quality.
Dr Samir is committed to supporting his patients as they navigate their individual and occasionally difficult medical journeys. He has a stellar reputation owing to his remarkable medical managerial skills, as well as his sincere zeal and compassion.
"My goal is for every patient in our care to have the greatest experience possible at MIRA IVF. We understand that many new patients may have been struggling for a long time before coming to see us, therefore I believe we must be especially sensitive to their needs and respectful from the start. From the minute they arrive at our door, we do everything we can to provide a great experience."
Services provided at MIRA IVF
Mira IVF, in conjunction with super fertilisation, contributes to enhancing conception rates while ensuring the best sperm selection. In addition to these technological interventions, patients with a history of genetic problems, multiple IVF failures, or miscarriages may benefit from genetic testing and higher success rates.
At MIRA IVF, several treatments are available to solve a particular infertility issue. Prior to being diagnosed and given a recommended course of therapy, patients receive counselling. This helps them achieve the best results with the least amount of inconvenience. These therapies include intracytoplasmic sperm injection, surrogacy, blastocyst culture, in vitro fertilisation, intrauterine insemination, sequential embryo transfer, freezing of oocytes and sperm, intrauterine insemination, intrauterine insemination, and IVF.
Achievements
MIRA IVF is one of the first facilities to provide an ERA test, which entails endometrial biopsy and cell extraction from the uterine lining to analyse the expression of 250+ genes. A specific pattern of gene expression is linked to improved implantation potential. Apart from this, MIRA IVF is a pioneer in fertility research.
MIRA IVF has been featured in numerous publications for being one of the youngest and fastest-growing IVF centres in Madhya Pradesh.
Another accomplishment of theirs is that compared to other IVF centres in the state, they have the most success rate. In the last year, MIRA IVF has expanded to almost 15 centres in more than 20 cities in MP.
Impact
Dr Samir shares that he does not belong to the field of IVF and that when he returned from Dubai, he was pleasantly surprised to find a sizable market gap upon his return from Dubai. He continues by saying that although there are several IVF clinics, most people are not happy with their visits because no one is willing to pay attention to their anxieties. As a result, with MIRA IVF, Dr Samir sought to provide a personalized experience for such patients.
At Mira IVF, their mission is to offer patients IVF treatment at reasonable costs so that everyone in society has access to IVF, particularly those who require counsel with this treatment.
Future plans and lessons learned
As per the future plans, they are sure that MIRA IVF will have more than 20 centres in MPCG over the next one to two years increasing the accessibility of treatment in order to make the transition from being a couple to having children easier than it initially appears.
One of the things Dr Samir has learned in his journey that it's the person's mindset determines their success. He continues by saying that because the Indian market is so favourable, it's not too tough to succeed if you have a clear plan and vision in mind.