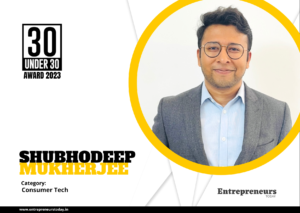 Shubhodeep Mukherjee is currently serving as the Head of Engineering at Winuall, an ed-tech startup that provides teachers with the tools to expand their online tutoring businesses.
"A firm believer in developing resourcefulness, he has built a strong team of engineers who learn and work on all aspects of engineering and build a highly collaborative culture."
It was in October 2020 that Shubhodeep joined Winuall with a vision and was able to quickly establish an efficient team with a highly scalable technical infrastructure that now supports millions of hours of learning across the country.
To have a brief glimpse at his career prior to joining Winuall, Shubhodeep was the Tech Lead for Paytm's Paytm Chat and Paytm Movies, where he helped scale the infrastructure to accommodate millions of requests. However, he began his career with Ambition Box, an Info-edge company.
Inception
As he talks about the idea behind his venture, Shubhodeep reveals that his mother has been a school teacher for most of her career and that he has witnessed the pain points in the industry very early on.
"I've seen the complexities of the education system in India from all its phases."
He has therefore always had the notion that if you give people access to the right tool, they will achieve the unthinkable. Winuall therefore considered building the ideal tool for the teachers in order to see them progress.
"It was important for us to find an entryway to the tutor ecosystem, to start understanding what they require. Hence, we built a SaaS platform for their day-to-day tutoring needs."
Winuall offers tutors the necessary infrastructure so they can reach their desired audience and acquire more students. They soon began developing a social commerce ecosystem for the tutors, allowing them to design and resell courses to their students, enabling them to provide their students access to knowledge and resources. In their ecosystem, tens of thousands of educators are currently creating and marketing a wide range of courses. Currently, Winuall is focusing on the "social commerce" business model.
While starting out, they were aware that starting up a business was not a cakewalk and that it has its own benefits and drawbacks, and the constant complexities that come with it. But, they were also confident about it as they had the clarity very early on with what needed to be done. However, Ashwini Purohit, CEO of Winuall, believes that they still have a lot to build and solve, the journey is just 1% complete.
Journey till now
At Winuall, they take pride in having made it possible for tutors to earn money while also teaching, with a staggering growth from month to month. They have also given people the ability to turn the internet world into an ally rather than a cause of dread.
Additionally, they have been successful in putting together a team of people who agree with this pressing issue and are eager to build a solution for it.
However, the entrepreneurial journey has not been a smooth ride. Shubhodeep says that the year 2020 has been hard for them, with everyone having to limit themselves to their homes. Winuall encountered a number of difficulties at that time. They had to scale their infrastructure to accommodate the ongoing expansion while working remotely for the first time.
In the meantime, because of all of it, they figured out ways to work in synergy and built many products in short durations of time while working remotely.
"The team that came out of it, had the inertia to break walls."
Lessons learned
As Shubhodeep talks about the lessons he learned in his 20s, he says "I've always found myself building products and communities with a team, which has made me realise that everything is achievable if you find the right group of people for your team."
He continues by saying that the team leader must understand that there is no hierarchy. It is your responsibility to understand the dynamics and diversity of the team.
According to Shubhodeep, if you work for a startup, inevitably you may find yourself participating in the hustle culture, but it is also necessary to sit back and reconsider your strategy once in a while.
When asked about his future plans, Shubhodeep admits that even though seven years is a long timeframe, he hopes to still be enthusiastic about solving problems and building products.
Lastly, a message that he has for everyone is that India has made great strides in the past few years in terms of how startups are formed and fostered. He says, "it is the best time to take the leap of faith, and build something of your own or join a startup and help them grow."