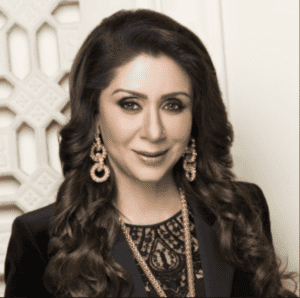 One of the most celebrated entrepreneurs in India, Vandana Luthra, is the founder of VLCC Health Care Limited, a company that provides beauty care solutions. 
Since 2014, she has also been the chairperson at the Beauty & Wellness Sector Skill & Council (B&WSSC), which is an initiative to improve the employability of Indian workers worldwide by creating an efficient and productive ecosystem for the development and impartment of skills in the beauty and wellness industry through courses, relevant content and curriculum, delivery systems, information databases, and standardization of the accreditation and certification process.
Back in 2016, Vandana was also featured on Forbes Asia's list as 26th among 50 iconic women entrepreneurs.
The VLCC Group's operations currently span 310 locations in 139 cities and 11 countries, including India, Sri Lanka, Bangladesh, Nepal, Singapore, Thailand, the UAE, Oman, Bahrain, Qatar, Kuwait, and Kenya, with a staff strength of over 3,000 skilled professionals, including medical doctors, nutritionists, physiotherapists, cosmetologists, fitness experts, and wellness counsellors.
Getting started
Since her debut in entrepreneurship, she has garnered trust and recognition, even internationally. 
In terms of how she got started, Vandana says that the desire to create an impact on the lives of people has always been there. She recounts the days she used to go on work trips to Germany with her father and had first-hand experience of the health and wellness industry there, an industry that was still relatively unexplored and foreign closer to home.
The desire to bring about a change led her to pursue a degree from the Polytechnic for Women in New Delhi. She went on to pursue a degree in nutrition and cosmetology in Germany before opening the first VLCC Centre in Safdarjung Enclave, New Delhi, in 1989.
About VLCC
In its more than 30 years of operation, the VLCC brand has become synonymous with Wellness & Beauty in Indian families, and it has one of the greatest scale and breadth of operations in the beauty and wellness services business in India and other countries where it operates. 
Their vision is to consistently maintain high-quality standards, benchmarked services, and an unwavering commitment to customer satisfaction, all while integrating cutting-edge technology and applications into their future endeavors.
Other achievements of Vandana include receiving the Padma Shri, India's fourth-highest civilian honor, for her contribution to Trade & Industry. 
Her dream and vision have left a global impact, inspiring people worldwide. Reportedly, 40% of her top clients are international. She consistently travels globally to understand people's wellness needs. 
According to Tracxn, VLCC Health Care raised $42.6M in funding across four rounds, with its latest Series B round of $34.7M on Nov 26, 2022, featuring investment leadership from Ca Sumatra Investments and two other investors.
Research suggests that VLCC is expected to earn an annual income of $91.1 million. She credits most of her company's success to internal funding from investment partners.
VLCC's current range of services:
VLCC Wellness & Aesthetic Dermatology: Offers wellness services in multiple countries.

VLCC Personal Care: Focuses on wellness and beauty services, personal care products, and skill development.

VLCC Institutes of Beauty & Nutrition: Provides training in beauty and wellness with over 100 institutes.

VLCC Wellscience: Supports business expansion in India with a dedicated infrastructure.

GVig Skincare: Aims to become a respected organization in beauty, wellness, and healthcare, offering quality skin care, lifestyle services, and health products.
Read more: Kiran Mazumdar-Shaw: Biocon Founder and India's Biopharmaceutical Pioneer