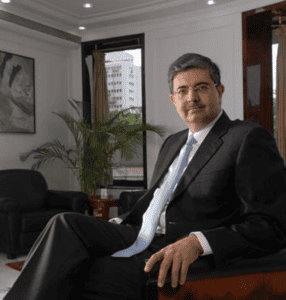 In September 2023, the former managing director and CEO of Kotak Mahindra Bank resigned from his position with immediate effect. In his letter to the bank board, he wrote, 
"I have cherished being a of this entire journey. It is now time to move on. Although I still have a few months to go, I tender my resignation with immediate effect. I have mulled over this decision for some time and believe this is the right thing for the institution."
Looking back at his journey so far, he also mentioned, 
"I stand in a lonely place of being a founder, promoter and significant shareholder of this great institution. It also bears our family name and carries that as its brand. The institution that we have together built stands for purpose, trust and integrity. I am committed as a stakeholder to see this institution sustain and grow."
With his tenure at the bank completed, let's learn more about his entrepreneurial journey. 
How it all began
Back in 1985, Uday Kotak began his journey by transitioning his family trading business into a finance firm. In 2003, the firm was finally converted into a bank after it received a banking license from the Reserve Bank of India (RBI). They were also the first in India's corporate history to receive the license. 
Today, the bank is among the top four banks in the private sector.
In terms of how the name of the bank came to be, Uday deemed it fit to include "Mahinda" in it, given his role as the largest investor and a close friend.
Soon after, they expanded their operations in areas like investment banking, bill discounting, stockbroking, mutual funds, life insurance, and car finance.
It was in 1998 that Uday Kotak Mahindra Asset Management Company entered the MF market. The year 2000 saw the beginning of a partnership with a pan-African investment, banking, savings, and insurance conglomerate, Old Mutual Limited, to launch a life insurance business.
The bank was also ranked second in 2014 in market capital nationally, with over 1250 branches in India. The wealth of the owner also doubled that very year due to a record-breaking $2.4 billion deal for ING Vysya Bank.
The next year, Kotak partnered with Bharti Airtel to launch a payments bank. In 2015, he reduced his stake in KMB from 30% to 20% per RBI directives.
In October 2018, he took charge as the non-executive chairman of the revamped IL&FS board. By 2019, he ranked among the highest-paid Indian CEOs, earning ₹27 lakh (US$36,000) monthly.
In the following year, he assumed the role of President at the Confederation of Indian Industry (CII) for 2020-21.
Some other facts
In 2020, Kotak complied with RBI regulations by selling shares to lower his bank stake. His son, Jay Kotak, a Harvard Business School graduate, serves as Vice President and co-head of Kotak811 digital bank.
Kotak has contributed his expertise to various government and industry bodies, such as the Indian Government's High-Level Committee on Financing Infrastructure, SEBI's Primary Market Advisory Committee, and more, including the advisory board for Cyril Amarchand Mangaldas, a national law firm.
Throughout his career, Kotak has received numerous prestigious awards, including Ernst & Young's World Entrepreneur of the Year (2014), Economic Times Business Leader of the Year (2015), and the USIBC Global Leadership Award (2018). 
He's also been honored with awards like Business India Businessman of the Year (2016), Financial Express Lifetime Achievement (2016), Businessworld Lifetime Achievement (2019), Business Today Best CEO in Banking Sector (2019), and CNBC-TV18 India Business Leader of the Year (2021).
Read more: Kiran Mazumdar-Shaw: Biocon Founder and India's Biopharmaceutical Pioneer